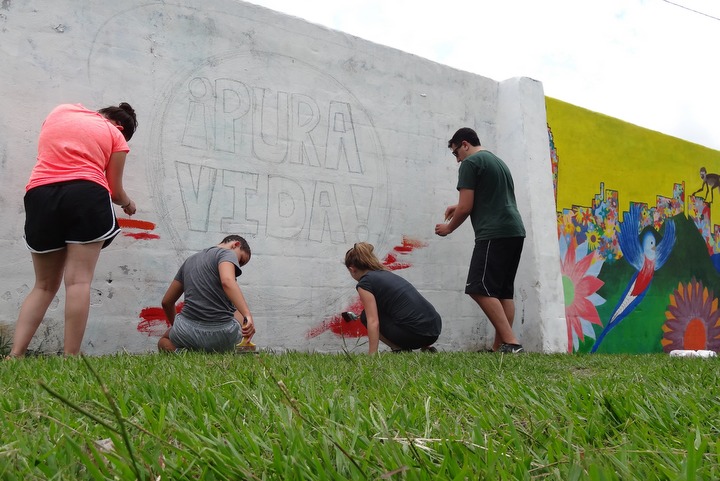 An impressive hometown geography sharing session unfolded; from Geneva to New Jersey, everyone took a moment to talk about their hometowns/countries along with many other items as we broke some of the ice.  On our first night we checked into Hotel La Rosa De America and beheld our new home for the next 5 nights.   Entering onto the property was very much like entering an oasis.  There were ripe fallen mangos on the ground and flowers of every colour lining the pathway up to reception.  Hello Costa Rica!
Trip members woke up and sang happy birthday to Kayle W, whose hotel room door at Hotel La Rosa De America had been visited by birthday bandits during the night.  The forecast threatened rain for our rafting trip, but just our luck, it poured sunshine all day.  We hit the river in 4 different rafts with our guides Roberto, Rasta, Monkey and Walter. We were paddling full steam ahead! Everybody stayed in their boats… but nobody stayed dry.  Paddles seemed to be most active during the splashing wars between rival rafts.  We took a break at one point to hike into the forest with hopes of spotting sloths and monkeys.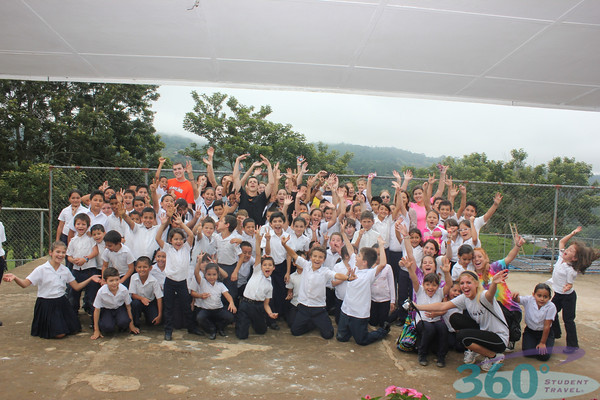 We drove back through a Chiquita Banana plantation to get to lunch. From a distance, all we saw was a parade of floating bananas in blue plastic bags being pulled towards Banana Junction.  This was a little extra learning that was icing on the cake for those trip members who are fascinated by cultures and systems.
The fun continued as we arrived back home where some of us ate fresh mangos while others played football in the pool.  These activities served as a minor distracter while a Westcoast insider managed to sneak a couple cakes into the restaurant to cap off the birthday celebration in style.  Today we got our hands wet… tomorrow, we get our hands dirty.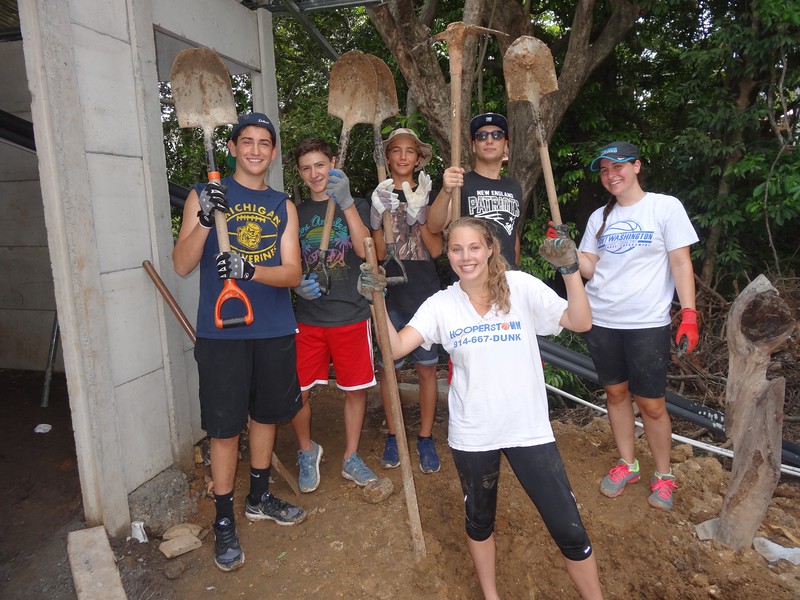 Day 3 was indeed the day that we put the "service" in the community service trip.  This was the first of three days on the site of a building project in a community just outside of San Jose.  We were partnering with the Costa Rica Humanitarian Foundation to bring community service projects to life.
Upon arrival, we were divided into three specialized task forces – the diggers, the rockers and the artists.  The diggers, as you can imagine, were in charge of digging a giant rectangular hole outside the front door of the house.  The rockers were in charge of dismantling a mountain of rocks on one side of the property and transferring them to the other side where the house was.  A 13 year-old Costa Rican boy named Oscar was helping us out as well.  In the span of a day, the rockers literally moved a mountain/pile of rocks to a new location in what would have taken one person a month.  Now we can't forget the artists who helped design and create an original mural at a school around the corner.  By the end of the day, each task force came together, incredibly satisfied and fully smiling, understanding the impact their work had on this community.
Until next time,
The Westcoast Blogger