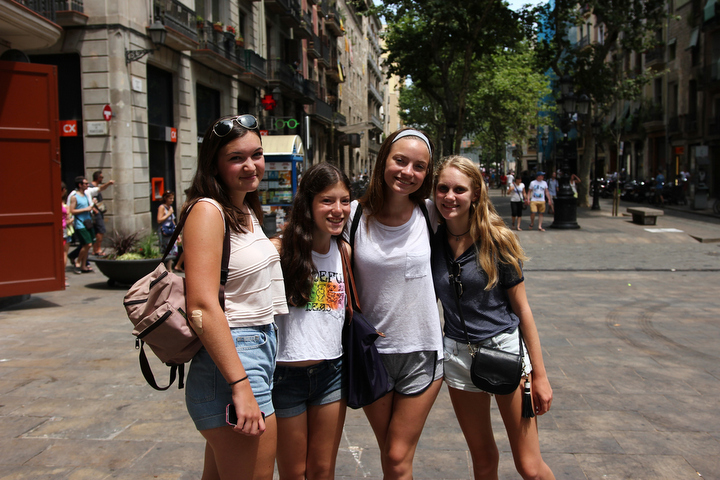 Hola desde Barcelona! El viaje España idioma ya ha llegado a la semana final. Como no nos queda mucho tiempo, hemos pasado los últimos días aquí en Barcelona aprovechando de nuestra oportunidad de practicar el español. Tuvimos un gran juego de tres días en el que ganamos calcomanías por hablar en español. Había un gran esfuerzo por el parte de todos de usar español en conversaciones tanto con los líderes del viaje como con los locales de Barcelona. Después de tres días llenos de español, Heath ganó 24 calcomanías y recibió un gran premio: la caja de España! La caja de España estaba llena de recuerdos de nuestro viaje como entradas, fotos, una bandera de España, una bufanda de Real Madrid, una pelota de Barcelona, y otros regalitos. Como un verdadero caballero, Heath compartió su premio con Camille y Ryan, quienes ganaron 23 calcomanías.
Hi from Barcelona! It's already the final week of the Spain language trip. Since we don't have a ton of time left, we have spent the last several days in Barcelona taking advantage of our opportunity to speak lots of Spanish. We had a huge game that lasted for three days where we earned stickers for speaking Spanish. There was a big effort from everyone to use Spanish both with trip leaders and Barcelona locals. After three days full of Spanish, Heath earned 24 stickers and received a big prize: the box of Spain. The box of Spain was full of mementos from our trip like entrance tickets, photos, a Spanish flag, a Real Madrid scarf, a Barcelona ball, and other souvenirs. Like a true gentleman, Heath shared his prize with Camille and Ryan, who each earned 23 stickers.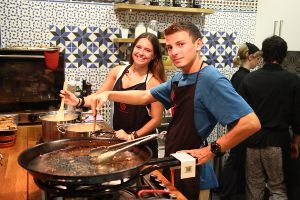 El viaje España Idioma tiene otra noticia relacionada con el español: el viernes fue el último día de las clases. Todos hicimos una presentación oral como un proyecto final. Las presentaciones eran de temas variados sobre el mundo hispanohablante incluyendo las tapas, las corridas de toros, el cinco de mayo, y el catalán. Después de una semana de clases en Madrid, una semana de imersión en Marbella, y una semana de clases en Barcelona, les pasamos unos comentarios de los miembros del viaje:
"He hablado más español en este viaje que en toda mi vida."
"Aprendí más español aquí en España que en todas mis clases de español."
"Hablar con la gente aquí y tener conversaciones me ha ayudado tanto."
The Spain language trip has some more language news: Friday was the last day of classes. We all did an oral presentation as our final project.  The presentations were about various topics related to the Spanish-speaking world including tapas, bull fights, cinco de mayo, and Catalan. After a week of classes in Madrid, a week of immersion in Marbella, and a week of classes in Barcelona, here are some of the comments trip members made:
"I've spoken more Spanish on this trip than in my whole life."
"I learned more Spanish here in Spain than in all of my Spanish classes at home."
"Speaking with the people here and having conversations has helped me so much."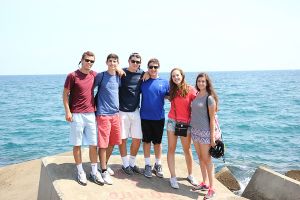 Claro que no pasamos todo el tiempo en las clases. Aquí en Barcelona también hemos comido bien y hemos visto los sitios más conocidos. El miércoles hicimos una gira de noche de Barcelona. Todos estamos de acuerdo que en esa gira tuvimos los mejores guías del viaje. Nos contaron historias súper interesantes sobre la ciudad y nos mostraron muchas cosas de las cuales habíamos aprendido en la escuela. Los miembros compartieron lo que ya sabían sobre Fernando e Isabela, la reconquista de Granada, la guerra civil española y Franco, y la segunda guerra civil, y los guías nos mostraron las huellas de esos acontecimientos que quedan en Barcelona. Después de la gira los guías nos dijeron que nuestro grupo sabía más sobre la historia que cualquier otro grupo, incluso los de adultos!
Of course we don't spend all of our time in class. Here in Barcelona we have eaten well and seen the most famous sites. On Wednesday we went on a night tour of Barcelona and we all agreed that the tour had the best guides of our entire trip. They told us super interesting stories about Barcelona and they showed us a lot of things we had learned about in school. The trip members shared what they already knew about Ferdinand and Isabela, the reconquest of Granada, the Spanish civil war and Franco, and World War II. Then, the guides showed us the traces of those events that remain in Barcelona even hundreds of years later and talked about how those events influence contemporary culture. After, the tour the guides told us that our group knew more about history than any other group they have worked with, including adults!
Nos quedan unos pocos días aquí en Barcelona y aunque vamos a extrañar esta hermosa ciudad, estamos bien emocionados porque vamos a la playa!
Hasta luego!
We have only a few days left in Barcelona and although we are going to miss this beautiful city, we are pretty excited because we are going to the beach!
See you soon!
The Westcoast Blogger
For more experiences like this, join our 21-day or 28-day trips to Barcelona with our summer spanish language programs for high school students.