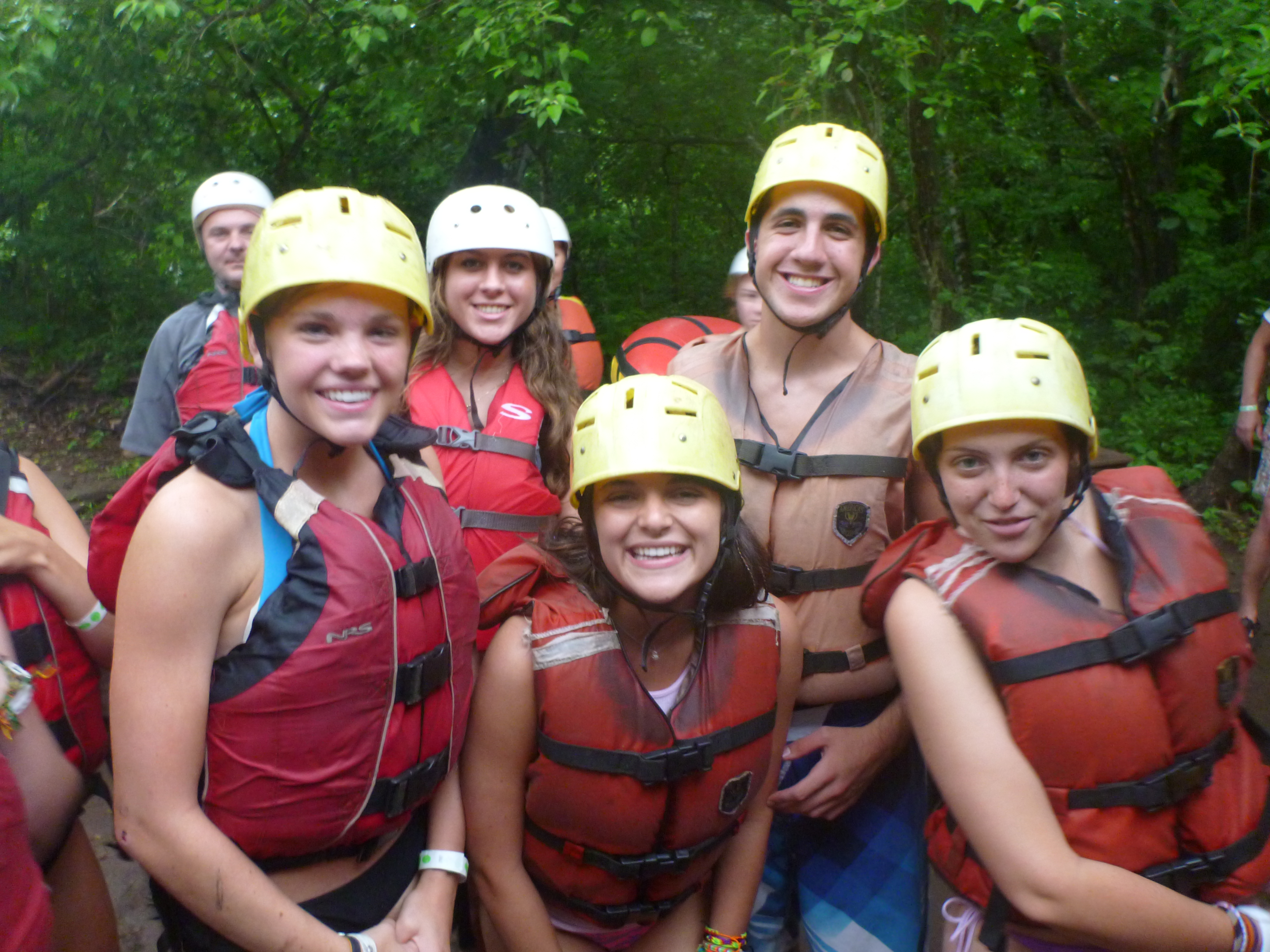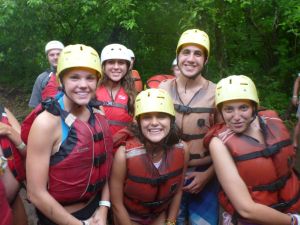 Our grand adventure has brought us to the beautiful Rincon de la Vieja! Accompanied by our lovable green mascot Carlos, our time at this astounding nature reserve has been equally made up of amazing adventure activities and relaxing in sun!
Our first adventure was a delightful ride through the jungle. At first the trip members were hesitant about the horses and were unsure about how to approach these timid animals. But with time and some basic instruction from our knowledgeable guides we bonded with these sagacious animals and rode through the jungle terrain. Trip members such as Amber and Heather led the convoy while others such as Chris and Megan were quick to assert themselves with their horses and sped up to help lead the group.
When we arrived at our destination with our new found friends we all prepared for a once in a lifetime experience of river tubing in the Costa Rica jungle. The beautiful landscape along with the massive rock formations on either side of the river made the ride an adventure that many of us will not soon forget.
The following day we took in the beautiful landscape by venturing through the wilderness and hiking to the picturesque waterfall where we spent the majority of the morning. Jessica, Eve, Hannah I. and Katie all worked on their tan while Raven and Hannah G. enjoyed the refreshing river and the beautiful location. The picturesque scenery was overwhelming and made for a fantastic start to the day.
After a scrumptious lunch we headed to the mud baths.  Akua and Jack, were lucky enough to come face to face with a friendly White Nosed Coatimundi. The encounter was short lived but still this native animal was exhilarating sight!  First we prepped in the sauna for our mud treatment. We all knew we were in for a real treat as we started to lather ourselves with the cleansing brown dirt. Kimmy, Allie, Jenna and Jeremy were engrossed in the cleansing process and completely covered themselves head to toe with mud. The trip members all then went to bake in the sun and the warmer we got the harder it was it move. After we rinsed the mud we headed for the hot tub to wash off the last of the mud and enjoy the rest of the refreshing afternoon.
Our first day in San Carlos at the Habitat for Humanity site was more than humbling. As we arrived in the underprivileged neighborhood we all realized the profound impact that our work and our presence would have on this community. We worked the day away digging trenches and helping to lay the foundation for the floor of a house all the time aware of the importance of our work. Jillian, Zack, Charlotte amongst others worked hard throughout the day and we were all pleasantly rewarded by smiling faces from other neighborhood families and an exquisite home cooked meal for lunch.
Thinking of you!
Costa Rica Community Service
The Westcoast Blogger