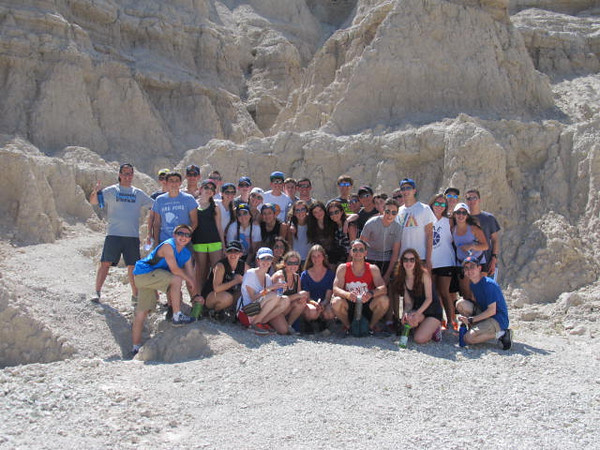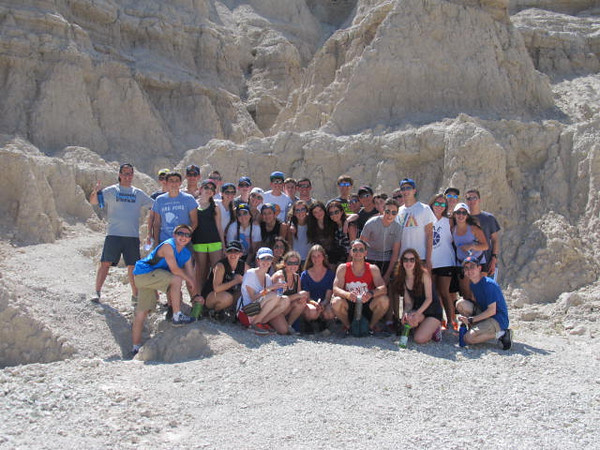 The US Explorer hits the road on the way to Mitchell, South Dakota. The most popular attraction in Mitchell is the CornPalace. The building and how everything is made out of rice amazed us all. Justin picked up a few post cards to send out so to those lucky ones expect them soon!  There is caramel popcorn, cheddar popcorn, and many more! We had an amazing pizza and more buffet at the Pizza Ranch. Once back at the hotel, Ian, Mathias, Matt B., Noah, Ben, David, Nadav, Austin, and Jacob went swimming. Jesse, Samantha, Nicole, Alex, and Jen had a mani party! Griffen, Matt, Britt, and Reid played mini golf at the hotel.
It was a short but sweet stay in Mitchell, and the next day we continued on to Rapid City. We stopped in the Badlands for a beautiful and adventurous hike. Lunch was spent at Wall Drug Market. Emma C, Maxine, Laurel, and Michelle enjoyed delicious fudge.  That evening, we visited famous Mount Rushmore and experienced a candle ceremony. Check out the photos for the beautiful picture of Ryan, Samara, Emma C, Michelle, Jenna, David, Jess, Mathias, Nadav, Erika, Jenn, and Jess! We all loved the experience! Jared A picked up a cool snow globe of the memorial.
The following day we started our journey bright and early! We hiked through the JewelCaves. We were split up into two groups. We used our work groups to separate: group a: Spurs and the Rockets, group b: Cowboys and Longhorns. Ryan, another camp site manager joined us for the hike. Group a was led by Bethan who made sure we stayed on our feet and walked super quick! Group b was led by Dorothy. We were not allowed to touch any parts of the caves, all hands and feet must stay on the trail. In the afternoon we visited the ReptileGarden where Mathias led the tour! Cat, Emma S, and Julia loved the massive Tortoise. There were two tortoises ranging between 49-50 years old. Fun fact- tortoise can live up to 150 years old!
In the evening the Longhorns cooked a mean meal of fish, chicken and steak. Michelle was awesome on the grill! Reed was not too shabby himself cooking those steaks. Samantha shocked the group with her amazing arm playing football. Nicole, Mathias, and Ben tried to keep up! After dinner we went to play glow in the dark mini putt. Ian purchased a tie dye shirt within minutes to ensure he was seen while playing!
The trip arrived in downtown Cody, Wyoming in time to see that daily Cowboy show, and then enjoyed a Chinese dinner at Hong Kong Restaurant.
The following day was a fun filled day! We woke up and went white water rafting. Emma S challenged herself on the rafts and enjoyed her experience. Reid began the boat ride in the middle to ensure he would not get wet, however he wanted a go at the waves and switched with Jess so he could paddle. Dan went made sure to be in our last raft. Jesse had a great experience as well but the water was super cold for her. After lunch we went horseback riding. Each one of us had a horse with a name, Austin's horse would not stop eating. Maxine was trailing behind a little as well with her horse but then got a good throttle. Ian and Nadav had a played a game of horseshoes. The boys were actually pretty good! In the evening we are going to the world famous Cody Rodeo,  and in the morning we head to Jackson Hole Wyoming.
                        Until next time, US Explorer