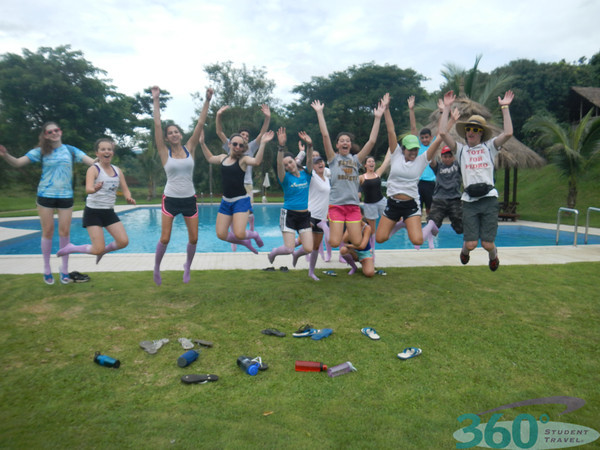 Hello!
A scenic, two-hour bamboo raft ride led us to our hotel in the middle of the jungle of Mae Salek. While Dillon, Megan and Micaela explored and played in the pool, the rest of the group took to their rooms and settled in to our beautiful hilltop bungalows.
At dinner we were presented with a special treat. The chief of the Lahu tribe came to share his culture and traditions. They presented us with a bamboo-woven basket; a traditional Lahu storage unit. Many members of the tribe, ranging from age 7 to elders, came to sing and dance to their traditional songs. Our group reciprocated and taught the tribe members the well-loved children's song "The itsy-bitsy spider". The chief wished us well in our future endeavors and returned to his tribe, we were eager to spend more time with them the following morning.
We spent the next day at the Lahu village where we got straight to work. We carried bamboo logs and sticks up the hills to our building site. After bringing a lot of bamboo to the soon to be completed kitchen, Sammy O, Emma, Michelle, and Morgan tied together the straw roof. Sydney N, Alicia, and Grace loved the hands on work! Meanwhile, Sammy B, Annie, Syndey W, and Josh worked to finish choreographing the group dance for the variety show we would soon put together for the tribe and Isaac took some incredible pictures of our team working with the locals. The huts were completed with help from Melanie, Gabe, and Daniella who put up the bamboo walls.
Our second day was spent assisting three tribe families in cooking lunch. We split into groups to compete to see who could cook the best meal. Matt, Sarah, and Emma worked hard to cook an awesome lunch alongside the chief of the village. The teams cracked the shells of rice, sifted out the husks, and then cooked it. We also cooked chicken and potatoes along with watermelon and pineapple to complete the meal. Delicious!!
After lunch, we were brought to their rice fields to begin planting. We worked together as a team to make very straight and organized lines of rice plants. Leah had a lot of fun planting rice. We were knee deep in the patties as we sang and danced to "Singin' in the rain" to entertain the tribe members, which Ruby loved! After planting two rice patties we cleaned up and prepared for our variety show for the Tribe. It included a variety of acts such as singing, dancing, karate, and a skit. It was a successful cultural exchange!
Visiting the Lahu tribe was fulfilling to say the least!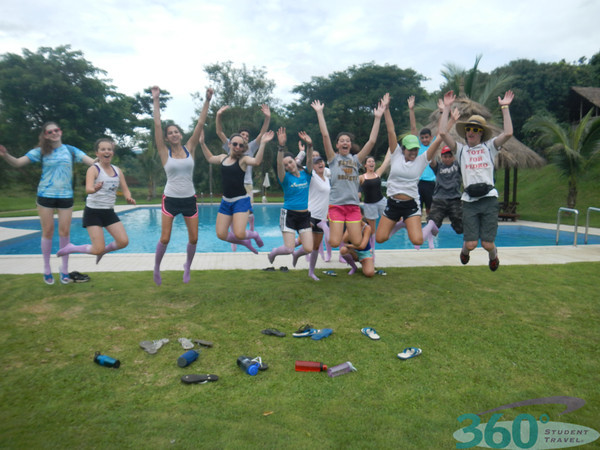 The Westcoast Blogger
Do you want to be part of this community service program? Check out our Thailand trips for students and get ready for the experience of a lifetime with Westcoast Connection.