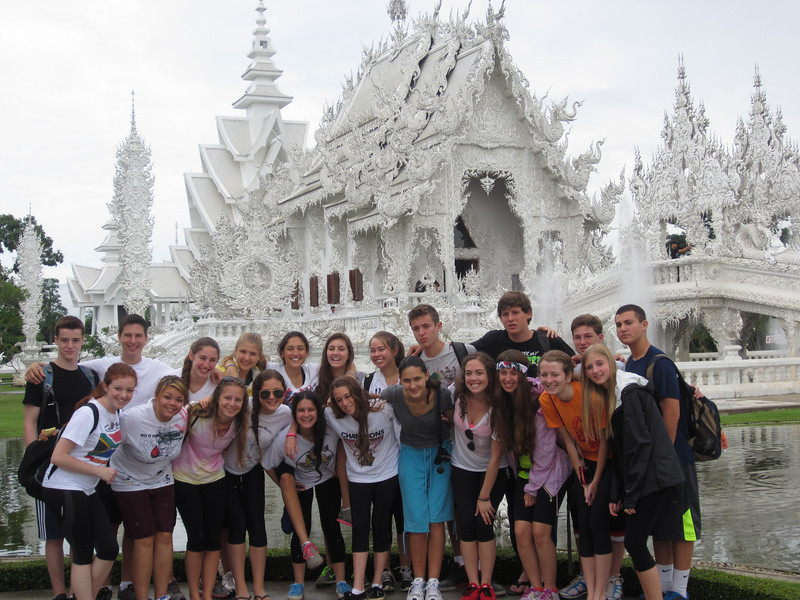 Let's just say that our time in Chiang Rai exceeded all of our expectations!
With heavy hearts we caught our flight to Northern Thailand and bid goodbye to Kob (who we had affectionately referred to as "Ma".) We are happy to know that we will see her again when we visit Krabi.
The buildings and busy markets that we had come to know in Bangkok were replaced with the miles of greenery and scenery of Chiang Rai. The air is fresh and our spirits were invigorated.
The group enjoyed a lovely scenic lunch on the river and then we embarked on our first elephant ride! All marveled at the views of Chiang Rai from the top of our very own adorable elephants. Our hike took us through the gorgeous countryside and through a river. Lola and Lizzie really had a special privilege when their mahout (trainer of elephants) allowed them to ride the elephant from his spot atop the elephants head. Eric said it was an awesome experience with great views. After our elephant ride Sydney, Elizabeth, Lauren and Sarah made another new animal friend; they each took turns holding a ten foot yellow albino boa constrictor!
Next, we took a relaxing longboat ride which strongly contrasted with our Bangkok longboat ride. The temples and picturesque homes now gave way to green mountains, cows and a giant white Buddha. This was the perfect chance to appreciate the beauty around us and think about the work we were about to embark on at the Special School.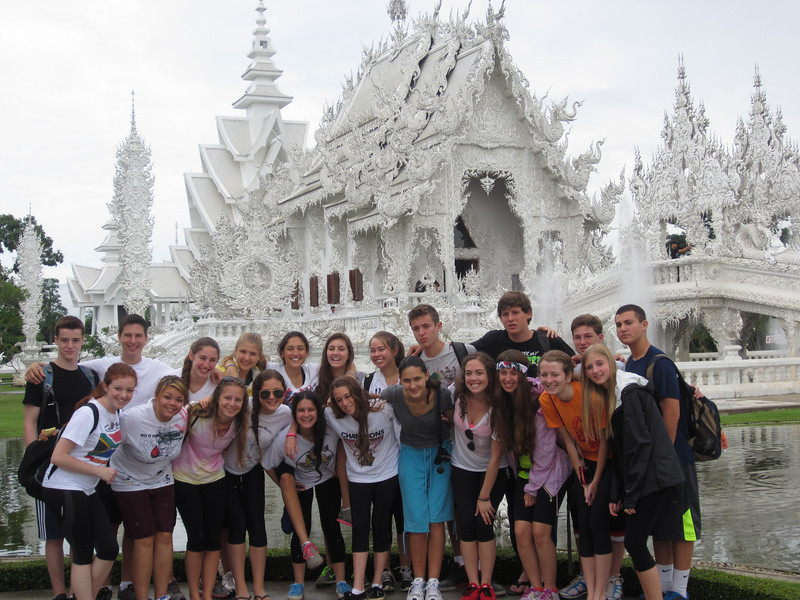 The next morning we made our way to the Special School to begin our first service project. The students of the school greeted us with warm smiles and hugs. The Special School educates their mainly autistic population on how to live and interact positively with others.
While one group worked on repainting the playground, the other group painted murals of Thai children in the dormitory.  Rachel B. helped a student put a fresh coat of paint on a faded merry go round.  Margaux and Lizzie were very diligent in finishing the mural and refused to stop until the final moment. We nearly finished all the murals on Day One which shows the dedication and commitment of our group. Parents, you should be very proud!
On our second day, we had the opportunity to interact with the students.  Aliza used her sign language skill set to communicate with a student from Singapore. Alexa taught students how to count to ten. Andrew played drums with a student. Lauren taught the alphabet. Gabby gave an English lesson. Ashley painted students' nails. Rachel S and Julia made bracelets and necklaces. Carter played balloon volleyball with a group. One of the students, Mae (who is a bit famous to the group because she is pictured on the Westcoast Connection/360 website) developed a little crush on Daniel and did not want the other students going near him!
The expression on the students at the end of the day was priceless. They giggled and smiled, gave hugs, bows and thanks to our group.
At the end of our service we gathered as a group to discuss our thoughts and feelings over the past two days. We all concluded that we were proud of the work we have accomplished but we each also left with a new appreciation for all the blessings we have in our lives.
We have truly enjoyed our time in Chiang Rai but are excited to journey on in our mission of service to The Golden Triangle to begin our elephant research project!
Until next time!
The Westcoast Blogger
Do you want to be part of this community service program? Check out our Thailand trips for students and get ready for the experience of a lifetime with Westcoast Connection.