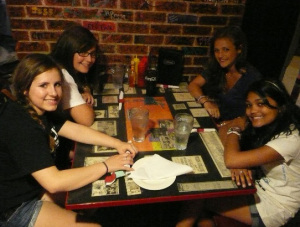 The updates continue. Here is a shout out from the Californian Extravaganza.
Enjoy!
The Westcoast Blogger
Greetings!
We are currently in Salt Lake City, Utah and we have seen and done so many incredible things. It's hard to believe we have been together less than a week! Yesterday morning was one of our most challenging team building activities yet, as we went white water rafting in Jackson Hole, Wyoming on the Snake River. The waves were great and Julie L., although initially nervous about sitting in the front of the raft with Harrison, truly embraced this opportunity to conquer her fear and did an AMAZING job getting us through such a great adventure. However, I should backtrack a few days in order to give you a full debrief of what your teens have been up to.
On our first full day in Boulder, Colorado we went biking and explored Pearl street. Jared S., Joelle, and Noah loved bike riding and watching the street performers!
En route to Jackson Hole, we saw various wildlife such as moose, elk, and buffalo – which by the way, our fellow staff and resource person, Josh, believed were extinct! Upon arriving at our campsite, and experiencing a bit of rain, the sky became the most beautiful shade of orange anyone had ever seen! Although the weather may not have been ideal, the view struck Max, Kyle, and Henry as one of their most memorable moments thus far.
Another funny comment while camping was when Andrew could not believe that his flashlight needed batteries in order to work! The beauty of camping is the fact that it gives our tour members the opportunity to cook meals for their fellow campers. Jackie, Elissa, Courtney, and Katie have made a point of expressing how much they love the food. They are as good at preparing it as they are at enjoying it! In fact, all the kids have truly stepped up to the plate when it comes to meals and I am very impressed by all their efforts to help out. James also expressed his new found love for omelettes before heading to see Old Faithful in Yellowstone National Park.
Last but not least, Tom, Dylan, and Max certainly outdid themselves when they showed up to our meeting spot wearing very snazy pink cowboy hats! Seems like we have quite a few trendsetters on our trip!
That's it for now! I will be sure to update you again soon!
Brittany and the Trip #4 staff