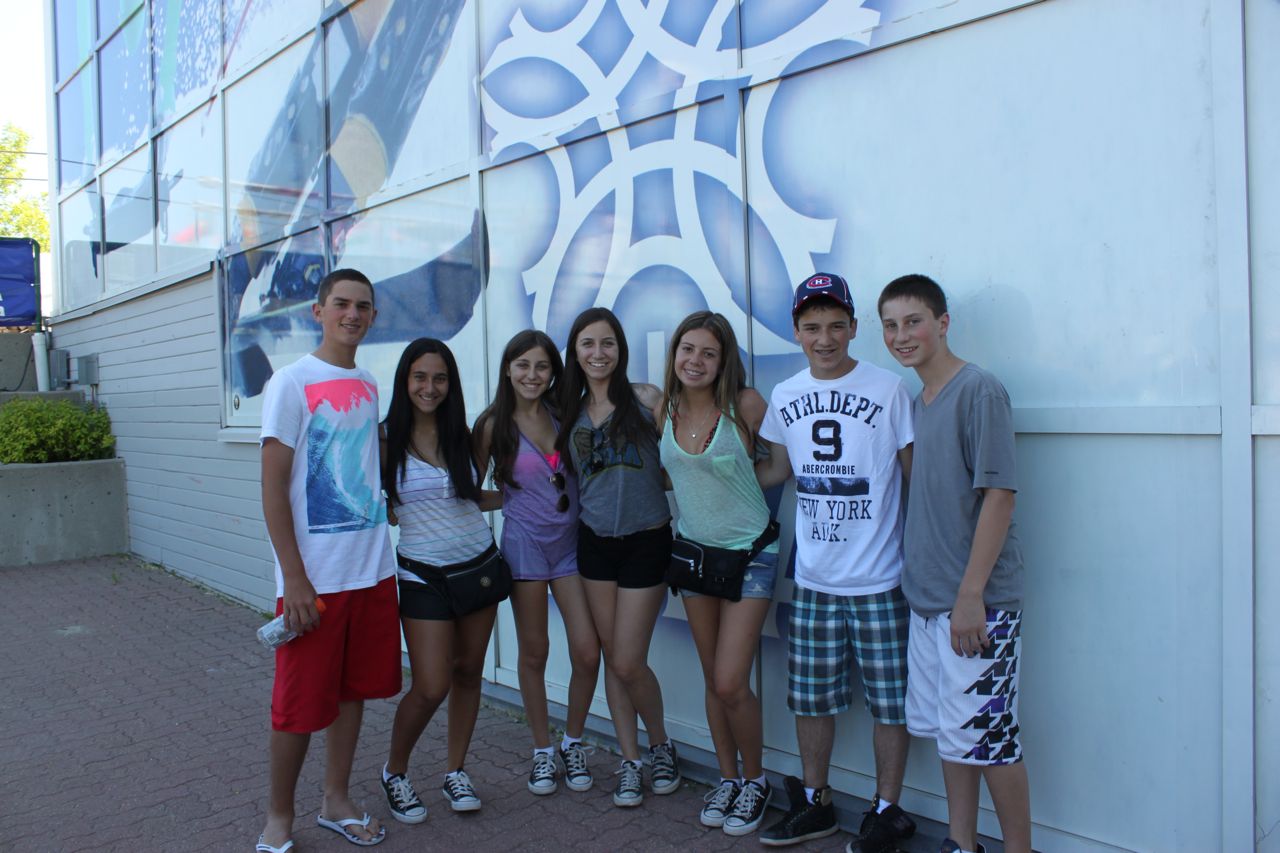 An update from the U.S. Explorer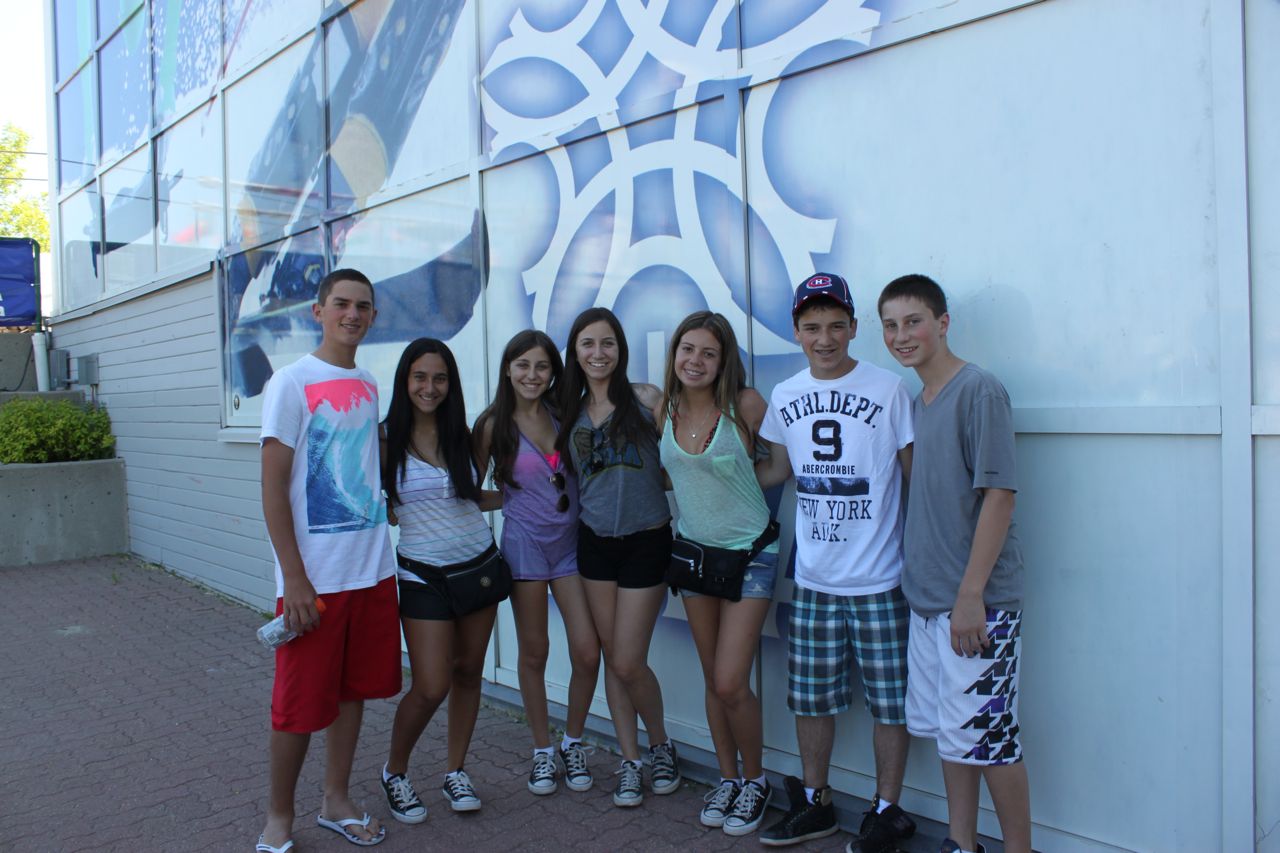 What's Up XR19 Parents?
How did we get to Park City, Utah? The ride started with the morning mix (obviously) and was followed by "the cereal game," which consists of each person naming a type of cereal. This game lasted quite a long time – we know over 170 cereals as a group (kudos to anyone who works in the marketing department of General Mills or Kelloggs) . We then played Name That Tune. Noah, Kyle and Justin were pros – even when we threw jams from the 80s and 90s at them!
After dinner at Bandits Grill (talk about amazing BBQ and ribs), we spent some time exploring Park City and checking out the quaint shops.  We then stopped for ice cream at Java Cow, a Park City institution. The cow mascot in the front of the store was just waiting for us to take pictures especially with the new furry hats some of the boys picked up – Tyler as a penguin, Noah as a wolf, Brandon as a dalmatian, Lee as a white tiger, Zach G. as a cheetah, Matt as a monkey and Evan S. as an angry bird. Zach R., Sam E., Chase, Justin, Kyle and Rickey decided to start a freeze on the sidewalk. Randomly they would stop walking and assume random poses. They froze right in front of a restaurant window and steps away from a couple eating dinner. Once they figured out what was going on, they certainly got a a good laugh!
Our fun filled day was finished off by relaxing in the 40 person hot tub and sauna, and of course jumping in the indoor/outdoor pool to cool off! Lee said it was the perfect way to end his perfect day.
The next morning, Jason and Jonah F. kicked off National Steve Day, in honor of our bus driver. They decorated the bus with a sign that said, "Happy National Steve Day" along with drawing him a self portrait. They also gave trip members a chance to say a few nice words about Steve on the microphone. Steve was very touched and appreciative of their idea and efforts to make a special day for him! Herbie (our bus) and Samantha (our GPS) were a bit jealous.
The Alpine Coaster was really fun! We could control our own speed, and the dare devils in the group weren't afraid to push the pedal to the metal (figuratively speaking).  Haley and Izzy were spotted laughing, twisting and turning at full speed – 30mph. Lyndsay and Delilah said they had a lot of fun and enjoyed the amazing mountain views in the distance.
Next up was Lagoon-a-Beach and Lagoon Amusement Park. Lagoon-a-Beach was the perfect place to cool down. Julia, Alexa and Evan A. enjoyed the Lazy River – and went around in circles multiple time. Emily, Jaime, Nikki and Seryna found a group of lounge chairs and enjoyed some R&R in the sunshine. Brandon and Noah tore up the tube slides.
At the amusement park, we went upside down, inside out and enjoyed the thrills of many awesome rides. Wicked seemed to be the favorite, as it is the biggest ride in the park with a 55mph launch in 2.5 seconds up at 110′ vertical tower. Mabil loved the speed on the ride, and the loops. Jamie and Samantha enjoyed going on the ferris wheel as it had views of the Great Salt Lake the top. On that ride, they also came up with a new name for each other. You ready for it? The Meatballs! Tyler came back to the meeting spot having won a smurf and Jonah E. with an elephant. Jonah F. was quite proud of his Spongebob Squarepants! Air Race, the newest ride in the park was a favorite for Grant and Sammy.
The following morning we broke Battle of the Sexes (BotS) Jared and Jason came on the bus with their hair gelled back in white shirts and aviator sunglasses dancing to Bad Boys while Raquel, Amanda and Natalie ran onto Girls Just Wanna Have Fun – with their hair in 80's style side ponytails. Once the trip members caught on, they were excited to see what was going to happen next! Captains for the boy team are Brandon and Justin. Captains for the girls team are Emily and Seryna.
We played Name That Mashup (one point for song name, one point for artist for all of these crazy medleys), Name that Movie (over 100 4-second movie clips combined into one video) and Name that 90's TV Theme song.
The views at Bryce Canyon are unreal. Abby said she loved the scenery, especially the colors of the hoodoos. Grant, Sam and Gary were happy to take part in a hike, as they love to get a good work out! It was a fantastic afternoon, as we hiked the Queen's Garden trail deep into the canyon for truly unforgettable scenery.
Back at the campground, we worked on our cheers, airband and team dance for tomorrow. Nikki has already  choreographed a dance for the ladies. The boys were laughing about their cheer. Aaron said he is ready to "take down" the girls and win BotS. Delilah said that she's enjoying Battle of the Sexes because it reminds her of Color War!
For evening program, we played Battle of the Sexes Trivia. Boys were asked questions that girls would typically know and the girls were asked questions that the boys would know. It was funny to see their reactions, as the team being asked the question would be completely lost and the opposite sex would be like, "that's sooo easy!!!" Sports stats, makeup brands, Chick Flick characters, car parts… After an intense competition, the boys won the tie breaker! We will write again with an update soon, after our hike in the Grand Canyon and visit to the Coral Pink Sand Dunes!
 The Westcoast Blogger