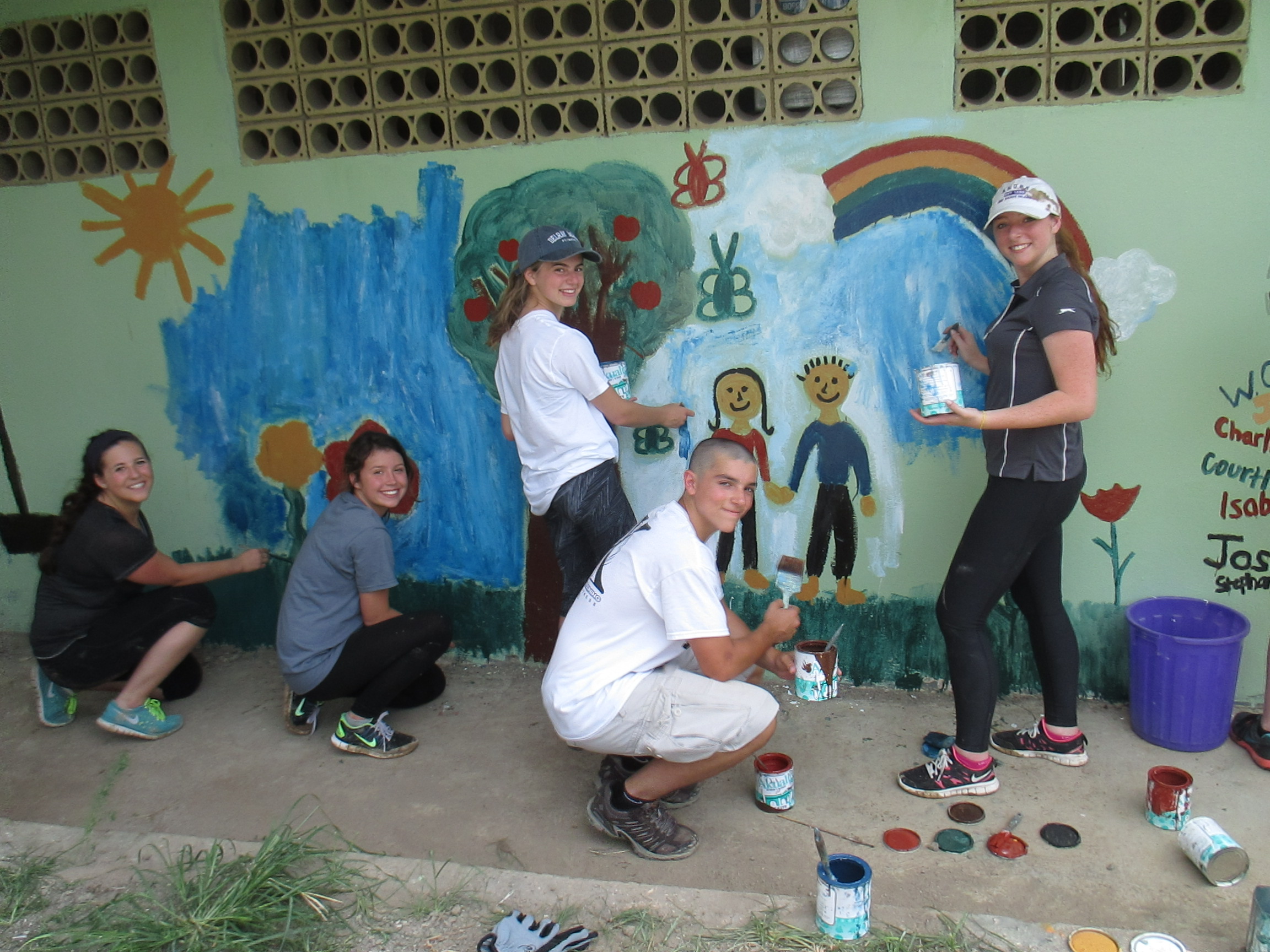 Hola! Tuesday we woke up for a delicious breakfast at our hotel. Then we were off to Puriscal to do service with the Costa Rican Humanitarian Foundation.
The drive to Puriscal was an event in itself. Our bus climbed high into the mountains where we witnessed spectacular views of Costa Rica's beautiful countryside.  In Puriscal we spent the day working at a day care center. A lot of us were a little nervous because we don't speak a lot of Spanish… how would we communicate with little kids? We learned fast! As soon as we stepped off the bus, the kids were jumping up and down with excitement just to have us there!
Our group worked on four different projects during the day: playing with the kids, painting a mural, cleaning up an overgrown garden, and laying the foundation for a sandbox.  It was evident that we made the kids' day while playing with them. Hailey had a little fan club right from the start! Johana and Jess did an amazing job talking to the kids in Spanish, and everyone else figured out pretty quick that gestures and non-verbals worked out just fine as well!  Steven, Julia, and Nick showed the kids their football (soccer) talent, Will skillfully pushed three swings at once, and Morgane learned Ring Around the Rosie in Spanish with a couple of kids. They were thrilled to have us around to play.
Our mural turned out beautifully. Our group planned it all out themselves and everyone added their artistic skills. Everyone did a wonderful job helping to mix the concrete and lay the foundation for a sandbox at the center.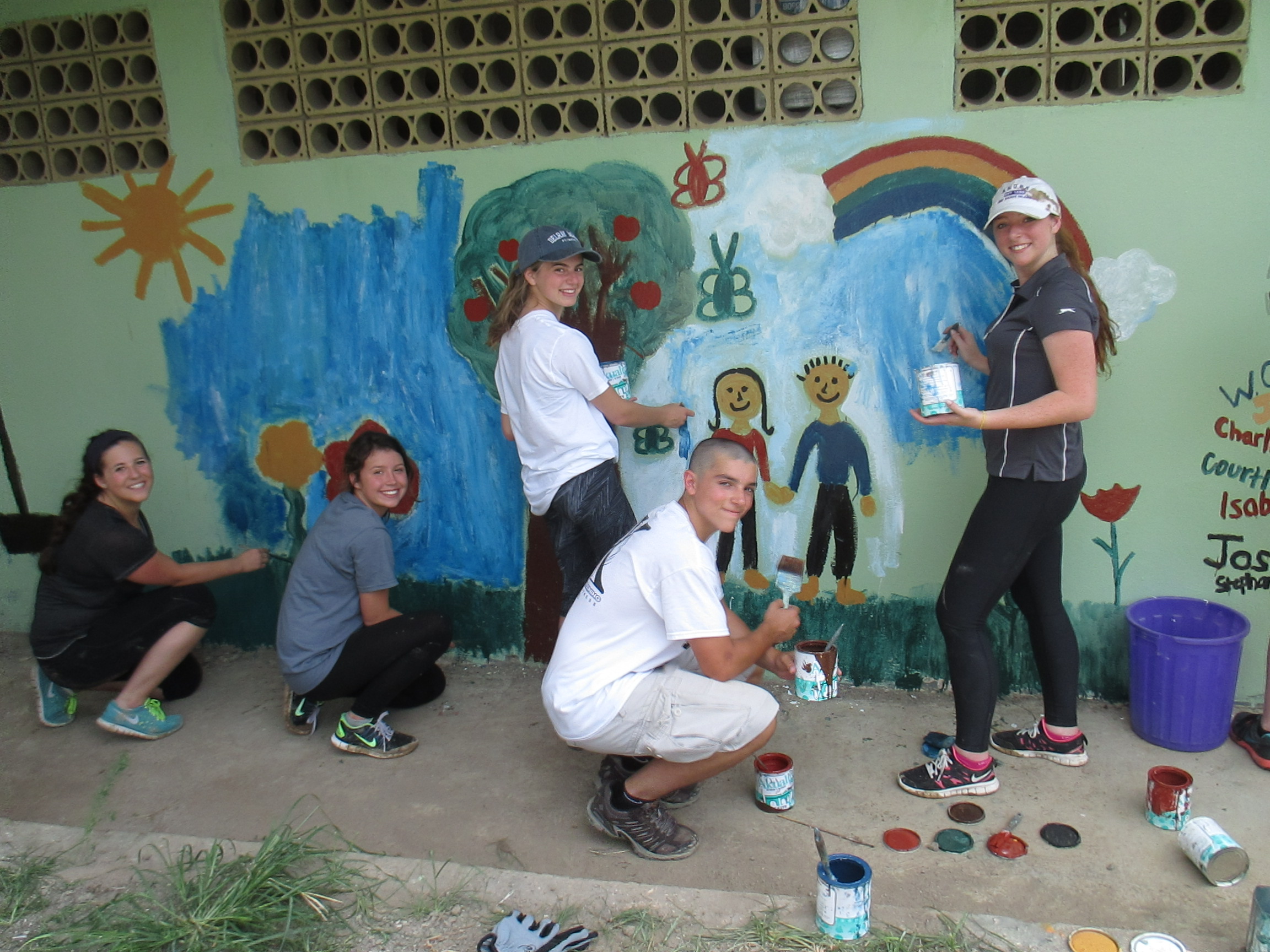 After working at the daycare we headed back to San Rafael where we had dinner and then played some mini golf. Josh impressed us all with his mad skills and even gave Mallory W. a few pointers. Everyone had a blast.
Wednesday was our second day of service for the Humanitarian Foundation. We traveled to La Carpio, an impoverished neighborhood in San Jose that is home to many Nicaraguan immigrants. It was incredibly humbling to witness this neighborhood and the hopeful people we met in it. Our group did a few different activities: played with kids in the pre-K school, played with older kids in the street on their way home from school, and painted a couple inspirational murals on walls within the neighborhood. After our work, a few of the Nicaraguan women who now work for the Foundation put on a play for us illustrating the struggles they went through before making it to Costa Rica. We were all given a little beaded angel to keep, to symbolize the angels who protected the women on their journeys. It was very touching. We all left feeling impacted in a very big way.
Wednesday night we showed off our amazing singing skills at karaoke! Mallory T and Jess kicked off the performances and wowed the crowd with their rendition of Rihanna. Emily, Jillian, Juliette, Eric, Steven, and Frankie impressed us all with their voices and dance moves as well, they even had an encore!
Today was our final day in San Rafael and our last time working with the Foundation. We were sent to a day camp to play with the kids from La Carpio.  Each of our trip members was paired with a kid to spend the morning together. Michelle's little buddy kept her running all morning long! Steph and Courtney were surprised when they got in the pool and realized all their buddies wanted to do was splash! Overall, the kids from La Carpio were so receptive to all our trip members and absolutely loved spending the day with their older buddy; even Isabel's tenacious little buddy came around and adored playing in the pool with her.  Everyone was sad to say goodbye.
Today we ended the day with a pool party and a Latin dance class! Charlie and Mikayla are now experts at the cha-cha, and Dana and Josh challenged Jordana and Nick to a little friendly salsa competition! The jury is still out on who won though… After the dance teacher finished, we taught her the Cupid Shuffle! She caught on pretty quickly.
Tomorrow we leave for Costa Rica's west coast, Tamorindo Beach! We are going to be doing a little surfing and service there as well. Everyone's excited to swim in the ocean!
We are all having a blast in Costa Rica, can't believe we're halfway done! Hope all is well back home!
Saludos!
 The Westcoast Blogger