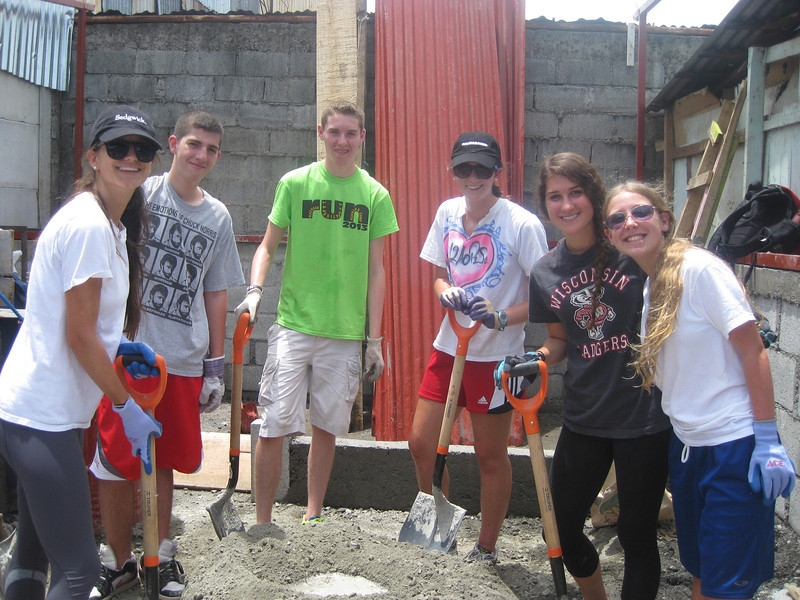 Hola from beautiful Costa Rica!
Our first day together was awesome! We arrived after a beautiful drive through the city and the hills, and played some fun icebreakers to get to know one another at our hotel. Ashley is our new official "Rock, Paper, Scissors" champion, with Jon in a close second place!  After a good night's sleep we traveled through the cloud covered mountains to our white water rafting outfitter on the beautiful Pacuare River. We saw numerous freshwater waterfalls and reveled in the beautiful sights and sounds of Costa Rica.  Everyone loved the experience of paddling through Class III and IV rapids – what an adrenaline rush! Arly and Chloe faced their fear of the sport and turned out to be natural paddlers! Obviously we all got soaking wet from the rapids which made it an easy decision jump in and swim and float for a bit in the in the calm waters after the rapids. It was truly majestic!  During our adventure, we stopped for lunch amongst the trees and had some of the most delicious fresh pineapple any of us had ever tasted. The food was delicious and the tropical rain added to our already authentic Costa Rican experience.  After our adventurous day, Gail, from the Costa Rican Humanitarian Foundation came to see us at the hotel. She is an amazing woman who moved to Costa Rica more than 25 years ago and has been serving the people of La Carpio (one of the poorest communities in Costa Rica) ever since through her foundation!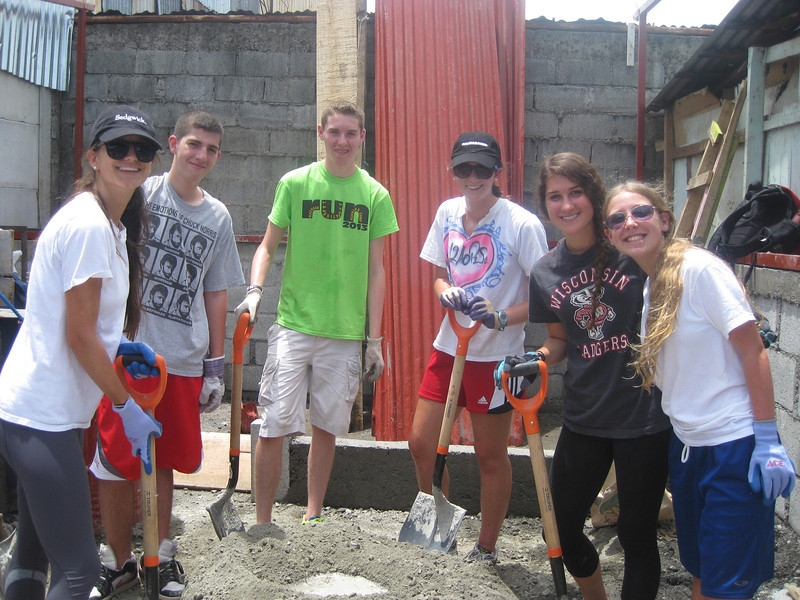 The next day, after a wonderful Costa Rican style breakfast, including gallo pinto (rice and beans), we were off to our service in La Carpio. From Gail we learned that when La Carpio was first established it was mainly Nicaraguan immigrants, but today almost 60% of the residents are Costa Rican.  Before heading out to start her service, Danielle had a wonderful opportunity to speak with Gail regarding her future humanitarian plans.  Haley, Arley, Julia, Elana, Cole, and Paul worked extremely hard to mix cement to help lay the foundation for our friend Macho's new home!  Alyssa, Chloe, Mackenzie, Jon, and James helped bring a smile to Maria's face as we brightened up the exterior paint job of her home and her neighbor's as well.  Ashely, Cici, Danielle, Michael, and Ben played with the children at the daycare and helped them get ready for naptime.  Cici was able to apply her Spanish skills while playing and bonding with the kids which helped them to create a great bond – they loved her! Our day of service ended with a delicious home cooked meal from the women working in the Costa Rican Humanitarian Foundation. On our way back to the hotel we all stopped for a much deserved treat – McDonald's oreo McFlurries! Sooooo good! Later that evening we had a great conversation regarding our experiences at La Carpio, with everyone sharing something personal in our circle of trust.  Afterwards we received salsa lessons from Jesus, who has previously danced with Shakira!  Following our lesson Jesus surprised us with our own personal professional belly dance show.
We are so proud of everyone for what the incredible first day of service we had!  We are looking forward to the next two days in La Carpio, making differences in the lives of the people there, and getting to know the residents and learning from them as well! Everyone is having a great time, healthy and happy and looking forward to what our adventure presents us with next! Hasta luego y Pura vida!
The Westcoast Blogger