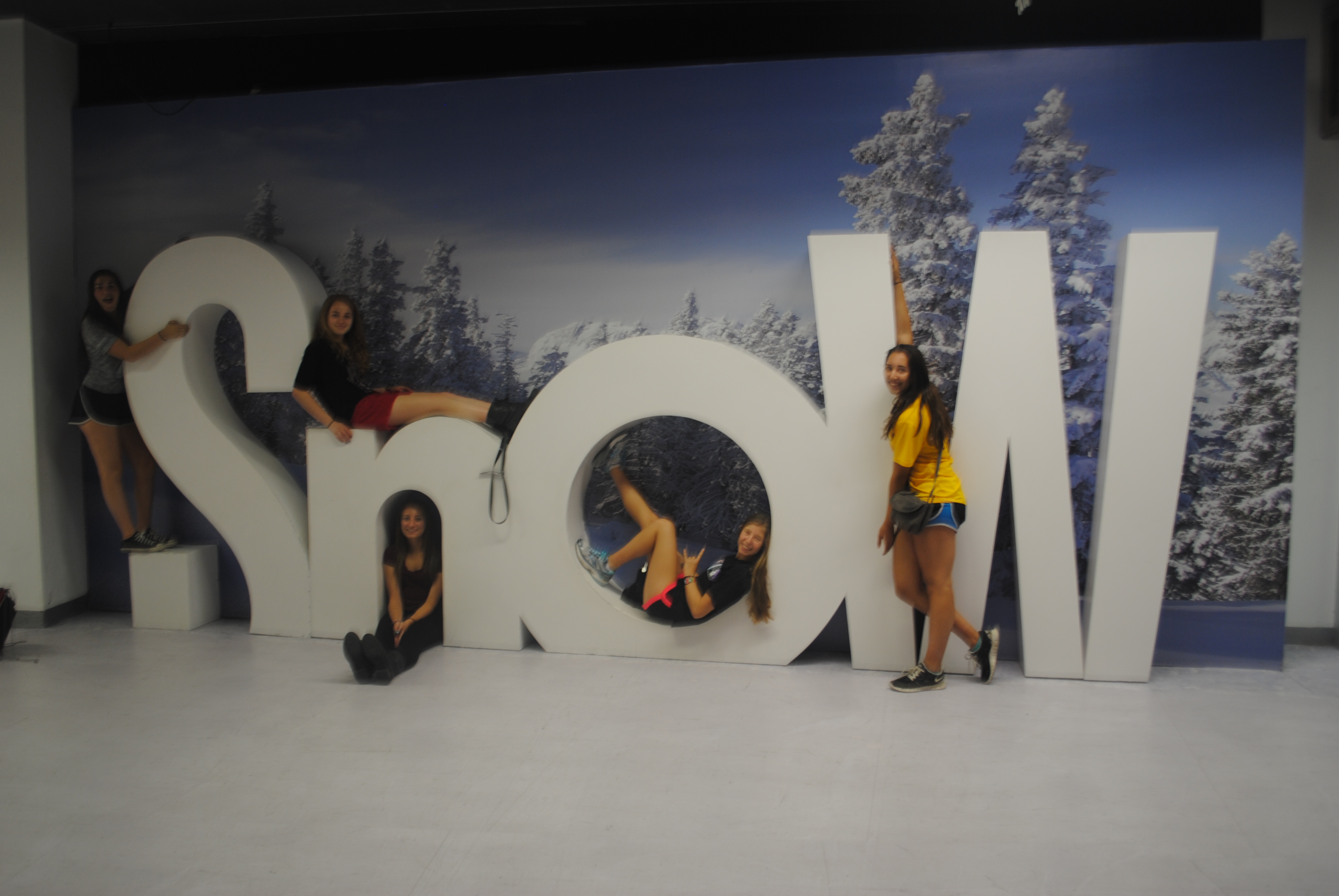 Hola familias ! Ahora estamos en Madrid, una de las ciudades mas bonitas del mundo. Los chicos han estado explorando las plazas y la historia, mientras caminando en el calor del sol. Durante nuestro primer dia, llegamos al hotel y jugamos juegos para conocernos. Caminamos por las calles alrededor del hotel para poder conocer el lugar en donde estamos. Esa misma noche, desgustamos por primera vez la comida espanola…tapas! Comimos tortilla espanola, queso manchego y croquetas. Los chicos salieron del restorante sintiendose llenos y listos para ir a dormir!
Hola familias!  We are currently in Madrid, one of the most beautiful cities in the world! Our trip members have been having such a blast exploring the winding cobblestone and enchanting plazas under the warmth of the Spanish sol. During our first day on the trip, we arrived at our hotel and played fun icebreakers to introduce ourselves to one another. We strolled the streets around our hotel to get an understanding of its amazing location. Later that night we had our very first taste of Spanish cuisine…tapas! We ate tortilla española (a scrumptious dish consisting of eggs, potatoes and onions), manchego cheese, and croquetas, amongst many other platters. The trip members left the traditional tapas restaurant feeling pleasantly full and ready to sleep after a long day of traveling!
 La manana siguiente, comimos el desayuno y fuimos al Palacio Real. Cada cuarto estaba decorado con oro y tapices. Charlotte pregunto muchas preguntas interesantes sobre la familia real. Sacamos muchas fotos en la terraza atras del palacio, donde se puede ver una hermosa vista de los pueblos alrededor de Madrid. Despues del palacio caminamos al Mercado de San Miguel, el cual estaba lleno de frutas frescas y tapas. Muchos  de los chicos comieron paella por primera vez, un plato tradicional de arroz, verduras y mariscos. Despues fuimos a uno de los museos mas importantes de Europa, El Prado. Vimos las obras maestras de El Greco, Velazquez, y muchos artistas mas. Despues del museo, fuimos al Parque Retiro, un parque famoso en el centro de la ciudad. Mark, Marc, Andrew, Alex y Evan se divirtieron remando los botes en el lago del parque.  Para la cena nos separamos en grupos y exploramos varios restorantes de tapas alrededor de la Plaza Mayor, la plaza mas grande en la ciudad. Alexa, Dana, Emily Carpey, Maddi y Olivia encontraron una tienda Egipcia donde se intrigaron por las cosas exoticas que habian alli. Skylar, Tommy y Courtney les hicieron reir a los demas chicos cuando conversaron con un muchacho que estaba vendiendo chifles muy graciosos.
The next morning we ate breakfast and headed off to El Palacio Real, the Royal Palace of Madrid! Each room was intricately decorated with golden details and astounding tapestries. Charlotte asked interesting questions about the current whereabouts of the royal family.  We had a photo shoot on the terrace behind the palace which features and unbelievable view of the countryside surrounding Madrid. After the palace we walked to El Mercado de San Miguel (San Miguel's Market), which was full of fresh fruits and tapas. Many of our trip members had their first taste of paella, a traditional dish consisting of rice, vegetables and seafood. Next we took our bus to El Prado, one of the most renowned art museums in Europe. We saw the works of El Greco, Velázquez, and many other famous artists. After el museo, we went to El Parque Retiro, a famous park in the center of town. Mark, Marc, Andrew, Alex and Evan had a good time paddling on the rowboats in the lake there. For dinner we broke into groups and explored the various tapas restaurants around El Plaza Mayor, the biggest plaza in the city. Alexa, Dana, Emily Carpey, Maddi and Olivia found an amazing Egyptian store where they became intrigued by the exotic items there. Skylar, Tommy and Courtney made everyone laugh when they conversed with a vendor who was selling funny whistles.
El siguiente dia fue nuestro primer dia de clases! Nuestra escuela, Enforex, esta en una calle muy pintoresca en el centro de la ciudad. Despues de classe, fuimos a Xanadu, un centro recreacional donde hay una montana muy grande de nieve real. Alli, los chicos esquiaron, anduvieron en tablas de nieve y hicieron tubing. Taylor S. nos mostro sus talentos esquiando mientras que Tyler se divirtio haciendo tubing. Gabi y Giorgia estaban muy contentas porque conocieron a un actor Espanol famoso cuando estabamos caminando al hotel. Cuando llegamos al hotel, jugamos un juego donde Edward impresiono a los demas chicos con su historia de cuando conocio a Mike Tyson, y Sara nos hizo reir con su historia sobre su escuela.
The next day was our first morning of classes! Our school, Enforex, is located on a picturesque street in the heart of the city. After experiencing their first taste of Spanish class, our trip members boarded the bus and headed to Xanadu, an incredible recreational center that features a giant hill with real snow. Here, they skied, snowboarded, and tubed. Taylor S. showed off her skiing skills while Tyler had a blast tubing down on the mountain. Gabi and Georgia were excited because they met a Spanish celebrity on our way home that night. When we got back to the hotel later, we played a fun storytelling game where Edward wowed the crowd with a hilarious tale about meeting Mike Tyson, while Sara made us laugh with a tale from school.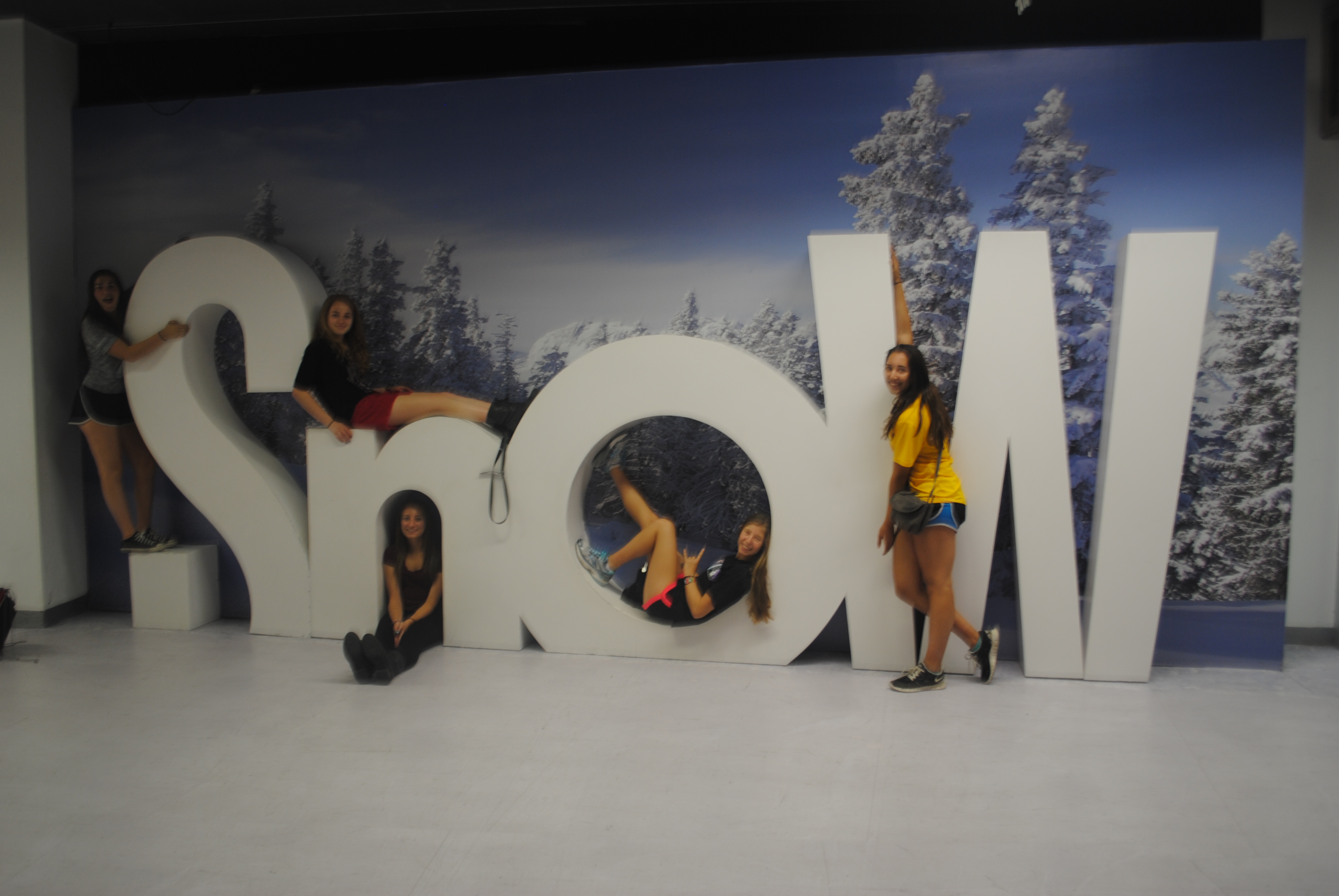 El proximo dia, tuvimos otro dia divertido en la escuela. Los chicos jugaron diferentes juegos que estaban relacionados con la cultura Espanola y gramatica. Comimos el almuerzo en la zona del hotel y fuimos a Toledo, una ciudad medieval con hermosas calles y pequenas montanas. Fuimos a La Catedral, una iglesia enorme construida en 1227, y la cual contiene muchas pinturas de El Greco. Despues de la iglesia, fuimos a la sinagoga mas vieja de Europa. Nos separamos en grupo para la cena, comimos gelato y volvimos al hotel despues de un hermoso dia.
The next day we had another fun day at school! The trip members played entertaining games in their classrooms that involved both Spanish pop culture and grammar. We ate lunch in the area around our hotel and headed off to the breathtaking town of Toledo, a medieval village consisting of winding streets and rolling hills. First, we toured La Catedral, a humongous church built in 1227 which features many of El Greco's masterpieces. After the church we went to the oldest synagogue in Europe, which had beautiful artifacts. We split into groups for dinner, ate some gelato and headed back to our hotel after an enriching day.
Hoy fue nuestro ultimo dia en Madrid! Los chicos fueron a la escuela por la manana, comieron el almuerzo, y fueron a la Reina Sophia, un museo donde vimos Guernica, una pintura muy famosa de Picasso. A Lindsay e Isabel les gusto mucho el trabajo de Yoko Ono, y buscaron mas informacion despues del museo. Esta noche iremos a ver un show de opera! Va a estar buenisimo!
Today was our last full day in Madrid! The trip members headed to school for their morning classes, ate lunch around the hotel, and headed over to La Reina Sophia museum, where we saw Picasso's famous Guernica amongst many other famous works of art.  Lindsay and Isabel were intrigued by the work of Yoko Ono, who they researched after leaving the museum. Tonight we are heading over to see an opera performance, which should be an amazing experience!
La estamos pasando genial, explorando la cultura Espanola y practicando nuestro espanol. Estamos en contacto!
We are having an incredible time thus far exploring the rich culture and practicing our Spanish! More updates to come soon!
Hasta luego!
The Westcoast Blogger