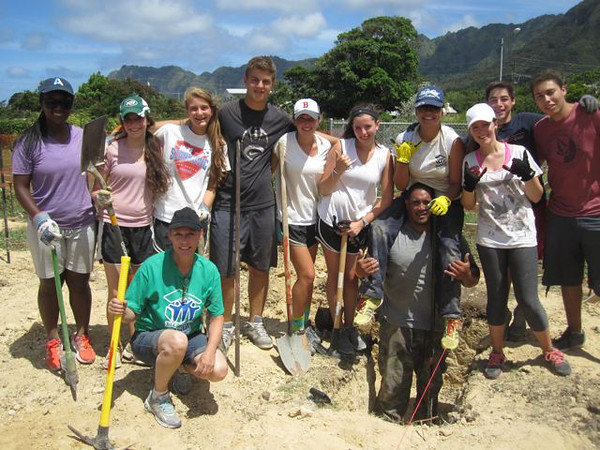 Welcome to Oahu, the home Island of Honolulu where our adventure began. Our group felt like family from the second our first trip members Morgan C., Stef, and Gail were greeted by Trip Leaders Joelle and Michael. Shortly after, the rest of the group flew in and completed our tight-knit crew. Once we got to our vans, the 'Black Panther' and the 'Silver Surfer', our Trip D.J. Alex put on the best jams for us to ride home to.
The moments we will share on this trip will be amazing – and this became clear from the start as we set sail on the Mankani Catamaran for a day of fun and relaxation. We drifted in the Pacific and found our place in the front of the ship. Cameron did not budge once he claimed his spot on the nets of the boat. He laid out, basking in the sun, taking in all of the beauty surrounding him. Julia set out to learn from the first-mate on how to make this contraption we were sailing on moves. After docking, we headed right to our first beach adventure and most of the group jumped right into the sparkling water.  Lee and Alex learned how to play a new beachside game called Washers. They played like they had been doing it for years. After a long day, our  crew headed back to our hotel for some sleep in paradise.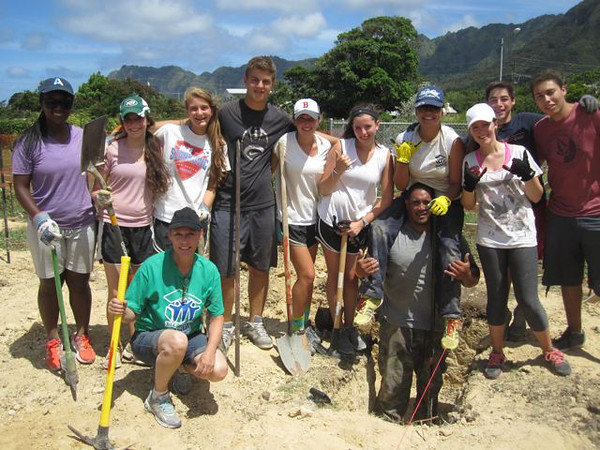 As the sun arose, so did the spirits of our group. In preparation for our first day of service with the Boys and Girls Club of Hawaii we were pumped and ready, full of ideas for the kids. Upon arrival we had a tour of the facility and learned about the struggles of the community we were working in. Then we broke into groups to provide a stimulating and active rotation of activities. Gail, Lee, and Stef created an obstacle course for the kids to work their way through relay style. The boys, Dustin, Seth, and Cameron held down the sports fields with games of soccer and basketball. And last but not least, the ladies, Morgan L, Madi, Julia, Morgan C, and Alex, created a room of crafts filled with bracelet making, painting, and sculpting with clay. The day was a huge success and day two at the club would prove to be the same. An afternoon of weeding showed off Seth's strength as well as his and Dustin's singing capabilities as they provided our afternoon tune of Maroon Five's "She will be loved" on repeat (Dustin's favorite song).
Everyday has provided chances for us to grown closer and learn more about each other, like the fact that Madi's favorite color is violet, which is also her middle name, or that Morgan C. was once a snake in a dance performance, or that Morgan L.'s favorite food is ice cream! With all that we have learned, there is still so much more time to get to know one another and enjoy this beautiful experience.
As we continue on our adventure, and grow as a group and a family we bid our readers aloha and make our way to Habitat for Humanity, surfing the North Shore, and yet another week in paradise.
The Westcoast Blogger