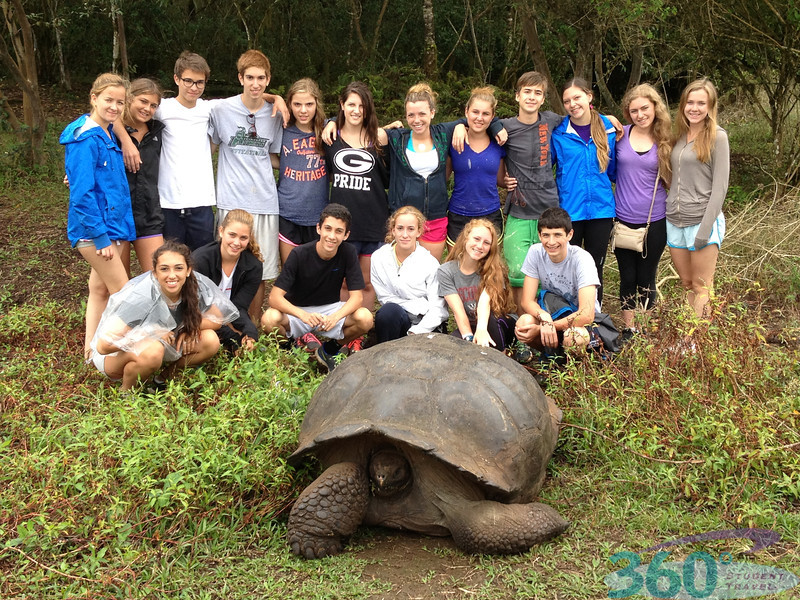 Hello friends and family!
As we say our final goodbyes in Quito, we need to catch you up on our adventures in the Galapagos!  We have been enjoying the sunshine, the beach and the exotic animals at every turn.
On our first day in the Galapagos, we spent the day snorkeling with sea lions in the National Park on San Cristobal.  We hiked our way to the beach and were greeted by a thousand sea lions laying on the beach-waiting for us to join them.  We put on our fins and snorkeling gear and explored an entirely new world just below the surface of the water.  We saw sea turtles swimming and dove with the sea lions that were anxious to make new friends with us.  Sammi, Matt B, Macy, Lucy and Nick ventured to some nearby rocks where they were able to see many types of gorgeous fish.
The morning of our second day in San Cristobal we spent painting a local school building.  Skylar, Jordan, Greg and Dasha completed an entire hallway by themselves! We saw the walls of the administration building transform from a dull blue to a vibrant yellow.  Later that afternoon we went to a beach reserved exclusively for sea lions.  As we snorkeled, we spotted many more turtles, sea lion pups and some marine iguanas basking in the sun.  Matt K, Maria, Eva, Nathan and Lily made some friends with the sea lions and were able to snap some up close pictures of them in their natural habitat.
The third day in San Cristobal was spent reviving the paint of two classrooms.  It was inspiring to see the children that would be using the freshly painted classroom playing soccer and even practicing for band.  The afternoon led us to the beach once again.  As many of the tour members snorkeled, Nathan, Grecia, Nick, Sammi and Lily tossed the football around and used sleeping sea lions as barriers for goals.  It was most definitely the craziest game of soccer many of us had every seen!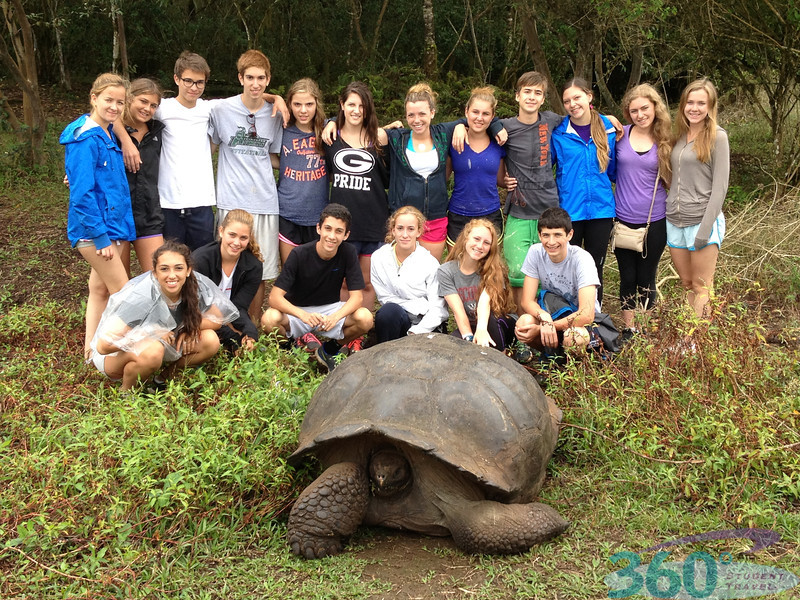 Our last day in San Cristobal, we returned to the school but with new tasks.  We found rocks within the nearby forest and made a new path for the students to find their way around campus.  Macy and Matt B. helped to paint rocks so that the path was visible even at night.  Our highlight of San Cristobal was in the afternoon where we snorkeled Kickers Rock-a dive site where we came face to face with Galapagos sharks, white tip sharks, eagle rays and even an octopus!  Grace and Jordan lead their groups with ease through the rocks and were the first to spot the sharks swimming far below us.
The next morning, we hopped on a boat and headed to our second Galapagos Island-Santa Cruz.  As we ventured across the Pacific, Nathan spotted a dolphin swimming along with our boat!  As soon as we landed, we hiked to the Charles Darwin Center where we saw the famous giant tortoises from their infancy to one named Pepe who was over hundred years old!
The next two days we worked on a reforestation project deep in tortoise territory.  We planted new vegetation and removed plants and trees that were harmful to the tortoises' natural habitat.  In the afternoon, we spent the day kayaking in Tortuga Bay where we saw sea turtles, sharks and eagle rays in the safety of our own kayaks.
We have made countless new friends from all over the world, saw the world from its center, stood atop an active volcano, swam with exotic wildlife and made connections that will last us a lifetime.  We are sad to be leaving such a beautiful place that had brought us so close together but we cannot wait to share all of our adventures with you!
                                                                                                The Westcoast Blogger