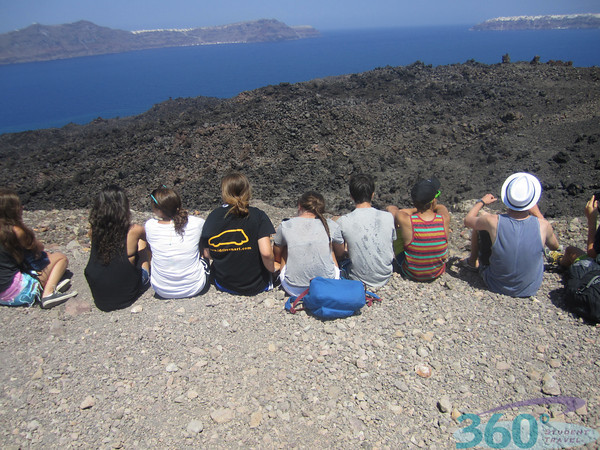 Greetings one last time! After a magical time in Naxos, we headed on to the ferry for our final days in beautiful Santorini. The weather was perfect and the views were breathtaking. We arrived at El Greco, a gorgeous resort with white buildings, surrounded by multiple pools. Kat and Britney had been talking about this resort the whole trip and it certainly did not disappoint. We spent the rest of the afternoon exploring the many amenities, including a spa, where Stella and Alli made sure to take advantage of by getting a massage.
On our first full day we took a cable car ride to a boat that took us to a volcano. We hiked all the way to the top, where we saw some amazing views of the island. The boat then took us to the hot springs. Ali and Noah were among the first two to jump off the boat into the water for a swim. Sarah and Ilana also enjoyed the hot springs, swimming from the crystal blue waters into the springs. After spending the rest of the afternoon relaxing at the pool, we headed to Oia for dinner to enjoy another part of Santorini.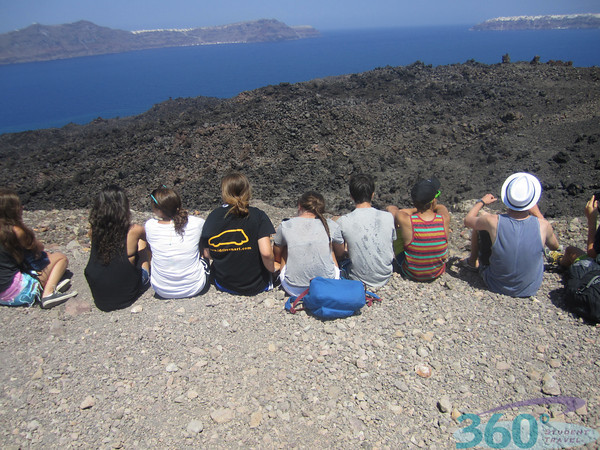 Our next day began with a tour of Akortiri, one of the oldest restored settlements in the world. We learned from our professional guide that it was destroyed in about 1500 BC by a volcanic eruption. From there we headed to our sea kayaking adventure to explore the beaches of Santorini. Our guides provided us with a picnic, midway through, where we ate almonds and some delicious watermelon. While the group was kayaking, Jackie and Lara spent the day on the beautiful red beaches of Santorini. That night, we headed into Fira town, Santorini's capital for dinner and some shopping.
On our final day, we spent some quality time enjoying the amenities of El Greco. Some people decided to take the morning and relax at the pool, while others went into Fira town, for some last minute souvenirs. We then boarded a high-speed ferry back to Athens, where Lauren kept everyone entertained.
Although we got back late, that didn't stop us from having one last amazing Greek meal. We headed back the hotel for our final night, watching a slideshow of our amazing last 10 days on the beautiful islands of Greece. We reflected on what an incredible summer it was as we spent one final evening together.
And then we sadly said our farewells to a remarkable group of new friends and beautiful Greece. It has been a great summer, our trip is over but our memories will live on forever!
The Westcoast Blogger
Do you want to join us on this adventure? Check out our Greece trips for students that includes visiting the Acropolis, Santorini & more.