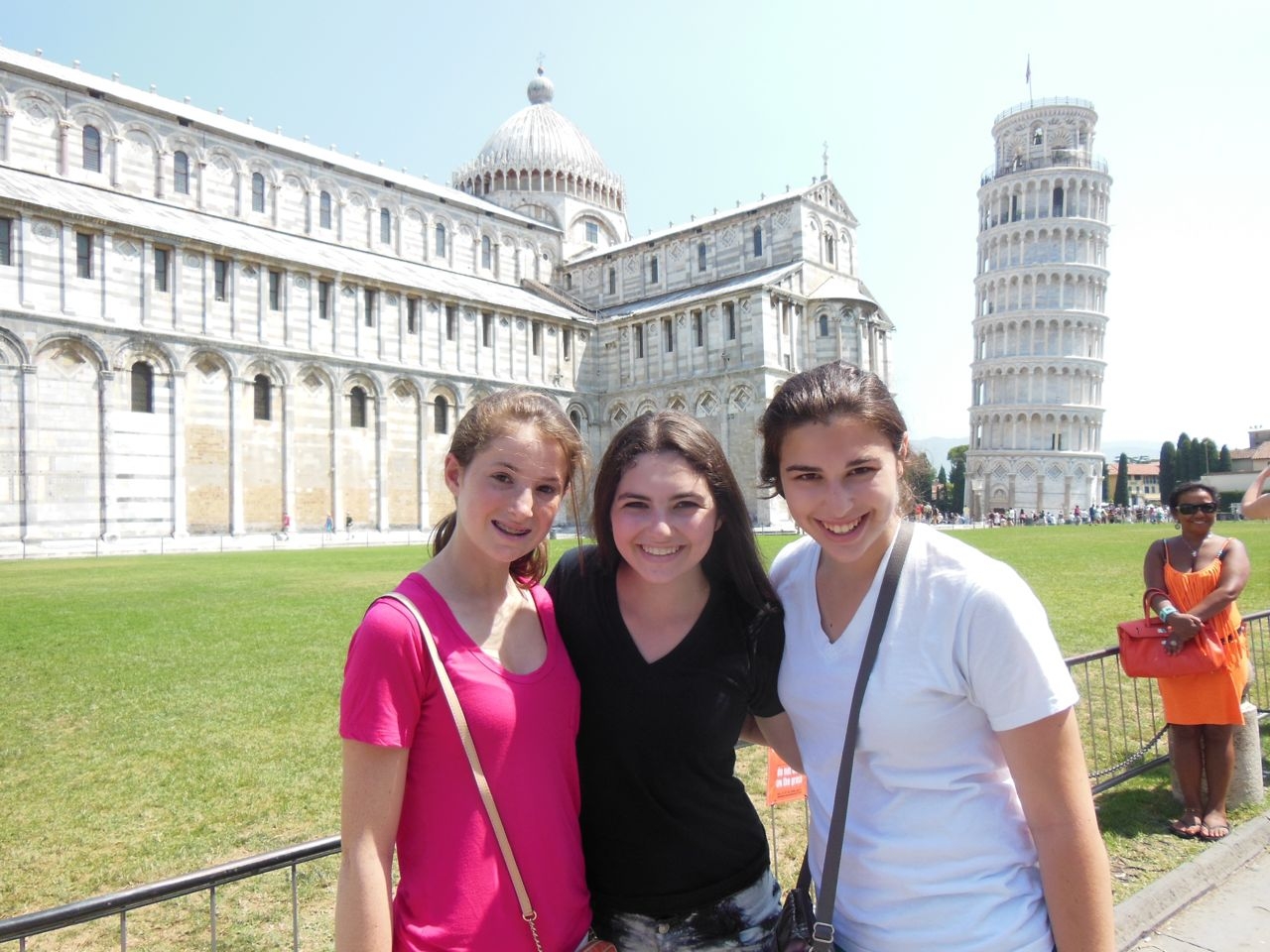 The European Discovery Says Goodbye
In the final days of our trip we all appreciated our big Westcoast Connection family. Erin, Aja, Sydney B and Bianca held up the leaning Tower of Pisa, while Amanda, Perri, Sarah, Samantha Sc and Ilyssa were excited to see the monument as well. Our day did not end there, we also traveled to Monte Carlo where the highlight of the night for the boys were watching the expensive cars drive up to the casino. Harrison, Jordan, Zach, Daniel M, Jared, Jonah and Corey H became paparazzi for the night and Ethan definitely did not miss a photo opportunity next to the Ferraris and Lamborghinis. Melissa, Carly, Hailey and Emily found the hotel where Selena Gomez filmed "Monte Carlo," and lived out one of their European adventures.
In Nice, we enjoyed walking around the city, playing at the beach, and of course the best couch tubing Europe has to offer. Raimy went to the Chagall museum as well! She never misses an activity.
The water was sparkling, the clouds were nowhere in sight and the sun was shining on us for our last day. Sydney D, Sam D, Oriella, Rebecca, Daniel K, Corey T, Alexa, Andrew and Daniel C, all left the tube with huge smiles on their faces. Avery and a few other people even asked to go twice! But sadly the day had to end with a farewell dinner on the beach, but we could not forget to sing Erika "Happy Birthday," and wish her the best day as we all travel home. With a celebratory ice cream dessert, Erika laughed and smiled with her friends before being serenaded on the beach by a friend with a guitar at midnight.
Our trip competition was a success! The skits were hilarious, the songs were heartwarming and the spirit was very high. Samantha D sang her own version of "Time of our Lives," while Derek played the guitar. It was amazing! Samantha Sh also showcased her singing abilities to an original version of "I won't give up." Everyone participated in the activity and the morale was high. Blakely showed us her acting skills, and completely took on a new character. Michelle delivered an emotional speech in our circle of remembrance, while Evan, Anna, Adam and Frankie shared their happiness with all of their new friends they made this summer.
It has been a great summer, our trip is over but our memories will live on forever. Here are some amazing remember when moments from our trip to look back on the past 30 days! These comments are anonymous and written by the trip members themselves.
Remember when…
1)      We got gelato twice or even three times in one day
2)      We went rafting in France. Truly beautiful and unforgettable.
3)      I got to the top of the Eiffel Tower. Amazing!
4)      When we all met each other at the airport.
5)      We saw all of the Italian cities and ate great food.
6)      When we went on the boat tour around Capri/swam in the grottos.
7)      When we all sang songs on the white water rafting boats and had the best time EVER!
We miss you all so much already!
The Westcoast Blogger