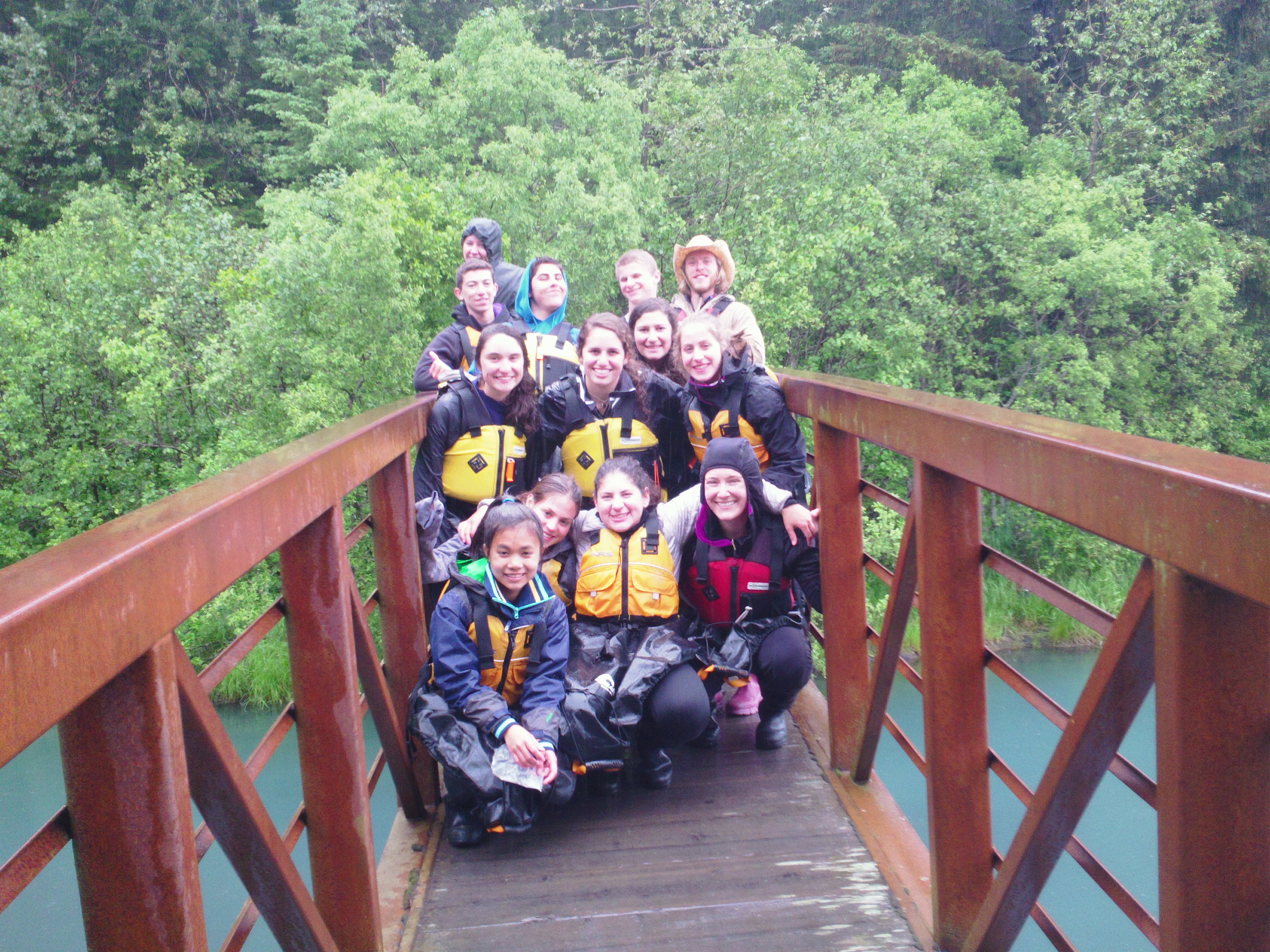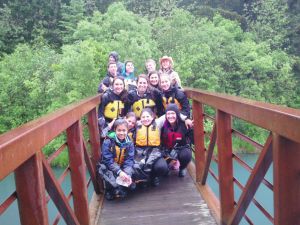 On Wednesday we set out for the Kenai Peninsula. On the way there we stopped at the Alaska Wildlife Center, where a healthy population of orphaned or endangered Alaskan animals reside. Hallie, Jackie, and Cody were thrilled to stand a few feet away from a grizzly bear. Emily and Sarah admired two beautiful lynx curled up against each other. Lizzie and Claire liked the caribou and buffalo, while Clay, Helen, and Brandon were memorized by a one-winged bald eagle and two great horned owls blinking back at them. It was a good introduction to the Alaskan wildlife that we would later encounter a whole lot more of in the wild.
After a beautiful drive through the Chugach (pronounced "chew-gi-ach") National Forest, we crossed a turquoise river that runs between rows of snow-capped mountains. We arrived in Cooper Landing, where we checked into a Bed and Breakfast nestled among tall trees in the woods.
On our first morning we headed to Seward, a pretty coastal town, where we got into kayaks and paddled through Resurrection Bay. The group enjoyed paddling through the blue-green water and admiring the beautiful coastal scenery. We beached our kayaks and took a hike through the rainforest along the coast. Two Bald Eagles watched us cross a river in our rubber boots. We kayaked back to town, had lunch, and then went to the Alaska Sea Life Center.
At the Sea Life Center the group dissected squids, learning all about Cephalopods along the way. Hallie, Claire, Sarah, Emily, Helen and Courtney were elbow-deep in their squids, bursting ink pouches and examining squid esophagi, while Lizzie, Jackie, Brandon, Clay, Cody, and I were a tad squeamish about the experience. After washing up, we admired and learned all about Harbor Seals and Stellar Sea Lions. It was another good introduction to wildlife we would see a lot more of during the next day.
On Friday we took a cruise on Resurrection Bay. We saw an amazing amount of wildlife. We saw a sea otter, a harbor seal, porpoises, bald eagles, mountain goats, stellar sea lions, and a humpback whale. It was incredible. Nobody expected to see so much wildlife on a three-hour cruise.
Today we hiked up to a glacier in the Kenai Fjords National Park. The wind blowing down from the icy-blue glacier was cool, and it was so interesting to watch the water run down from the glacier into streams and to think that the water had been locked in the glacier as ice for 10,000+ years.
In the afternoon we went dog sledding. I know, dog sledding in the summer sounds silly, but it's actually very important for sled dogs to get exercise year-round. So, we helped them train! The Alaskan huskies were very cute and very friendly, but more than anything they were remarkably well trained. It was impressive to see them start and stop by the musher's command. They would also pull over to the right or to the left depending on what direction the musher called. The dogs we met were real Alaskan husky sled racing dogs owned by previous winners of the Iditarod, the legendary 1,049 mile dog sled race held every year in Alaska. It was fascinating for everyone. Also popular were the two litters of husky puppies, aged 2 weeks and 7 weeks. We got to hold the puppies and listen to them make their little puppy sounds. Who doesn't love puppies?
Tomorrow we leave for Homer!
 The Westcoast Blogger