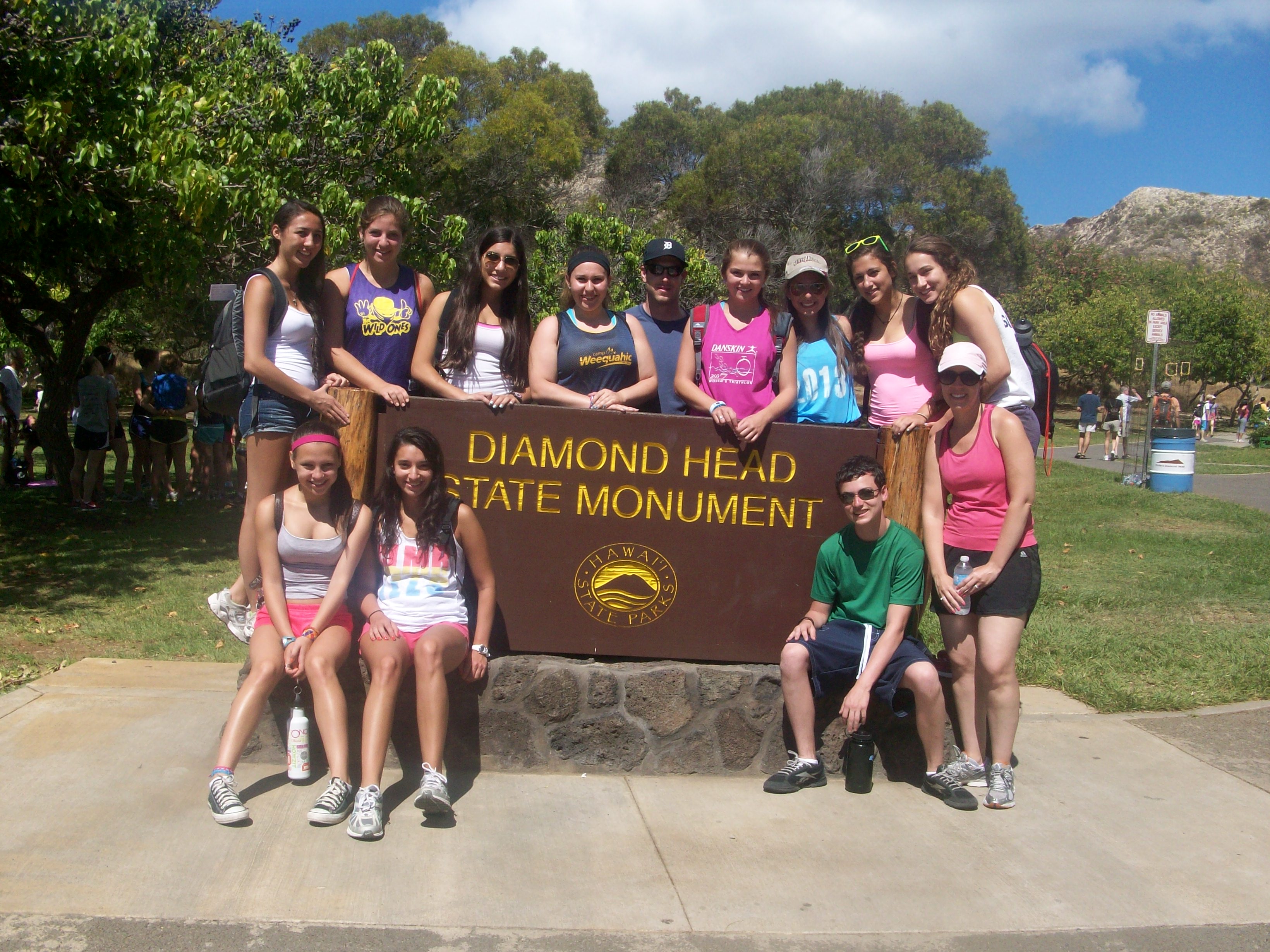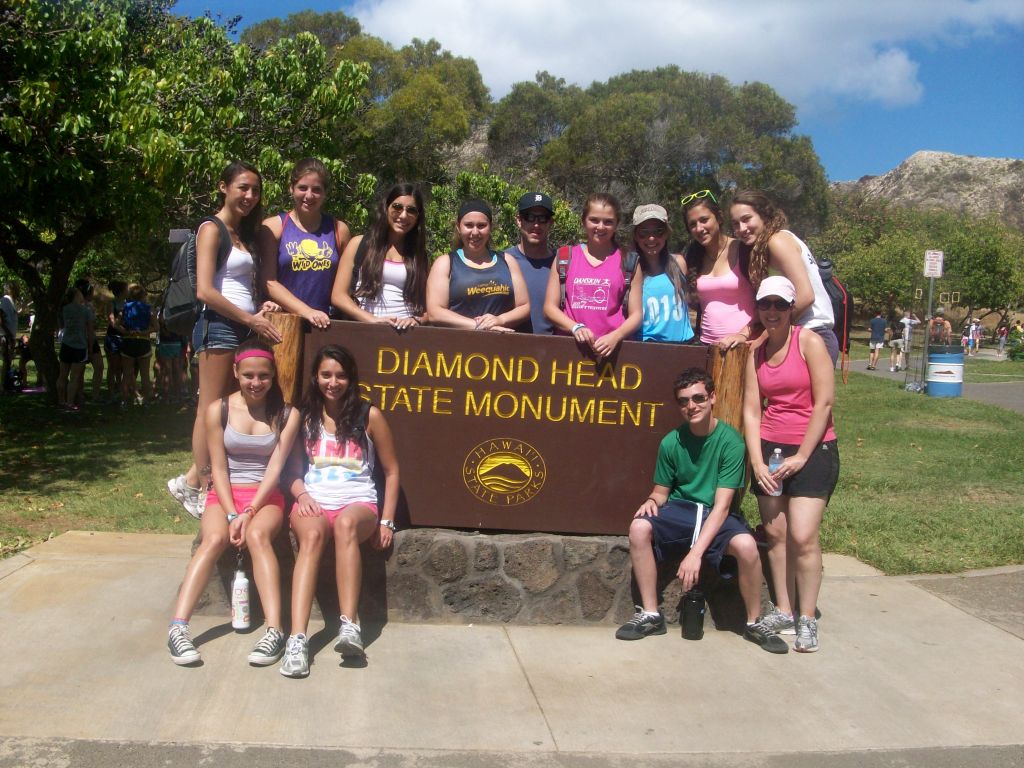 Another update from Hawaii Community Service:
We last left you dancing in the streets of Honolulu. Since then, we enjoyed the well known and rewarding hike to the top of Diamond head. Despite the sun that joined us on the hike and the 169 steps, everyone climbed it at ease. The view of the top was definitely rewarding and well worth it. Fun was had by all singing our way down the mountain and everyone couldn't wait to jump into the ocean. On our way to the beach, we stopped at a beautiful look out point, that was just the beginning to the best beach on the island of Oahu. At the beach, Courtney and Carly got very sandy while Jill, Erica and Lily enjoyed a game of Frisbee. Brooke and Amanda's favorite part of the day was also getting sand all over them.
It is clear that your children love cheesecake! Once again, Lily continued to amaze the group with her interesting facts during dinner. Following dinner, we all went ice skating, which everyone enjoyed. Juliette taught Jack how to skate and Erin and Amanda skated on the ice while singing the song "Call me Maybe".
We spent two days with Habitat for Humanity. They are building a restore, which is a place for the habitat families to shop for items for their home at a discounted rate. Erin, Amanda and Lucie worked on painting the wall for the office. Jack, Juliette and Carly continued painting in the afternoon. After the day was complete, the first painting group had white paint strips under their eyes and the second group had their initials in white paint on them. Clearly, they didn't just enjoy painting the wall, they had a lot of fun with it. Brooke and Courtney worked hard on getting the store looking good by pricing items and painting the signs for each aisle. Jill, Erica and Lily helped Habitat get their mail ready to send out to companies advertising the restore. Our last day at habitat was spent getting school supplies ready for the kids in the habitat families. Not only do they receive free supplies, but they also get a backpack which we decorated especially for them with their names on it. The group found this very awarding and Erica spent some time writing personalized notes to the kids, hoping to have a pen pal.
At the water park, everyone had a wet and wild day enjoying the rides and the shaved ice, especially Lily. We've been able to have some time in the town playing "trade it up" and "photo scavenger hunt". All groups started with a pen and had to trade in the International Market Place for something better. Jack, Juliette and Erica returned with a golden fish hook from a man's hat. Lucie, Amanda and Erin returned with flashing sunglasses, a heart and a foreign dollar bill. Courtney, Jill and Lily took the lead by bringing back a coconut. They were very proud of their find, especially because it had some Hawaiian representation. Going anywhere with our group or playing these games continues to remind us that they are definitely not a shy group.
We enjoyed our last day in Honolulu at Pearl Harbour and while we were waiting for our tour, the 'never can tell games' really made Courtney and Carly think. But Lucie really enjoyed leading the elephant game and Erin caught on quite quickly and enjoyed it too. Alter a while, the entire group knows the trick to the elephant game. Unfortunately, it let to the first "out" in our game of "gotcha". Clever Carly changed the word "elephant" to "orangutan." The memorial was moving for all and we enjoyed dressing up in black shorts and white shirts telling others later in the day that we were part of the robotics club. Lily, Erica, Carly, Brooke and Jill enjoyed some volleyball at Waikiki beach.
We are sad to leave Honolulu as this feels like home, but we are excited to explore Maui.
Aloha for now, updates from Maui to come.