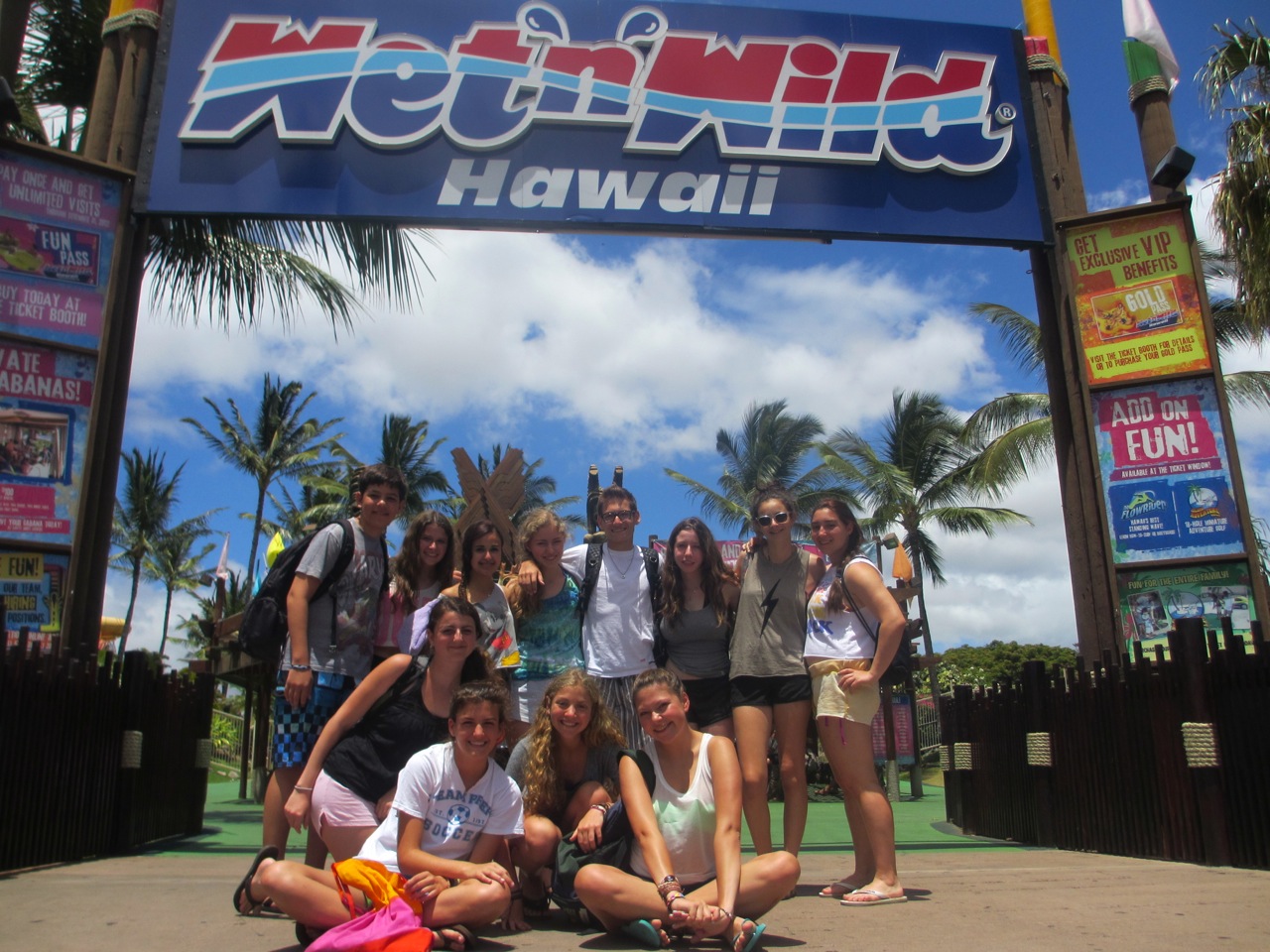 Another update from Hawaii Community Service:
Aloha wav I ka Boys and Girls Club. That means we love the Boys and Girls Club in Hawaiian. Since last writing, we have been loving our time volunteering at the Boys and Girls Club of Nanakuli. Every single member of our group as developed such a bond with the children that we are so sad to leave them. Over the course of the week, we have played capture the flag, soccer, an intense game of crab ball, and completed numerous amounts of arts and crafts projects.
Aside from our service activity, we visited Pearl Harbor and were extremely touched by the memorial site there. We even got to interview a Pearl Harbor survivor just as we entered the location. He gave us a detailed description of the day and the emotions that were running through his head as the attack was happening. To hear that the attacks on Pearl Harbor were a turning point in the war from a veteran that lived through it brought all of the history book stories to life.
Additionally, we enjoyed a day of surfing with sea turtles, exploring the local water park, and evening activities such as ice skating, clothing scramble, and a photo scavenger hunt. To update everyone on our bucket list, we had a sandcastle competition after surfing, played a game of freeze tag, and stood up on surf boards. Another ritual that we have decided to take on is celebrating celebrity birthdays. Each trip member takes on a celebrity name and gets sung to at dinner. So far we have celebrated Raffi and Tom Hank's birthday. We have been posting all of the videos on the Westcoast Facebook page so keep an eye out for updates!
As we approach the halfway point in our trip, each trip member was asked to reflect on their time so far and here are their responses! Every single trip member enjoyed working with the Boys and Girls Club!
Chelsea – After visiting the Boys and Girls Club Chelsea has been motivated to continue volunteering as she described this experience as eye opening. Being able to understand the emotions behind the children's hardships really had an impact on her and made her grateful for what she has. Her favorite part of BGC was experiencing the Heart of a Champion program which teaches the kids how to learn and grow as successful people.
Sam – While playing a game of word scramble with the kids, Sam's team was behind.  After regrouping with the team and re-strategizing, Sam led the team to victory. He found it a great learning experience on how to motivate kids when they are down and teach them how to strive for success. He noted how it was all about maintaining a positive attitude and demonstrating to the kids that it's all about having fun!
Richard – The BGC left him with a feeling of being thankful for what he has. His favorite activity thus far has been the scavenger hunt because he stepped out of his comfort zone and ended up having a great time. He completed the shampoo Mohawk and even proposed to a stranger! The teamwork aspect of the evening activity made it that much more fun and memorable for him.
Jason – Jason loved being able to help and make each child at the BGC feel special and provide him or her with the one on one attention that they need. Although he is already in Key Club at home, this experience has made Jason aspire to volunteer even more at home! One of his favorite memories of the trip is being sung happy birthday to as "Hank" at Hard Rock with his "twin Tom" aka Richard celebrating Tom Hanks Birthday.
Christine – Completing the arts and crafts with the kids at BGC really left Christine with a gratifying feeling. She loved watching them get excited to make new things and she felt honored to be a part of it. Christine also partook in surfing and stood up. Although it was hard work, feeling the air in her face left her with a sense of accomplishment and a rush of adrenaline.
Victoria – "This has been the most fun week ever." Victoria had a blast at the evening activity, clothing scramble, where all trip members had to wear all their clothing and received points if they had on specific items. She enjoyed watching everyone let loose and laugh at each other. At the BGC she started a braiding train with some of the kids and although it was such a little activity, it meant the world to her knowing that she could make them happy.
Dani – Never volunteering with kids before, Dani was truly moved by the experience at BGC. On the last day, one of the arts and crafts projects was making a paper picture frame with a card. One girl made a card for Dani saying, "From garden trees to garden seas, I never want you to forget me." Dani was overwhelmed with emotion and grateful for being able to impact a child's life.
Sarah – Ice skating was definitely a highlight of Sarah's trip so far. She and trip leader,
Amanda, attempted to create a flash mob on the ice and although they didn't get any locals to join, there was endless laughing and smiling. Sarah also enjoyed the game word scramble at the BGC because she got to watch and help develop important academic skills (spelling) in and fun way. She felt that if she could contribute to making learning an engaging activity that this would positively affect the behavior and grades of the children in school!
Luciana – Having a leapfrog contest on the sidewalk for the photo scavenger hunt was a highlight for Luciana this week. Collaborating with team mates in attempt to find people who fulfilled the criteria on the list was fun and exhilarating. At the BGC, Luciana took pleasure in watching the kids draw what makes them happy on their name plates, an arts and crafts activity. Being able to see the kids open up and what makes them smile was extremely satisfying.
Jamie – At the start of ice skating, Jamie used a walker to assist her; by the end, she was able to skate by herself!. Jamie also appreciated being able to explore Waikiki and experience the different parts of the culture, especially hearing the language more. While at BGC, she was able to learn some new phrases from the children who attended Hawaiian immersion school. Jamie feels that she impacted the kids as one of them said to her, "I want to be part of this [Westcoast] when I grow up."
Maddie – Maddie is always enthusiastic about all of the activities that we participate in on our trip. She learned how to ice skate this week with the help of some other trip members and her group completed all 40 items on the photo scavenger hunt list. Upon completion, she recalls cheering up and down the street! At BGC, Maddie talked to many of the children one on one during their lunch break. The personal stories that were normal for them shocked her, but made her feel grateful for her family and lack of troubles.
Paige – Appalled by the eating habits of many of the kids at BGC, Paige learned to not take ANYTHING for granted, especially items like apples and watermelon. She described it as "not fair" that these children are unable to eat healthy. She would like to raise money and awareness to provide healthy food and nutritional programs as she believes it could help them lead a full healthy lifestyle.
Carly – Celebrating the celebrity birthdays is something Carly looks forward to on a daily basis now. The inside jokes are ones that she will always remember as well as taking advantage of being silly. After leaving the BGC, Carly hopes that children will be able to look back and remember that joy she provided them with and how the club changed their lives in helping them become the best they can be!
Jen – Jen also enjoyed making the puppets with the kids because she got to watch them be kids and forget any problems they have even if it is just for a short amount of time. Playing with glitter and creating different designs always led to an interesting conversation. She will never forget the smiles and laughter that she shared with them.
Lindsay – Ice skating was a challenge at first, but Lindsay loved skating with her friends and creating memories on ice! Lindsay was excellent at relating to the children at BGC. Talking to them and seeing how their lives differed made her want to make them laugh and forget about their hardships. At the same time, she always found things in common to talk about
As we finish our last day in Honolulu, we are looking forward to everything Maui has to offer!
Until next time!
The Westcoast Blogger