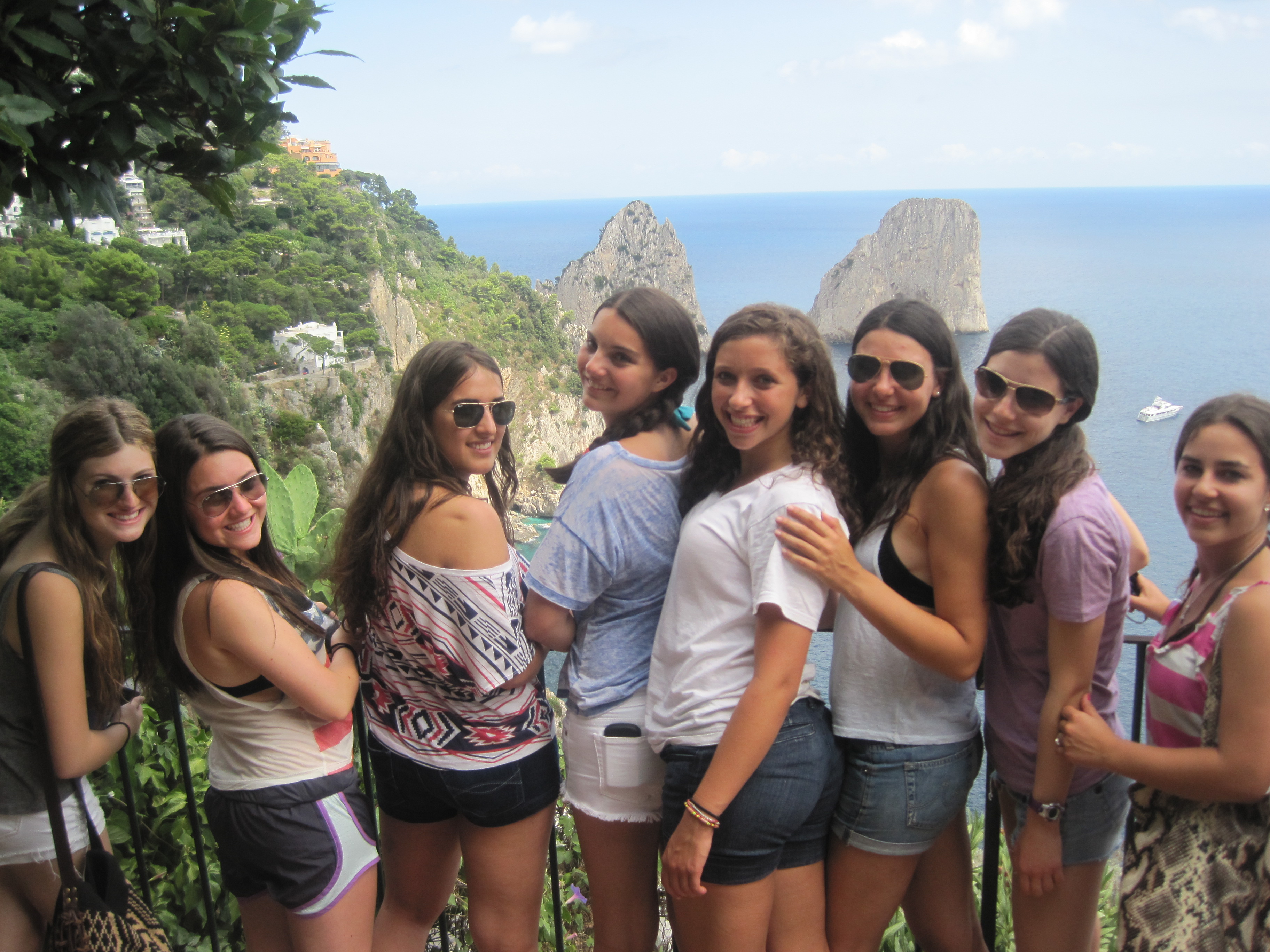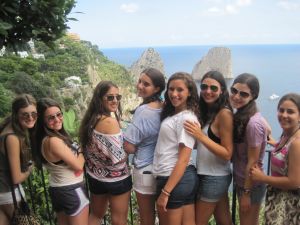 Bonjour encore!
In what seems like a flash, we have now arrived at our last stop, Nice, France….but before I tell you about the present, allow me to rewind back just one week ago where life literally gave us lemons in Sorrento, Italy.
Sorrento truly looked like a movie-set, lined with delicious looking restaurants and small, sophisticated boutiques. With hungry bellies, we headed for Fauno, an outstanding Italian restaurant which provided trip members like Sam, Gabe and Rob with the best homemade ravioli on this side of the Mediterranean. Eager to spend time with each other, we went back to the hotel to for a few Westcoast special programs, where trip members Brooke, Kim, and Michael seemed to enjoy the most with their belly laughs.
When we arose in the morning, we packed our sunscreen and headed for the famous island of Capri. Some trip members like Alex K., Natasha, and Rachel were eager to lay their eyes on the unbelievable scenery while others like Abby, Lauren W. and Jen hoped to see celebs…(and we did find out that Anne Hathaway was on a boat in Capri at the same time as us thanks to Liza!) Our boat-ride excursion led us to the majestic green grottos, where trip members like Stephen, Richard, Sam W. and Dylan couldn't get enough of the water. Jacob W., Zach and Emily G. were completely enchanted by the experience, mesmerized by the sun which sparkled on the deep blue sea. 
The following day, we soaked up the sun a bit more in Positano, another beautiful town off of the Amalfi Coast. With freshly sun-kissed cheeks, we wandered through the town. Alex S., Anthony and Jacob W. played a little beach football while Marisa, Whitney and Jillian perused the towns many shops and restaurants.
In the blink of an eye, we arrived in Florence just in time for an unforgettable meal of homemade pastas and other traditional family recipes. Afterwards, we headed for the Piazza De La Republica where Brooke, Emily L., Allie, and Dani all reconnected with their childhood as they rode on the carousel.
The next day, we deepened our relationship with Firenze (Florence), with an exciting and educational guided walking tour. We witnessed the statue of David with our very own eyes, and Lauren B., Sam F. were truly astonished by his intricate structure. A few more sights brought us to a new episode of the Amazing Race, where trip members were asked to take a photographic scavenger hunt of the city. Allison's team again reigned supreme (though everyone's a winner!) Jake and Haley F. were particularly motivating for their teams, and Hailey D. and Max were resilient as can be, refusing to give up on each exciting task.  We enjoyed cooking school and of course our night out at Space Electronic Disco!
Fast forward about 12 hours after a quick stop at the Leaning Tower of Pisa and we are now in Nice, France…dreading the inevitable goodbye that comes in just one day.
In only one month, we have sailed the ocean blue, and swam in it, too…we've climbed hundreds of steps, overlooking great cities from dream-like views…we have retraced the footsteps of Roman gods and made wishes in fountains, despite the odds…we've traveled by train, by boat, by plane, we've bathed in the sun and we've danced in the rain. We've cooked our own food on piping hot stones, we've eaten croissants and gelato.
The past thirty days have proven to be much more than just a summer trip…they have been the time machine which has transformed us to young adults from kids…they have been the days where we laughed until we cried, the days where friendships have blossomed, the days where memories became engraved in our minds. We dread the goodbye that comes in just one day not just because it means that real-life must start again, but because this trip has truly changed our lives. Just thirty days ago, we came as strangers, and now we will leave as family, united. It is with much sadness that we say our final au revoir. But, instead of leaving with tears, we leave with much, much more: friendships to last a lifetime, memories to cherish for always, and a little piece of every place we've been to carry in our hearts forever.
With all of our love,
The Westcoast Blogger