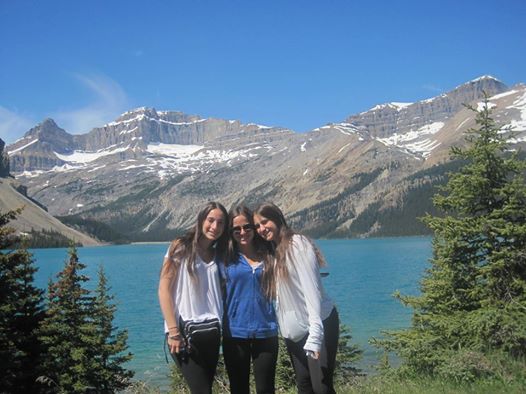 Greetings From Banff, AB!
We're so glad to finally have had a chance to meet you all—we've been looking forward to this trip for months! We were so excited that right before take off in Montreal, Sam, Jon, and Valerie delivered a very special message to all our Westcoast Trip Members through one of the stewardesses during their announcement:
"Sam, Jon and Val want to welcome all the trip members part of Westcoast Connection Trip-24 Adventurer to an amazing journey! They'd also like to extend this message to anyone else on the plane who happens to be listening to this cute message to follow: Just have a superb day!"
The Adventurer touched down in Calgary, AB safe and sound and excited to get underway. We played a few icebreakers, had a feast at Jack Astor's, and played an epic laser battle at Laser Quest then found ourselves wiped and ready for slumber at the University of Calgary.
Being the Adventurers that we are, we touched down in Calgary, AB in style, fully equipped with greeting signs and all. It also happened to be Jen's birthday, so she was greeted with a HUGE happy birthday song, a giant sign, a signed card by everyone and a small gift. After getting to know each other a little bit better (boy are you all ever creative, human bingo was hilarious!), we made our way to Jack Astor's for a huge feast. Sam was so hungry that he accidentally ate Jessie, our Food Director's meal while waiting for his! After dinner, we had the most epic laser battle in the history of Laser Quest. We came up with some pretty creative names, some of our favourites being Ollie as Chop Liver and Issie's as Awesome-Mode3000. Jared won by a landslide with a high score of 720, making him the ultimate champion of the night. We were pretty wiped and ready for slumber at the University of Calgary, but not before we had cake –we did have a birthday, after all!
But we're not done here! Boy, if you thought the first day was jammed packed with fun, then please keep reading! We collected ourselves, fueled with food, energy and smiles and took off to the Canada Olympic Park, where the 1988 Olympic Games took place. Fact: Canada broke a record that Olympics by being the first hosting country ever to not win any gold medals on their home turf. We broke that record again when the games came back to Montreal. Feel the rhythm, feel the ride, get on up, its bobsled time! Jamaica!! You guessed it, all the members were able to bobsled down an official bobsleigh track in a bobsled on wheels at an average speed of 85 km, pretty fast! The fasted team to go down the track was none other than Kim, Gavin, Sam and Jessie! Jared described the view as being "unreal" because he was able to sit right at the front and feel the turns and grooves of the track.
While all of this was happening, Sandra went to pick up Hallie, our latest addition to our Adventurer team, from the airport. She held up a big welcome sign and they hopped in a cab and made their way to join the rest of the team. Halley was greeted with a big cheer and huge smiles as she made her way out of the bathroom towards the bus.
Things got pretty intense in the afternoon, as members competed to be the next Tiger Woods at the 18-hole mini up. Up hill, down hill, it didn't matter; Ollie gave Tiger a run for his money that day with a hole-in-one. We all celebrated with cheers and fists in the air.
We impressed a group of locals when we showed up to dinner at Boston Pizza. They were puzzled and wanted to know why we were touring the Boston Pizza. The entire group managed to convince them that this was a big attraction in Calgary, as it was the most famous Boston Pizza in all of Canada! After a small laugh, we headed to Southland Leisure Centre for splashing fun! The members entered a fun-filled centre that had a wave-pool waterslides, diving boards, a sauna, hot tubs and more!
After our last sleep at Calgary U, the Adventurer took off to Rafter Six Resort for white water rafting. Hallie, Mia, Sydney, and Jessica sang their way through the trail to ease their nervousness. All four girls were able to get over their uncertainty and fear about rafting and Sydney even ended up taking a tip in the calm waters, while Hallie sat at the very edge of the raft, dipping her feet in the river.
Shortly after, we made our way to Banff, AB where we were welcomed with a quick tent orientation and how to scare a bear off (no worries, we're all pro bear warriors by now!) All it takes is a swift punch in the nose and a huge BOO! and the bears run the other way. Fact: Bears can run up to 55km per hour! We ate a home cooked stir-fry dinner cooked by a few kind helpers and had a few games, including chubby bunny (Mia put 16 marshmallows in her mouth, while Mattie was able to fit 15!) We also played this crazy game of water pouch, where we had to try really hard not to spit our water out. It's easier said than done! We ended off the night with some roasted marshmallows over the fire and a new challenge: word murderer. We were all handed a piece of paper with a name and word on it and had to get the person whose name we got to say that word. Some of the words included: grapefruit, billboard, rainforest, etc. Not easy every day words! The challenge has been accepted and everyone is going to bring it. We shall see who's the last Trip Member (or Trip Leader!) standing!
We'll speak shortly!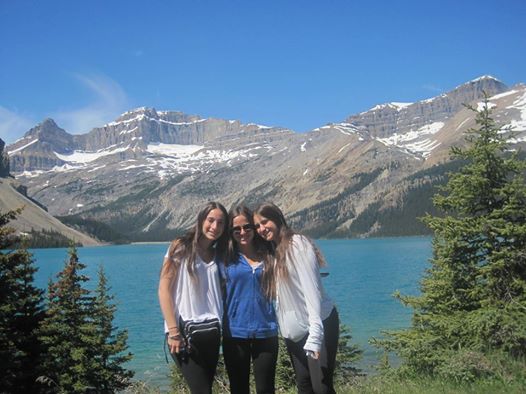 The Westcoast Blogger
Interest in learning more? Explore our Canadian student travel programs and start planning your next adventure with Westcoast Connection!