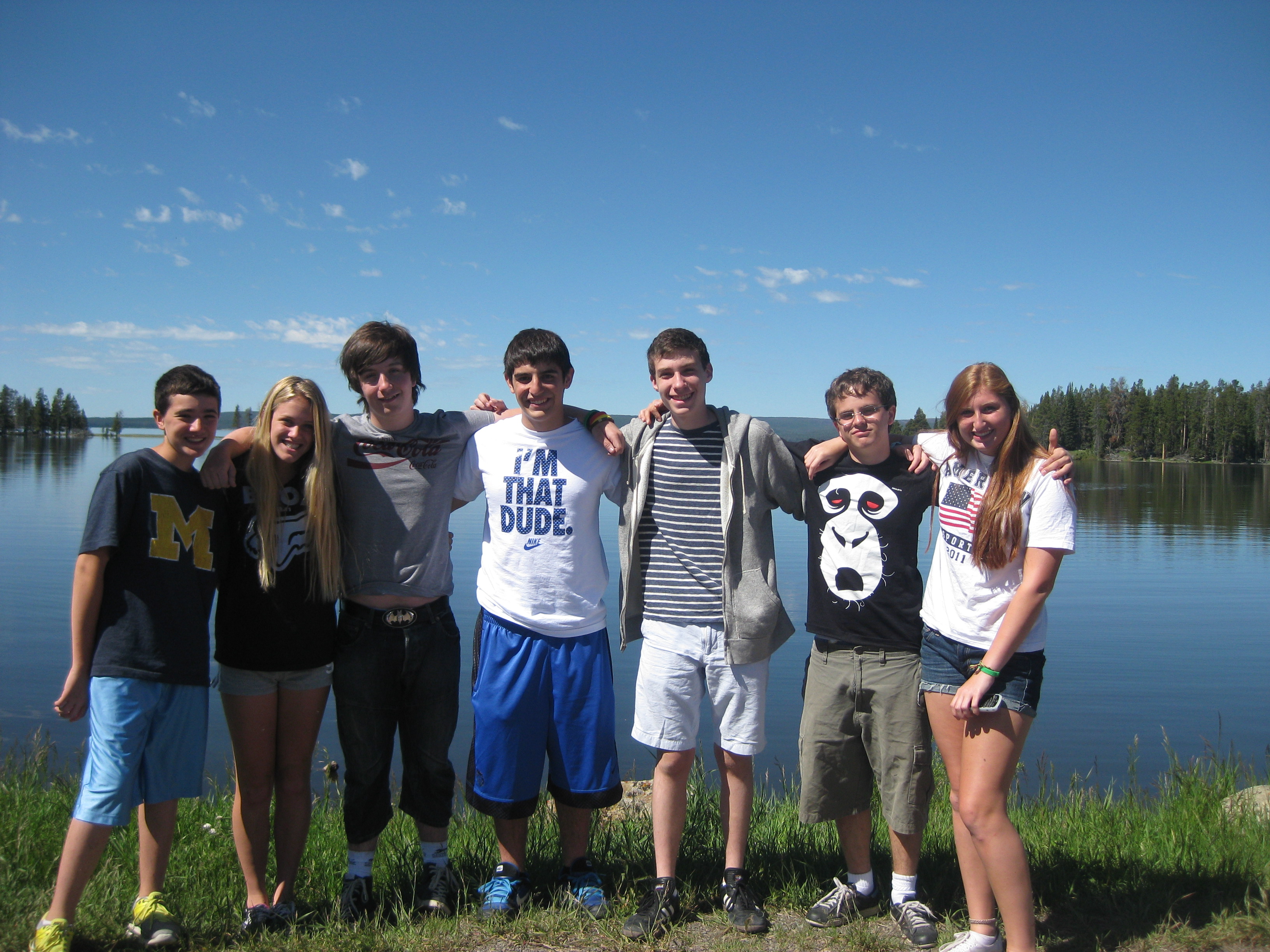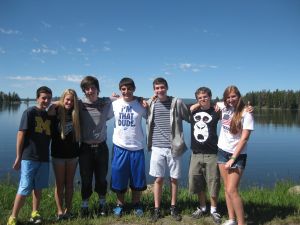 Howdy Y'all!
Can you guess what we've been up to?  We are in the wild, wild west!  These past few days have been extremely exciting and intriguing.  On our way to Buffalo Bill Village, a stretch of our drive was through the wide open fields of Wyoming.  Being surrounded by gorgeous, snow-capped mountains and endless green fields was awe-inspiring; many of us snapped pictures with our cameras and phones as we traveled through.  We arrived at our rodeo-themed cabins, had a delicious dinner and got to walk around the small, rustic town.  The western, homey feel was different and inviting to us all.
The next morning we had an action-packed day that started with whitewater rafting on the Shoshone River. We got in our boats, grabbed our paddles, and set off with guides to brave the Class 3 rapids.  Some of us were weary, but we trusted our guides and each other and all climbed out of the boats laughing and sharing stories of how the waves were.  Amazingly, Josh A. and our Director Justin left their boats almost completely dry!  Danielle H. said "my favorite part of Cody was white water rafting because we had a beautiful view of the mountains and the water was nice and refreshing."  Our next activity was horseback riding.  On our ride there, we all anticipated the experience – what kind of horse would we get?  What would the trail look like?  Would we all go together or in small groups?  Those feelings peaked when we pulled into the Bill Cody Ranch and found out the names of our horses.  Jared G. rode a gentle horse named Lakeside, who he never wanted to leave, and Sydney K. rode a beautiful horse named
Babyface.  Zach G. tried his hand at lassoing and impressed all of us with his kill. Sam C. commented "Laying here and looking at these gorgeous mountains is one of the prettiest views I've ever seen."  On the trail, Chloe, an experienced rider, rode Sunny and was baffled by her funny personality and willpower to stop, eat, and do her own thing.  After the rides, Sydney Z. told us about her experience, "This was my first time horseback riding and I had a really great experience; I even trotted a little!"  Although we were tired, our day did not end there – we still had to get a taste of the real wild-west at the rodeo!  At the Cody Rodeo, we watched
horseback riding competitions, bull riding, and even clowns put on a show for us!  Rodeo and cowboys are all so "American" and a true part of the West, we were glad to have been a part of it.
The next day we visited one of the most well known places in America – Yellowstone National Park.  As we drove through, we stopped numerous places to get out and enjoy magnificent natural views that many of us have never even fathomed.  Jillian M. commented as we drove, "this is so pretty; it's amazing how natural and untouched everything still is." But her favorite part of the daywas seeing the fountain paint pots and mini geysers. We also got to see one of the wonders of the world, Old Faithful.  The next day we got to walk around the beautifully quaint town of Jackson Hole, Wyoming.
The next stop was Park City, Utah.  Our drive was unbelievably breathtaking!  The first thing we did was go to the Alpine Slide – a ride in which you control your speed, zooming from the top of a ski slope.  Then we had dinner at The Silver Star Cafe, located on the side of a mountain.  The views from the windows were beautiful and we all enjoyed sitting outside and watching the sunset after dinner.  After dinner we went to the town of Park City to walk around and enjoy some ice cream.  The artsy atmosphere of
both the restaurant and the town made some of us never want to leave.
We are now on our way to the Alpine Coaster and Lagoon Water and Amusement Park and can't wait to tell you all about it!
For now though, rides are calling us!
Love,
U.S. Explorer
The Westcoast Blogger