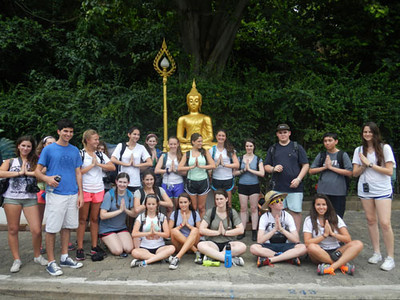 We have had an exciting first few days filled with new adventures, many laughs, and our favorite, rice and beans. We had trip members fly in from all over the world to embark on this journey, from New York to even as far as France and Russia! We were all finally united as the last flight coming in from Miami landed in San Jose, and the 19 "sloths" (as we like to call ourselves) made our way to the central valley.
After a much needed good night sleep, we woke up the next day ready for our first adventure; waterfall repelling. We drove to the beautiful Costa Rica countryside and walked to the top of the waterfall. David and Aisling conquered their fears and belayed their way to the end through the waterfalls. Egor was happy to encourage his new friends. After this thrilling adventure, we had a celebratory picnic overlooking the scenic mountains. At dinner that night, we all tried different authentic Costa Rican juices such as guava juice, blackberry juice, and passion fruit juice.
The next day we woke up excited for our first day of service. We arrived at La Carpio ready to paint houses, play with kids, and plant flowers. Sammi was eager to give her donations to the community. Diane, Hannah, and Julia impressed everyone with their amazing Spanish skills which helped them to connect and play with the kids. The children loved all of our trip members. Alex and Andrew were kept especially busy by the children as they played in the garden and on the play structure for most of the morning. Where do they get all that energy!? Meanwhile, Brian and Vasily were dedicated to painting the houses of some local families to beautify their homes. It was especially helpful having Vasily to reach all those high places no one else could reach. This was a truly amazing experience for the group that united the 19 of us. We were rewarded with a big lunch from the community as a token of appreciation. Needless to say, we are excited for our second day of powerful service. We can't wait to share with you our many adventures yet to come.
Until next time,
The Westcoast Blogger