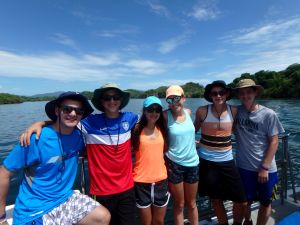 You would never know that the group only landed in Costa Rica a few days ago; we are having an amazing time with our new Westcoast family! Our first day was filled with a lot of great games and delicious Costa Rican food. Everyone was excited to try something new, and we really enjoyed the blackberry juice! Everyone was excited to meet new people and get settled into our great hotel.
We spent our first full day on an epic adventure at Isla Tortuga (Turtle Island). It's named that because it looks like a turtle. While we didn't see any turtles we did have a great time swimming in the ocean, playing volleyball and making friends with the islands pigs. Yep, there were some very sleepy pet pigs hanging out on the island. To get to Tortuga we took a ride on a catamaran that had everything we could possibly want: great food, drinks, music, and even a dance class! The island was filled with warm sandy beaches, sunshine and and proved to be a great bonding time for the trip.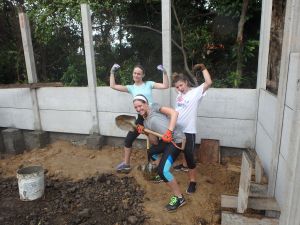 Following that, it was our first day of service and even with a little (or a lot) of rain we accomplished so much! We are helping to make sure the foundation of the house we are working on is even and being laid with the proper materials, it's a lot of shoveling and moving rocks, but at the end of the day it was amazing to see our progress!  We also got to play with local children at the community center where we helped them with coloring, and other arts and crafts as well as playing soccer and fun active games outside. Many of our trip members had a blast practicing their Spanish with the children.
We are looking forward to continuing work on the house for the next few days and seeing where the build project will take us! After a long day of working in the community, we're looking forward to a nice relaxing evening to consider what we've achieved together, and what is yet to come.
 The Westcoast Blogger