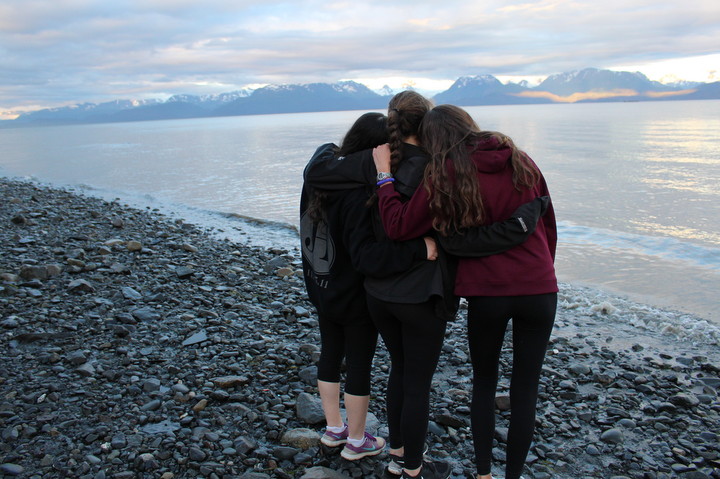 On our way south to Cooper Landing we made a stop at Alaska's Wildlife Conservation Center. The Center is more like a zoo where visitors have the opportunity to see many of the animals native to Alaska. For its employees it's a place to embrace the beauty of these animals but also to help feed and nourish any animal found injured or endangered out in the wild. The center has many different types of animals, we had the chance to see elk, brown bears, moose, caribou, a fox and more. Many of the animals are found in the wild and once they are brought back to health they are released back into the wild while others are born and raised at the center and will most likely spend their entire lives there.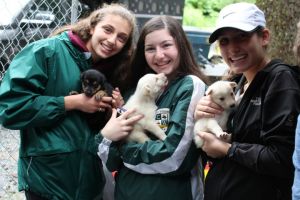 After a self guided tour of the center we headed for the Hutch, a cozy bed and breakfast where we'd be staying for the next couple of nights. Entirely built of wood The Hutch was a great example of what can be built using the natural resources of Alaska. The three story home was built entirely of wood giving the sense of being deep in the forest like we were staying at a grandma's house from an old Disney movie, fortunately the apples were safe to eat and we all awoke from our deep sleeps.
We traveled east out on the 9 where we started our day in Seward where we were fitted with water proof gear and paired up for our sea kayaking adventure into the waters of Resurrection Bay. The waters were calm and the views were picturesque, we paddled down the coast, once again practicing working in unison with every stroke. We disembarked on a beach to rest our fatigued muscles and to learn about the natural life of the beach. Our guides simply lifted a rock and taught us all about the life forms, under every rock was a world of creatures and sea life; we saw crabs, worms, tiny fish and more. The amount of life under one rock gave a sense of just how large our world is and that it's all a matter of perspective. There is so much life around us, so much going on beneath the surface, in all this grandiosity you can't help but feel like only a small part of it like our lives are maybe just as important as the hermit crab we met that day. Maybe we just realized that we are all just as important, that in order to survive we are all dependent on each other's survival and somehow we are all interconnected, food for thought before we eat any crab cakes for lunch.
After our failed attempt at a seaweed salad lunch we headed to the Alaska Sea Life center where we walked around visiting our new friends of the ocean, we met seals, sea lions, octopodes and learned all about marine eco-systems. After our tour we went to the Education Center where we got sticky and slimy dissecting a squid, with our scalpel and scissors we picked and pulled and learned all about our little calamari friend.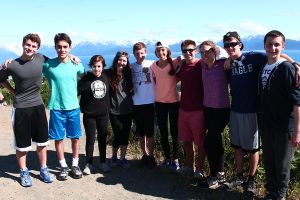 From there we went to Ididaride (I-did-a-Ride) Dog Sled Tours and learned about the Iditarod Dog Sled race that lasts over a week and spans over 1000 miles in harsh terrain. We first met all the dogs, over 100 of them and barking in excitement at the thought of being chosen to pull us on the carts. We then met the new additions to the pack and played with the puppies and learned what it takes to be a professional dog sledder; the practice, the commitment and time and of course the cost, apparently more than $50,000 to run in the race. After petting the pups we jumped on the sled and we were taken for a nice ride through the forest with sixteen excited dogs pulling our carts (not sleds because there is currently no snow) through the forest and along the river.
We ended the day back at the Hutch with a fun game of volleyball where everyone had to touch the ball without it falling to the ground and after several attempts we managed to come together and succeed. We continued the fun with a soccer game in the grass, it was a tight game and ended 5-4 with a goal scored with under a minute to play.
The Birds are watching us from above, I think they are waiting for us, perhaps to welcome us in Homer.
The Westcoast Blogger
Got yourself interested? Be part of this community service for high school students and travel to Hawaii & Alaska for a one-of-a-kind experience.