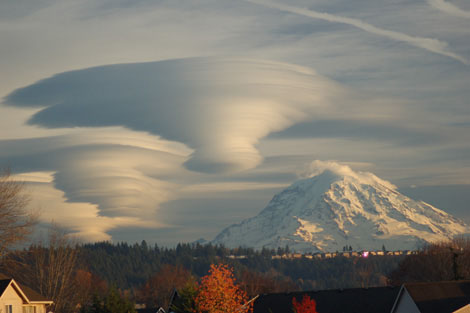 Mount Rainier is an active volcano, encased in over 35 square miles of glacial snow and ice. Participants on the Northwest Passage hike in this National Park to a rushing waterfall and even have the opportunity to throw  snowballs in the summer atop Glacier Point Paradise Trail. The Northwestern Odyssey and American Voyageur marvel at this beauty during their exciting stay in Seattle.
Last week, Mount Rainier put on a little bit of a show.
The weather out west has been a little bit dry over the past few days. However, last week, if you happened to look at the mountain, you would have seen some FANTASTIC clouds (and the start of some stormy weather).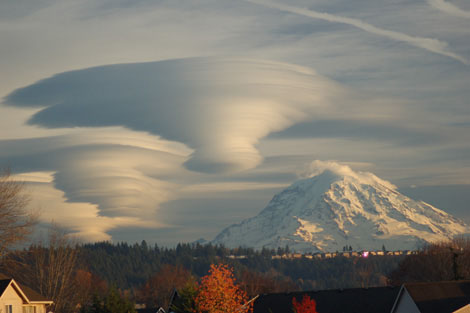 Those are called "lenticular clouds" They are formed under perfect conditions, when the air flows over Mount Rainier and gets pushed upward where it cools and condenses into clouds. Depending on how smooth the flow is, you can get some amazing clouds formations (as seen in the picture below).
All of this is usually a sign of rain within 24 hours because typically, the moist flow that precedes a storm around here is the perfect setup for these clouds.
Isn't that cool? I think so …
The Westcoast Blogger