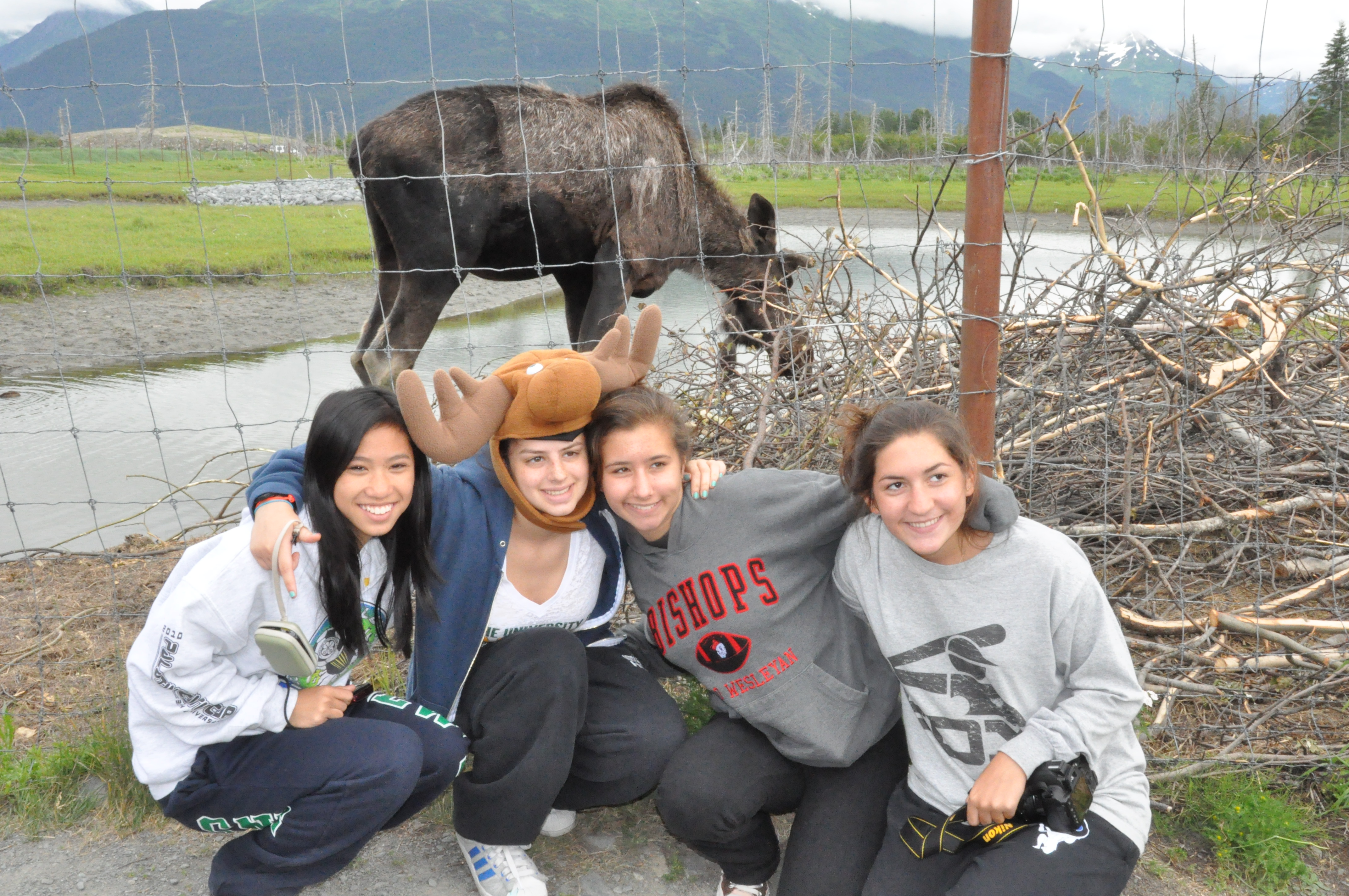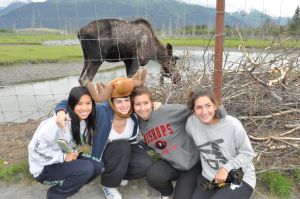 Greetings Family & Friends!
We have been staying at The Hutch B&B for the last few days, where Shirley and George have welcomed us with open arms!  Everyone has enjoyed the past few nights around the campfire, making S'mores and enjoying the surroundings of this beautiful area.
Day 9, we packed up our stuff at the University of Alaska Anchorage and hit the road for a beautiful drive along the coast from Anchorage to Cooper Landing.  Along the way, we stopped at the Alaska Wildlife Conservation Center where we FINALLY got to see a moose.  This was definitely a highlight, as we've all been "moose watching" sine Day 1!  We found a picturesque spot at the AWCC to stop for lunch, which soon turned into a dance party.  Jessi, Zach and Rebecca entertained us with their dance to Y-M-C-A.
Our first day in Seward, we did a hike up to Exit Glacier, in Kenai Fjords National Park.  Philipp, Jamie and Eric were very keen and took the lead.  The hike was challenging, but the view was worth it!  After a successful trip back down the mountain, we headed to a real Iditarod training center (with Iditarod champion Mitch Seavey!!) where we had a real dog sled tour and got to play with some adorable puppies.
On Day 11, we headed into Seward for another jam-packed day.  We started out at the Alaska Sea Life Center where we got to see a ton of neat sea life.  We had the opportunity to dissect a squid.  Ally and Rebecca demonstrated impeccable dissection skills!  After a fun morning, we headed to Lowell Point, where we met up with our hiking and kayaking guides for the afternoon.  Half of us kayaked and half of us hiked out to a beach in Resurrection Bay, where we swapped for the trip back to Lowell Point.  Eric, Jamie, Renee, Jessi, Daniel and Ally got a good look at a sea otter on their kayak out to the beach.  Matt and Andy saw three bald eagles on their way back!  After a long day, Abby was DJ for a quiet trip back to Cooper Landing.
Today we cruised out into Resurrection Bay (on a boat) where we saw sea lions, bald eagles and whales.  We even saw a fin whale, which is the second longest type of whale (so says our guide).  Rachel was very excited to finally see a puffin up close and personal.  Back at The Hutch, we enjoyed a BBQ and campfire before wrapping up for the day.
We head to Homer tomorrow.  We have really enjoyed our stay here at The Hutch and will be sad to say goodbye to Shirley and George, but we are looking forward to our next adventure!
Stay tuned for more from ALASKA!
Pam & Matt
The Westcoast Blogger