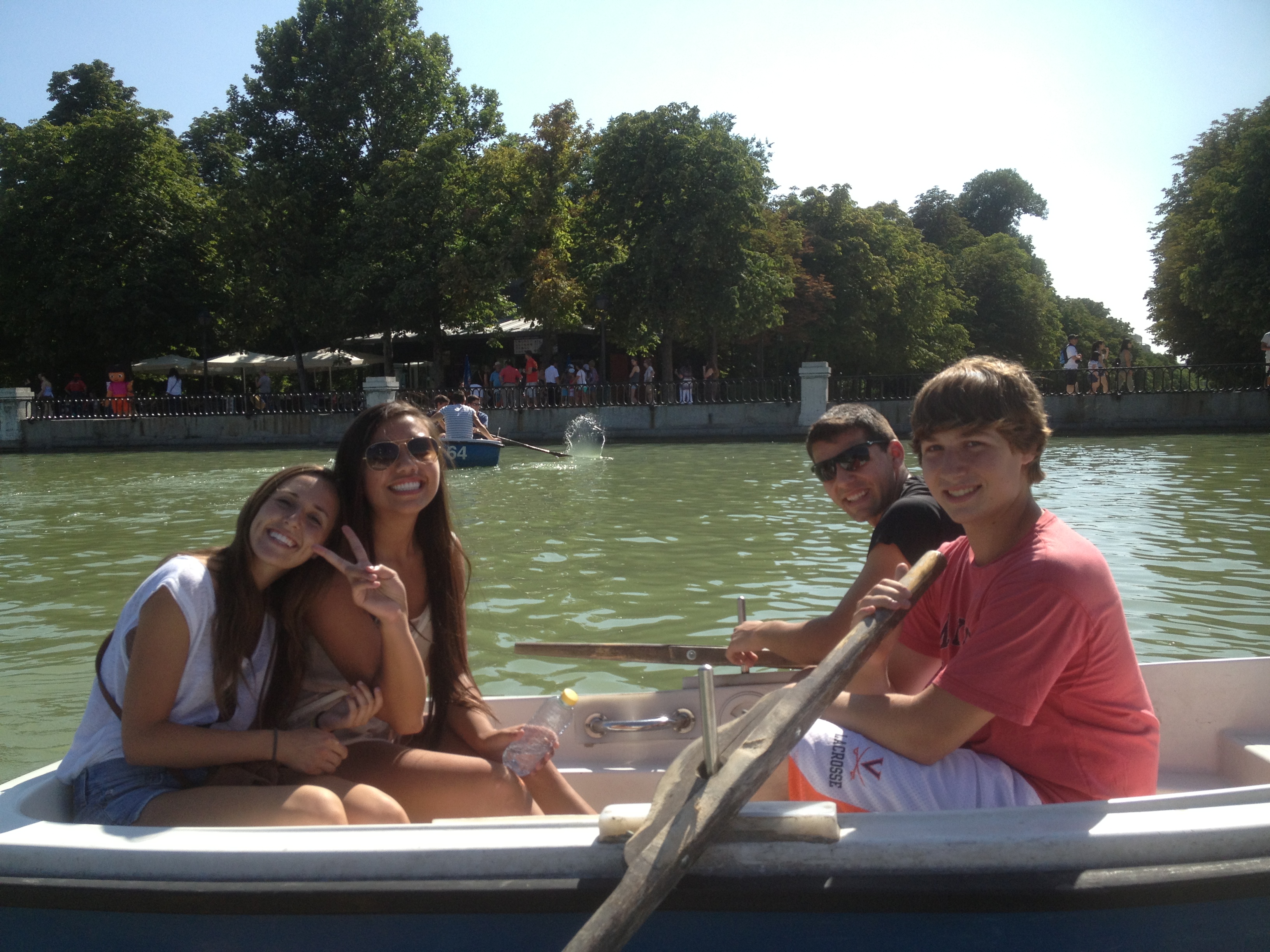 Hola queridos padres,
Hello dear parents,
El tiempo vuela! La semana pasada fue concluyo con nuestro viaje a la ciudad de Madrid. Fue una linda experiencia, pero cubriremos los detalles más adelante. Por ahora, empecemos con temprano en la semana
Time flies when you are having fun! Last week got better and better leading up to our trip to Madrid on the weekend. It was a nice experience as you will see below.
Temprano en la semana recibimos una visita muy especial: ¡Ira Solomon, nuestro director de compañía! Los estudiantes pudieron compartir y conversar con él, incluso jugaron un torneo de basketball el lunes 😉 Corey H, Gio y Evan no perdieron esta oportunidad mientras que otros decidieron jugar voleibol, incluyendo a Marc, Noah y Aaron.
Early in the week we received a very special visit: Ira Solomon, our company director! The students met and chat with him; they even played a basketball tournament with him on Monday. Corey H, Gio and Evan did not let that chance pass them by! Others preferred to play volleyball, such as Marc, Noah and Aaron.
El día siguiente tomamos la noche para relajarnos comiendo helado y conociendo a otros jóvenes españoles cerca de la residencia. Alexandra disfrutó mucho la tranquilidad de esta actividad ϑ y esto también ayudó a los estudiantes a recargar las pilas porque el miércoles fue muy ocupado!
The next day we took the night to relax with ice cream and meet local youth near the residence. Alexandra enjoyed the peaceful aspect of this evening and it also helped the students gear up for our busy Wednesday!
Gracias a Sarah, el miércoles muchas chicas y algunos chicos pudieron tomar parte de un evento en Barcelona, como si fueran locales! Fueron a el 080 Barcelona Fashion, el salón de la moda en Barcelona, en el cual pudieron tomarse fotos y maquillarse! El resto del grupo fue a la playa, donde pudieron divertirse y cenar frente al mar.
Thanks to Sarah who informed the group of a Barcelona event on Wednesday, most girls went to a Barcelona Fashion show at the pop 'n' shop fashion convention in Barcelona! Here, they had their makeup done and took pictures! The rest of the group went to the beach, where they had fun and ate dinner by the sea.
El jueves por la mañana, Amelia y Dayu fueron las únicas valientes que se entrenaron en el gimnasio. Por cierto, ¡Becca, Tanner y Amelia han hecho un pacto de ir al gimnasio todas las mañanas!
Thursday morning, Amelia and Dayu woke early to exercise at the gym. In fact, Becca, Tanner and Amelia made a commitment to train at the gym every morning!
Por la noche, fuimos todos a cantar al karaoke. Los super duos de la noche fueron Erika y Sarah, Danica y Adam, Alexa y Julia, Ross y Sasha, y Sidney y Alexandra (¡quienes cantaron "My Heart Will Go On"!), etc. Los monitores también nos supieron divertir con sus talentos escondidos.
In the evening, we all went to karaoke. The super duos of the night were Erika & Sarah, Danica & Adam, Alexa & Julia, Ross & Sasha, and Sidney & Alexandra (who sang "My Heart Will Go On"!). The staff also entertained us with their hidden singing talents.
En la escuela seguimos perfeccionando nuestro español y aprendiendo cosas nuevas en los cursos electivos.
At school we continue to perfect our Spanish and learn new things in the elective classes.
Y así llegamos a nuestro viaje a Madrid del viernes. Para empezar, todos quedamos maravillados con el hotel. Becca, Ali, Paige y Lexi han expresado su agrado sobre el hotel Tryp Ambassador donde nos quedamos, especialmente la comodidad de las camas y la tecnología en las habitaciones 😉
And this brings us to our weekend excursion to Madrid on Friday. To begin with, we were all amazed at the hotel. Becca, Ali, Paige and Lexi were especially glad to be staying at  the Tryp Ambassador hotel since the beds were so comfortable and  the technology in the rooms was great too.
Esa tarde conocimos la Puerta del Sol, el centro mismo de la red española de carreteras y uno de los lugares más conocidos y transitados de Madrid. Cenamos en un restaurant donde dos cantantes nos acompañaron con una pieza de ópera magnifica, pero antes de eso, nuestros propios estudiantes nos deleitaron con sus talentos en el piano, incluyendo a Lindsey, Marc y Erika, ¡quien cantó "Born This Way" de Lady Gaga!
That evening we went to Puerta del Sol, the very center of Spain and one of the most famous and busiest places in Madrid. We had dinner in a restaurant where two opera  singers accompanied us with a great opera piece, but before that, our very own students delighted our ears with their talent, including Lindsey, Marc and Erika, who sang "Born This Way" by Lady Gaga!
El sábado tuvimos un gran día, lleno de cultura y tranquilidad. En la mañana visitamos el Palacio Real, donde residen el Rey y la Reina de España cuando se encuentran aquí. Pero normalmente el palacio sirve de museo abierto al público. ¡El lugar es precioso y elegante por dentro y por fuera! A Bruna le gustó explorar todas las piezas pero especialmente el comedor.
Saturday we had a big day, full of culture and relaxation. In the morning we visited the Royal Palace, normally used as a museum open to the public. The palace is gorgeous and elegant inside and out! Bruna loved exploring all the rooms but she particularly liked the dining room.
Luego, fuimos a un lugar muy muy especial: El Museo Nacional del Prado. Aquí, pudimos ver obras impresionantes de pintura y escultura. En especial, las obras de Diego Velázquez y Francisco de Goya, ¡pero el museo contiene aproximadamente 7000 obras en total!
Then we went to a very special place: The Prado Museum. Here we saw  extraordinary paintings and sculptures. The Works of Diego Velázquez and Francisco de Goya, were especially remarkable. The museum contains an approximate total of 7000 works of art!
Fuimos el Centro de Arte Reina Sofía le permitió a Nitasha de realizar uno de sus más preciados sueños: ¡admirar la obra Guernica de Picasso en persona! ¡Qué honor!
Next, we visited  the Centro de Arte Reina Sofía, where Nitasha fulfilled one of her dearest dreams: to stand in front of Picasso's Guernica! What an honor!
Pasamos la tarde en un parque llamado El Retiro donde nos relajamos remando canoas bajo el sol, y antes de regresar de Madrid el día siguiente, fuimos a un mercado callejero llamado El Rastro, el lugar favorito de Alexis, quien compró varias prendas de joyería ya que le gustan tanto.
We spent the afternoon in a park called El Retiro, where we relaxed row boating in the sun. Before leaving Madrid the next day, we went to an open air market called El Rastro, Alexis's favorite place, where she bought beautiful jewelry.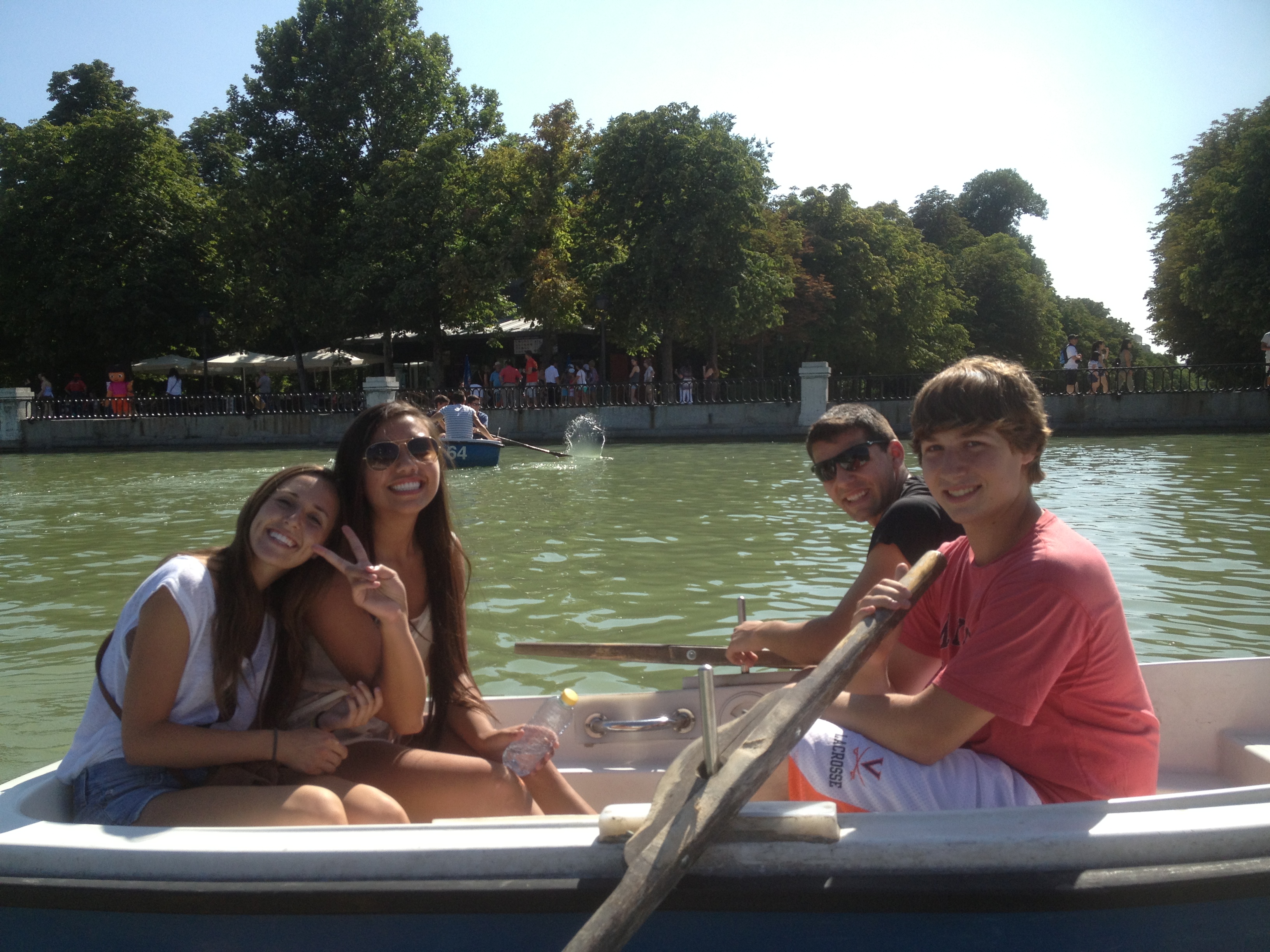 Bueno, esta aventura nos ha traído de vuelta a Barcelona y más detalles les daremos dentro de poco.
Well, the adventure has brought us back to Barcelona. We will update you again soon.
Gracias y hasta pronto!
Thank you and goodbye!
The Westcoast Blogger