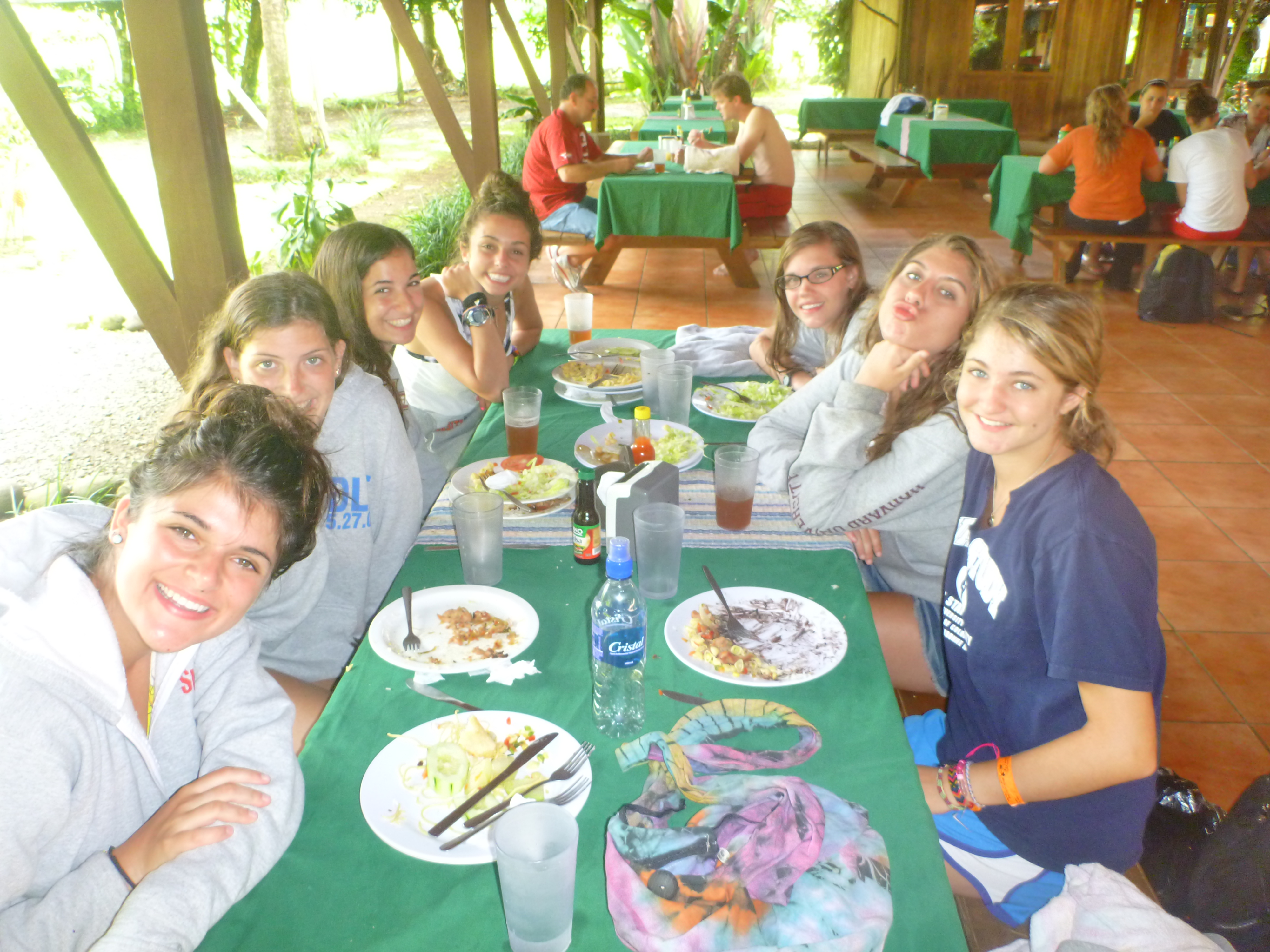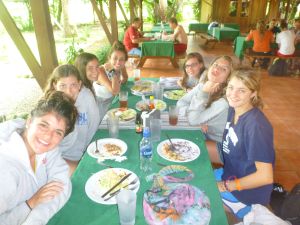 Greetings Costa Rica Community Service Families!
Our time in San Carlos continues to be challenging but fun! Our last two days with Habitat for Humanity (HFH) were hard work but we all left the work site with smiles on our faces and warmth in our hearts! Heather and Katie were always hard at work with shovels and pick axes, always ready to give a helping hand. Despite the fact that we had just worked a long and hard day at HFH we spent our nights playing games and laughing! One night was solely dedicated to Chris who was celebrating his 18th birthday! There was cake, candles and balloons and we even played a little game of pin the beak on the Toucan. Some of us were more successful than others at this game but Eve and Jessie were the indisputable winners. Other nighttime programs such as Costa Rica Jeopardy and Love List kept the trip members on their toes and challenged them to think.
 Every day our trip leaders announced a new fun Costa Rican fact of the day and on our second night in San Carlos their knowledge was put to the test! The trip members played an aggressive game of Jeopardy where they were asked about Costa Rican wildlife, geography, Spanish words and lastly their fellow trip members. In the end it came down to two groups Megan, Hannah I and Kimmy versus Jeremy, Molly and Akua. To come out with a set victory we decided that the final test would be a game of rock, paper, and scissors. In the end Megan's team beat out Jeremy's in the final play and as they say to the victor goes the spoils.
We left San Carlos the following day to return to Central Valley and San Jose! In many ways our return to our very first hotel that we stayed at in San Jose was nostalgic to say the least. The nostalgia soon gave way to hilarity because that night we had a karaoke party! I'm sure that everyone on the trip will agree that Charlotte and Raven's rendition of Bohemian Rhapsody was the night's show stopper.
In the morning we were off to La Carpio, an underprivileged neighborhood that needed our help. When we arrived we got straight to work helping to build houses for those in need, once again, cementing and painting. Trip members such as Amber led the first group guiding Jillian and Jack who diligently made cement for a local teacher's home. Zack and Allie were a part of the second group painting and leveling another nearby home. In the afternoon we were then shown the base of operations for the volunteer program, a small school in the community. The group founder stressed the importance of our work and gave us our next assignment which was building bunk beds for those in need. We constructed the beds from scratch and the task became an assembly line of hard work and positivity. The experience was an eye opening one and for many of us it changed how we perceived the world.Our last few days of the trip have not all been hard work though.
On our last day we embarked on our final adventure, whitewater rafting! For many this adventure was the best of all and the two hour rafting experience was playful and exciting. We are now unfortunately approaching the conclusion of our trip but one thing is for certain – that is that we have a slew of fond memories and experiences to bring back home with us and to share with all of our loved ones.
See you soon!
The Westcoast Blogger