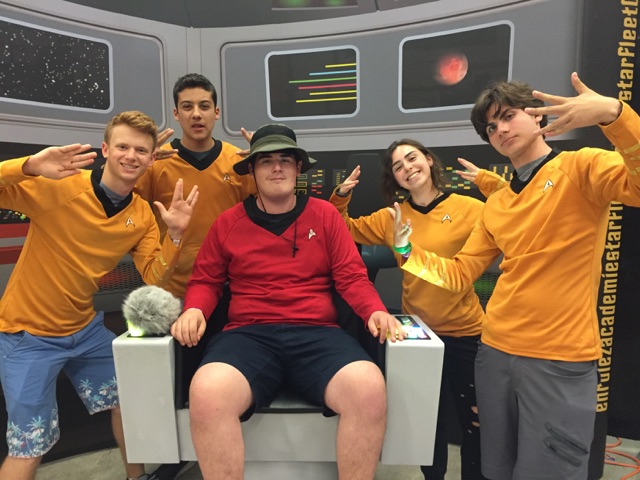 Amazing how the time flies when you're having fun! We can't believe that we will all be leaving Montreal tomorrow.
It's been a wild ride, and we are all starting to get teary-eyed and nostalgic, the closer it comes to us having to say goodbye. The fun has not stopped and neither have the chances to learn and grow. After our Laser Quest adventure, where Hunter easily won both rounds, it was back to classes the following morning. The community service class shook it up for a few days, and we took our passion and enthusiasm to a local food bank where we were able to help sort and prepare food. Sophie became an expert cake cutter while Rachel, Melanie and Molly mastered the art of putting perfect portions of peas into bags. They all had an exciting and rewarding time with this new experience and were grateful for everyone we met and for all of our opportunities to help.
This week the photography students got to explore some of the coolest neighbourhoods in Montreal, snapping photos of locals practicing Chi Gong in Chinatown. They also visited Little Italy and sampled some incredible cannoli's.
The psychology students dove into dream analysis, and spent a whole day covering different aspects of positive psychology and how to use it to improve their everyday life.
The French class explored a few hot spots in Montreal. They ordered espresso at a quaint coffee shop, conversed with sales associate at a cute boutiques and navigated their way through the metro- all in French!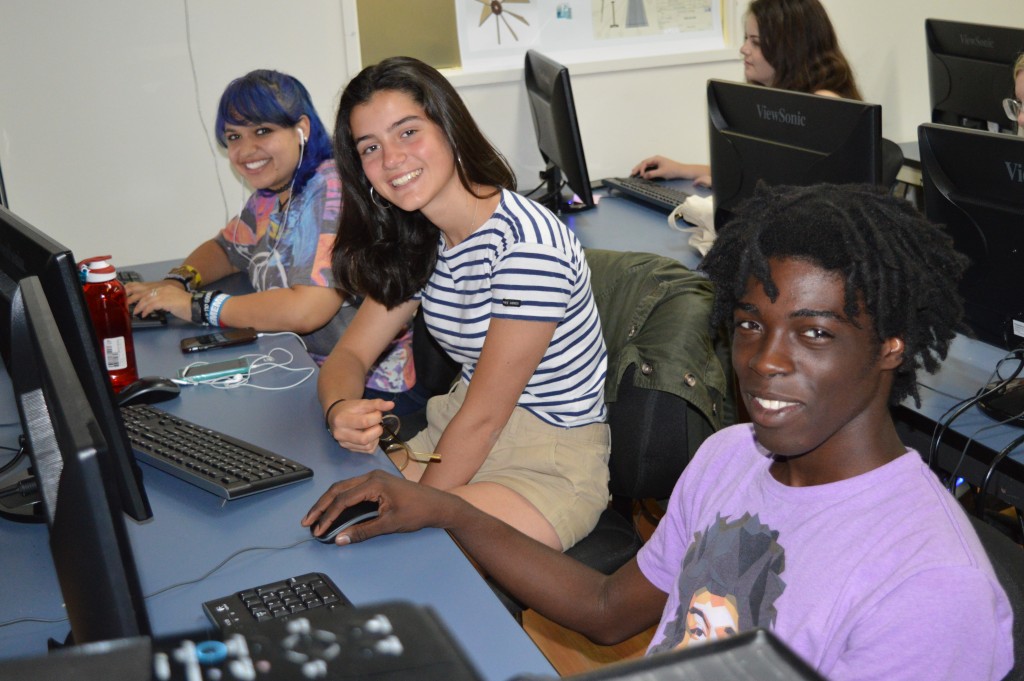 Web Design have been able to finish off designing and coding their CV's this week, something they have been working on for a while. We also had the opportunity to go on a field trip to a local web design office where we had a tour and chats with professionals in the industry. Rob and Skylar shared their future goals and had many questions answered. It was a great experience and gave all a great perspective of the industry.
After a metro and a bus ride, the promise land, La Ronde Six Flags Amusement Park, was before us and the energy in the air was palpable! Over the course of the day battle stories made their way back to the staff waiting at the meeting spot: Sophie and Logan's existential crisis about whether they should get beaver tails or not (the answer is always yes,) stories of long line waits and even of kind strangers who let our students skip ahead. When we met back up at the close of the park everyone was busy exchanging tales of perseverance and survival. Perhaps the best part of trip leader's Delisha's day was when Logan selflessly gifted her a monkey he had won!
We also had the opportunity to visit Atwater market. The market had a beautiful array of fruits, vegetables, breads, cheeses and other goodies. The trip members browsed for a few hours, enjoying the shopping and ascetic of the market. Sophie had some incredible mushroom soup, made by a man who hand-picks all of the mushrooms, while other trip members found a stand that made fresh fruit smoothies, in which all proceeds were donated to a children's charity and Elsa bought what seemed to be the whole stand of strawberries! The market was a big hit for the day with students stocking up on Canadian delicacies such as maple syrup. Abbey found herself some speciality tea and the group hosted a communal picnic with fresh bread, cheeses and jams.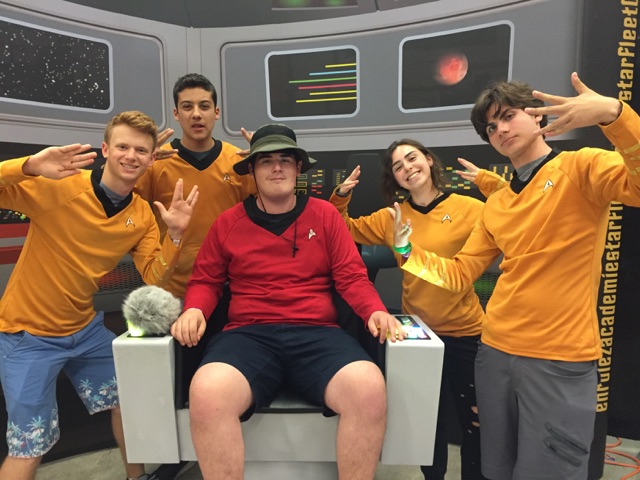 After this we went to the movies, allowing the students to choose between Finding Dory and Now You See Me 2. For those who didn't want to see any of the movies, Program Director Ronen offered to take a group of eager superhero enthusiasts to Comicon. It was quite an experience! Ronen and Sam met Eliza Dushku, who played "Faith" on the TV show, "Buffy the Vampire Slayer". Elliot and Hunter did a bit of retro gaming, playing NHL 94 and NBA jam. Skylar was blown away by the Mad Max artwork, while Blake, Sophie, and Jake eagerly listened to the many speakers, with Blake even getting an early copy of an unreleased book. Miguel was particularly enthralled with all the Deadpool memorabilia, while Marcos focused his attention on Aquaman. We closed the day with fireworks, which we watched on the water in Old Montreal — a truly spectacular way to end our fun-filled day.
Mount Tremblant was up next, and we were on the road bright and early – We've never witnessed a quieter bus. Upon our arrival at the beautiful ski town, the group went on a nature hike. Everyone enjoyed the incredible scenery, and some lucky trip members spotted a deer.  The health club on the mountain hosted us for some time in the sauna, pool and hot tub. A large group created a new game, combining the game ultimate with football, while the others took advantage of the Tarzan rope. After we all had lunch and grooved to the music of the Blues Festival, we topped off our visit with a chair lift ride up the mountain and sped downhill on their luge course.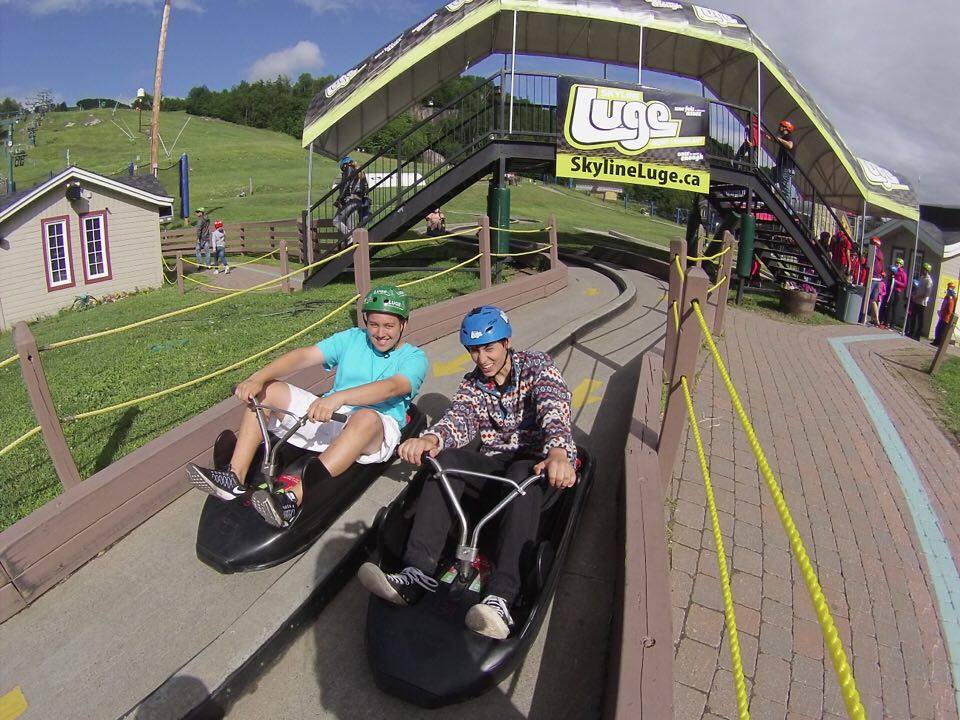 Montreal has been an incredible host for these past three weeks. We're sad to say goodbye to friends made, but look forward to the next chapter with those continuing on to the College Preview Week in Boston. If you think this sounds like an amazing adventure (which it is!), take a peek at our 21-day and 28-day French pre-college workshops in Montreal.

The Westcoast Blogger
Save
Be part of this pre college enrichment summer program: experience an academic life with the course of your choice in our 21-day trip to Montreal or extend it to a 28-day tour that includes Boston.