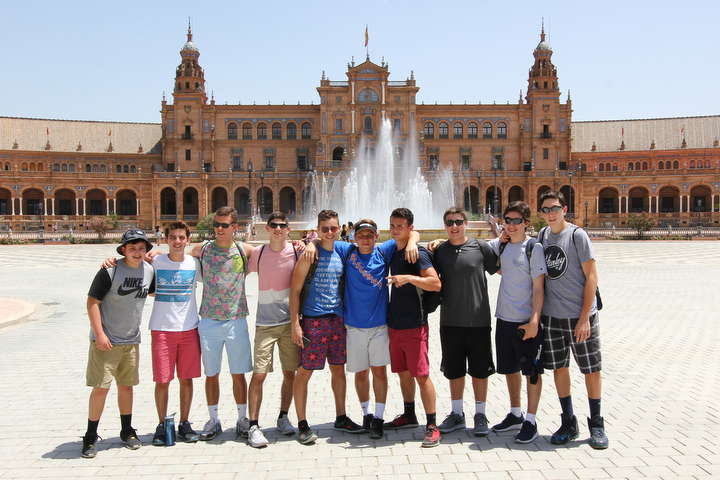 ¡Llegamos a nuestro tercer destino en España- cuánto vuela el tiempo!  Después de instalarnos en nuestro hotel cerca de la playa, fuimos al restaurante "La pesquera" donde compartimos la paella – ¡Qué rica!  Casi no pudimos esperar para poner los pies en la arena; entonces terminamos nuesta primera noche en Marbella con unas competencias amigables en la playa. ¡Todos nos reíamos mientras que mirábamos a nuestros compañeros fingiendo ser toreros y toros!
We have arrived at our third destination in Spain – time is passing so quickly! After settling into our hotel by the beach, we went to "La Pesquera," where we shared portions of paella- ¡Qué rica! We could hardly wait to get our feet into the sand, so we concluded our first evening in Marbella with some friendly competitions on the beach. We all shared a good laugh while watching trip members compete to be the best torero (bullfighter) and toro (bull)!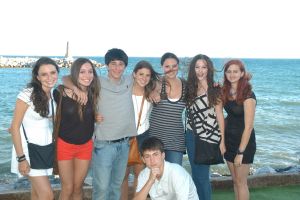 La mañana siguiente nos reunimos con nuestros profesores que conocimos en Madrid para empezar las clases de inmersión.  Corriendo por la ciudad como si fuéramos parte de "The Amazing Race," cada grupo recibió una tarea qe tuvieron que terminar antes de llegar al próximo sitio.  Probamos a nuestro español por hablar con los locales y preguntarles preguntas para realizar nuestra misión. Después de una mañana llena de exploración en Marbella, descansamos y nos enfriamos en el parque aquático de Mijas donde los miembros bajaron algunos tobagones de agua y se relajaron cerca de la piscina de olas.  Nuestro día divertido concluyó con una noche de karaoke; los miembros cantaron sus canciones favoritas del pasado y convirtieron al bar en una fiesta de baile- algunas canciones populares fueron "Bohemian Rhapsody" y "Play My Music."
The following morning we reunited with our teachers from Madrid to begin immersion activities. Running through the city as if we were on "The Amazing Race," each group was given a task to complete before arriving at the next checkpoint. We put our Spanish to the test by interacting with locals and asking them questions to accomplish our mission. After a morning full of exploring Marbella, we relaxed and cooled down at Mijas Water Park where trip members plunged down water slides and laid by the wave pool. Our fun-filled day came to an end with an evening of karaoke; trip members belted out their favorite throwback songs and transformed the bar into a dance party- amongst the hits were "Bohemian Rhapsody" and "Play my Music."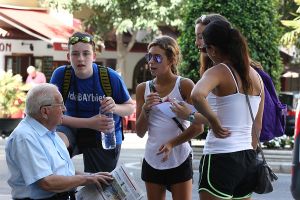 La variedad de actividades durante inmersión nos permite aprender y disfrutarnos al mismo tiempo. Por buscar los monumentos y preguntar la gente preguntas sobre Marbella, tenemos una oportunidad para aplicar lo que aprendimos en el aula; la inmersión nos proviene la oportunidad de combinar nuestra gramática y vocabulario y nos esfuerza hacer preguntas rapidamente.  ¡Aunque solamente estuvimos en Marbella por tres días, nos sentimos como ya sabemos como navegar la ciudad!  Los profesores confian en nosotros y navegamos por la ciudad e interactuar con residentes en una manera segura y responsable.  Estos ejercicios nos dan un sentido fuerte de responsabilidad y carácter que solamente podemos aprender por experiencias en el mundo.  Estamos agradecidos por lo que ofrecen estas actividades de inmersión: una oportunidad de entrar al mundo hispanohablante y ver como aparece desde nuestros propios ojos y perspectivas.  Aunque mañana despediremos a Marbella y a nuestros profesores, siempre acordaremos las leccizones que aprendimos durante nuestra estancia aquí.
The variety of activities during immersion allows us to learn and have fun at the same time. By searching for monuments and asking people trivia questions about Marbella, we have an opportunity to apply what we have learned in the classroom; immersion provides us with the chance to combine our grammar and vocabulary and forces us to quickly formulate questions. Even though we have only been in Marbella for three days, we feel as if we already know how to get around the city! The teachers place the ultimate faith in us to navigate throughout the city and interact with residents in a safe and responsible manner. These exercises undoubtedly instill within trip members a strong sense of responsibility and character that can only be learned through a real-world experience. We are grateful for what these immersion activities have provided for us: an opportunity to finally go out into the world and see what the real world truly resembles from our own eyes and perspectives. Though tomorrow we will say goodbye to both Marbella and our teachers, we will always remember the countless lessons we have learned in our time here.
The Westcoast Blogger
Are you ready for an ON TOUR adventure? Travel like a local with our student travel to Spain and discover all its amazing attractions.