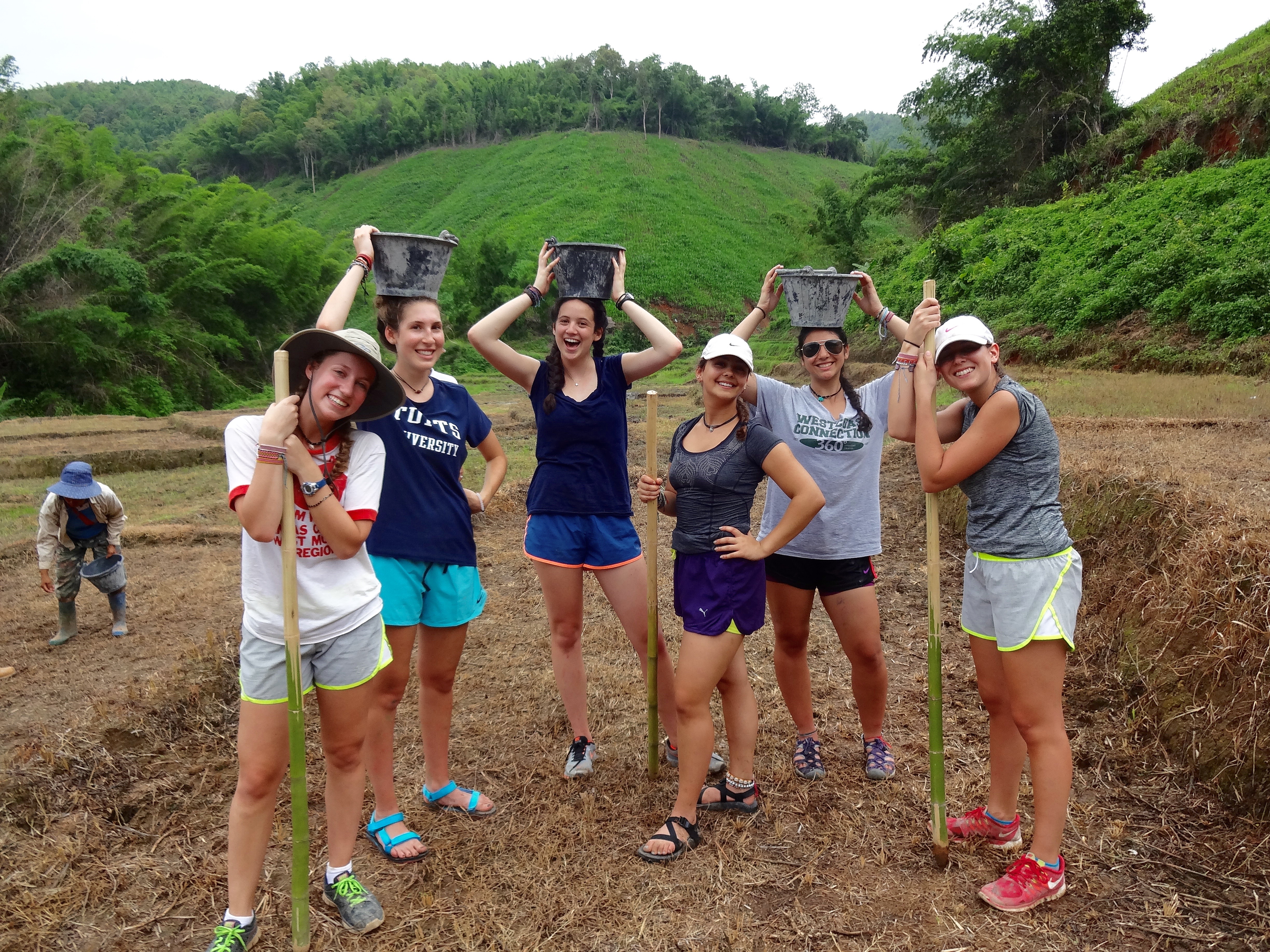 We're writing to you here from Mae Salak and the Lahu Tribe Village. We arrived a few days ago and have had such an incredible time learning about the way of life in the Thai jungle. After a bamboo raft on the river, filled with snacks, sing-alongs, games and adventure, we made it to the Huai Khum Resort. On our first day of community service, we exceeded all expectations and surprised the villagers by almost completing our foundation for the playground they're building on Day 1! We met the villagers and the chief welcomed us with open arms into their home. They taught us how to make concrete, and we realized just how much hard work goes into making a playground. With the recipe for perfection (32 buckets of sand, 24 buckets of rocks, 8 buckets of water and a whole lot of we-can- do-it attitude) we were able to mix all the ingredients and pour it out in the foundation.
Afterwards, our pro concrete smoothers would come around and smooth everything over, making sure it looked like perfection. Special shout out to our superwomen who did some heavy lifting and brought us all the sand that we needed to get the job done right. We even had time to see what the Westcoast trip from last year's final product looked like when Pi-Ekg, our guide, gave us a tour of the small village. Amidst the pomelo trees lay a road that was built by our Trip Members last year and it really hit home how much of a lasting effect our work has on the Lahu Tribe. As a reward for all the sweat and hard work put into this project, we finished by cooling ourselves off by the pool and having some great bonding time together. After completing the concrete foundation, we learned more about the village and the way they live. They showed us how they plant, pick, and mash their rice and we cooked a meal for everyone with the village families. Ilana and Mallory found out that they're candidates for the next Top Chef, because everyone adored their cooking! Ian ate enough chicken to get him through the next few days in the jungle. It was delicious and rewarding. We also learned that picking rice is hard work and that it is the main source of income for the Lahu Tribe, who have planted rice fields throughout their land and in the jungle to be able to sustain their families. Rainy season is the perfect time to plant it.
We finished off our last night in Mae Salak with a bonfire and cookout with the village. Some of the tribal elders sang with their young children for us, while we showed them our smooth moves with a few Top 40 hits. We ate, we laughed, we bonded, and ended our night by releasing traditional Thai lanterns with partners into the night sky. It was an unforgettable experience and one that we'll be talking about for weeks to come.
Until next time,
The Westcoast Blogger