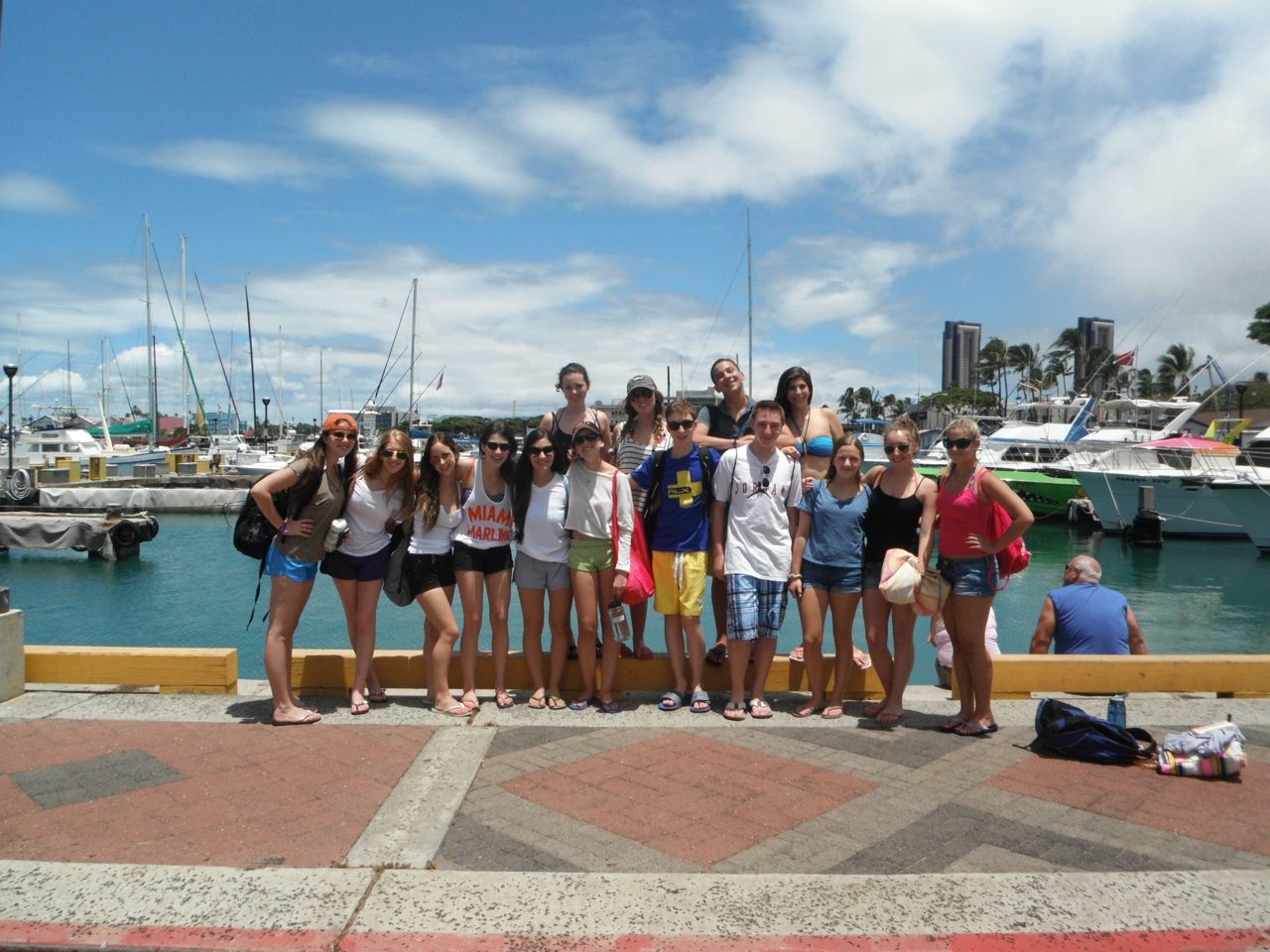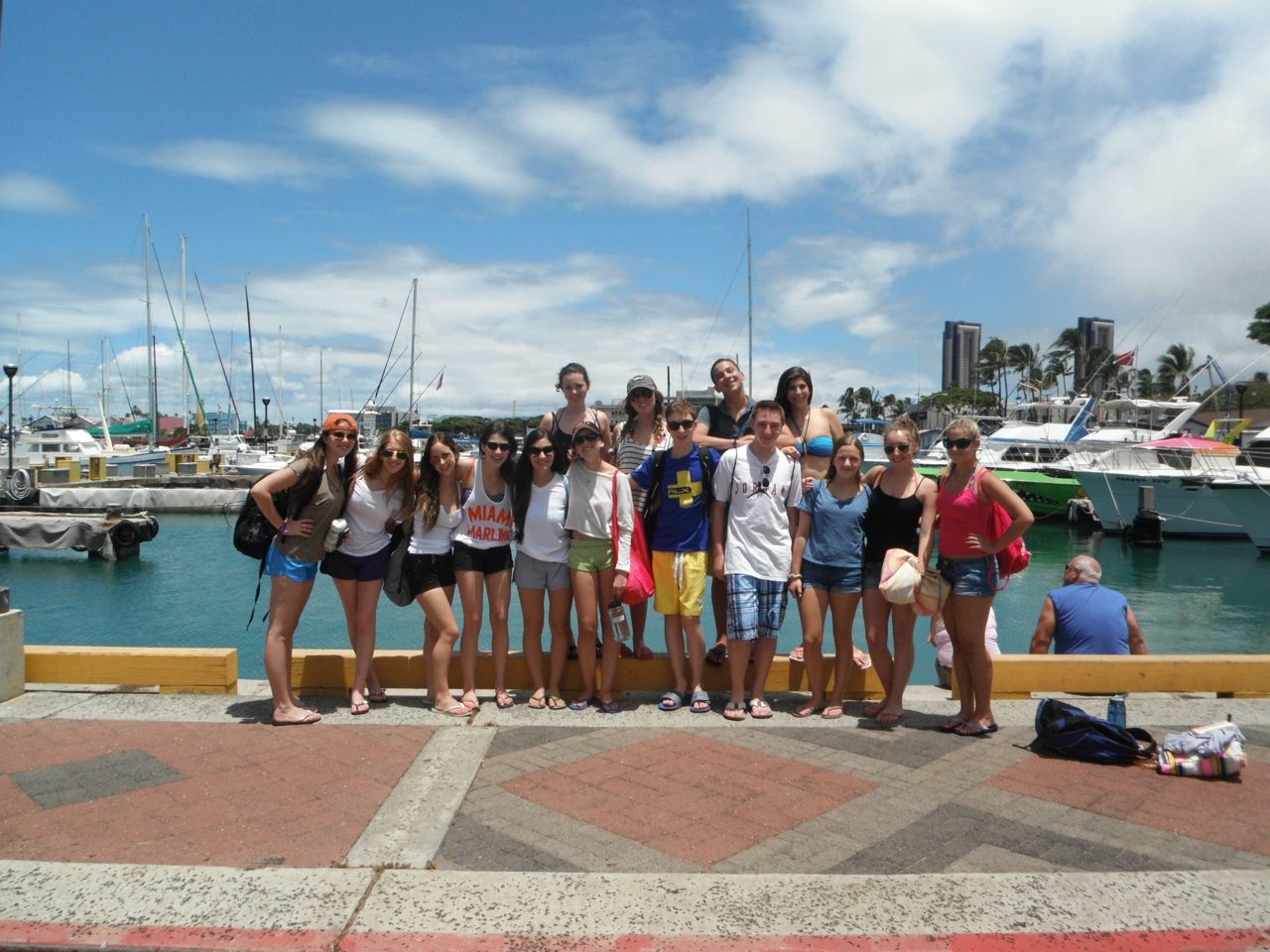 An update from Hawaii Community Service.
"That day was such a wonderful day." OAR
ALOHA from Hawaii!!! From the moment we stepped off the plane, our group has experienced nothing but the beautiful weather Hawaii has to offer. From the rainbow we chased on the way home from the airport to the crystal clear blue ocean during our catamaran sailing trip, we really do feel like we are in paradise.
The trip began with a seamless flight where Luciana and Dani became instant friends. As the group made their way down to the baggage claim, they were greeted with open arms from Chelsea and Christine as well as Trip Director, Adam, and Trip Leader, Melodie.  Our second day was filled with get to know you activities allowing each trip member to feel a part of the cohesive group we had started creating. While playing an ice breaker called Table Topics, trip members had the chance to talk about a variety of subjects. Jamie and Dani reminisced about items that they had thrown away and wished they had saved. Additionally after sharing out hopes and contributions to the trip by creating a community web, each trip member received a part of the "web" and made a bracelet out it that we will wear for the remainder of the trip, reminding us that we are a team and here in Hawaii to share this amazing experience with each other.
Later in the afternoon, we were able to drive to the wharf area and take advantage of a catamaran sailing adventure. Once aboard, Jenn and Carli went straight for the net on the front of the boat where they could see straight to the bottom of the ocean. We rode along schools of fish, fed them, and were fortunate enough to encounter a sea turtle! He seemed to be playing hide-and-go-seek with us as he was continually popping his head in and out of the water. Later in the day, Trip Leader, Amanda, took Maddie, Sam, Sarah, and Jason to the grocery store and discovered that they were amazing at the game, Supermarket Sweep. We worked so well as a team getting all the food we liked and learning how to pick it out as well. Maddie and Jason especially learned that there are a multitude of different mustards!
Music is clearly an important part of our trip as we rock out constantly in the vans. Our morning song is .. drumroll please …… Wonderful Day by OAR as we start off every morning thankful for the wonderful day ahead of us. With that being said, Richard has undertaken the challenge of learning how to fist pump. He is determined on perfecting his skills as we ride from site to site. There have even been country showdowns and boy band extravaganza sing alongs. Wherever we are, music inspires us!
Today we finally started our service. We rolled up to the Habitat for Humanity site ready to work the day away. Paige and Victoria were the MVP's of the day as they cut pieces of wood for the railing we were building. They were thrilled and proud of themselves for completing the task! Lindsay learned that she could be considered an amateur painter as she took that paintbrush straight to the planks of wood and, let's be serious, a little to her shirt as well!. Overall the day was an absolute success as we completed all of our work with a smile on our face. The site manager was sure to point that out to us. We even got to meet the owners of the house at the end and that was by far the most rewarding part.  All of us agreed that seeing the appreciation and smiles on the homeowner's faces was well worth the hard work and sweat.
Until next time. Aloha
The Westcoast Blogger