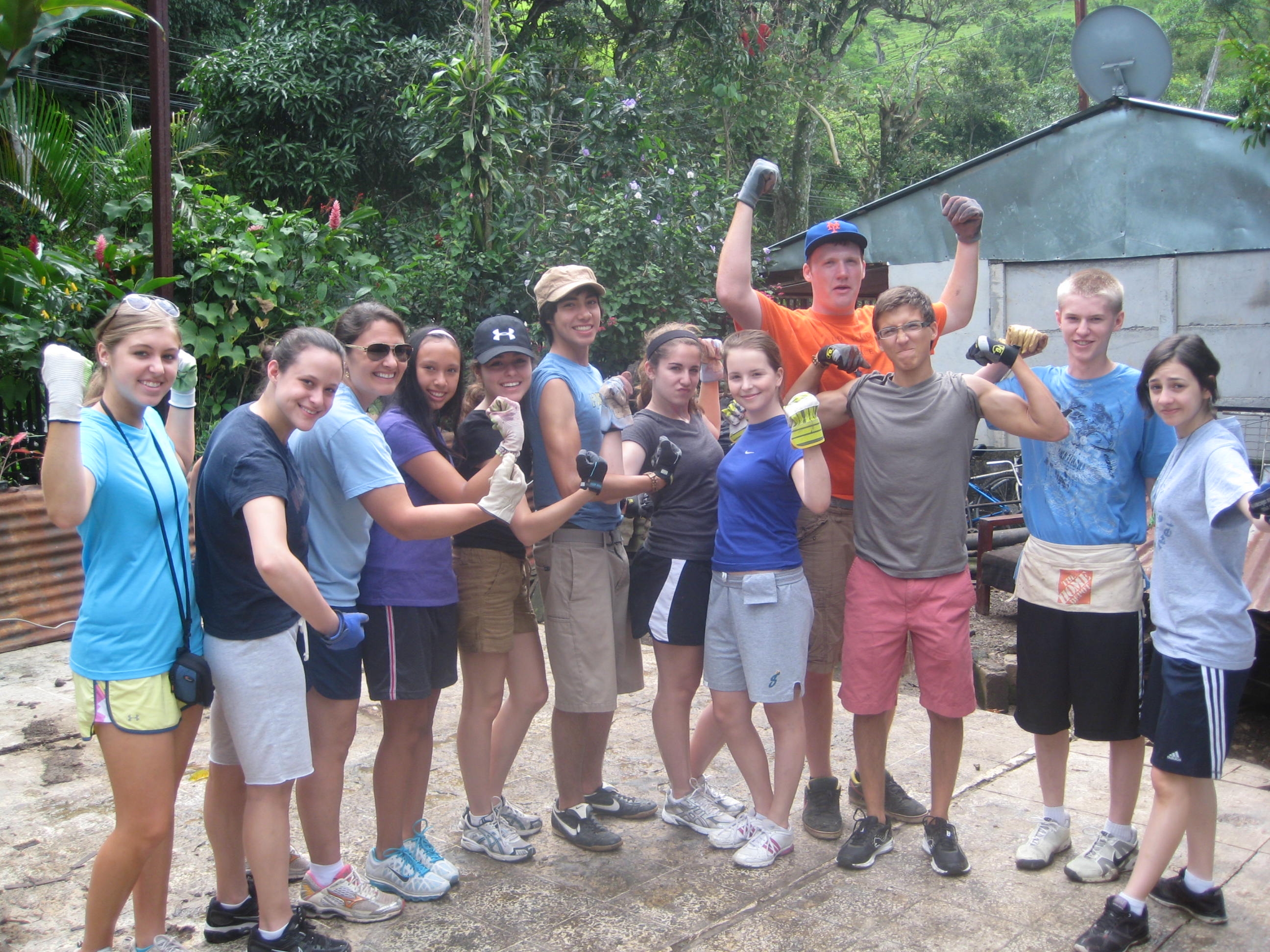 We have begun our the community service with the Costa Rica Humanitarian Foundation (CRHF)!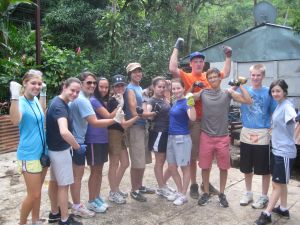 The past two days we have worked with the organization in two areas. The first day we got an introduction to CRFH and learned that they serve the low income community of La Carpio and that our time will be spent on the beautification of the community. In addition to helping bring beauty to the people of La Carpio we have also been afforded the chance to set up an outdoor program for the children to enjoy. Gayle, the founder of CRHF shared that the kids who live in the city have little or no exposure to their natural surroundings and being able to run in fields or play in fresh air is truly a thrill for them. Our third day of service here will be spent all day with the kids.
On our first day of service the Tree Frogs and Monkeys were both winners at our service project. Gayle was really touched by the dedication and hard work from our group. Although the work of cleaning and painting was not easy everyone was thrilled by the strides we made in beautifying La Carpio. Many of the community members shared their appreciation of our efforts as they passed by. Emma, Amelia, Renato, Alfredo and Gabby cleared lots of trash and debris as well as swept the sidewalk leading up to the village. Brooke, Emily, Scott, and Aysa really spruced up the community entrance with their efforts in the clean-up and added a fresh coat of red paint to the first building. We were all amazed that the work we did that day could already have such an impact on the community and us. Gayle led us in a conversation later about our work and how other WCC/360 groups will add to what we started and that La Carpio can and will change for the better.
In the morning before we began the service project we had the opportunity to play with some of the La Carpio children at the pre-school. Amelia, Gabby, and Emma made paper fish with several children. When we first walked in a little girl ran up to Brooke and latched on to her leg and they enjoyed the morning coloring together. Renato, Alfredo and Connor all played competitive game of English/Spanish bingo. Jamie was also quick to pick up a new friend playing blocks. After all our hard work we headed back to Hotel La Condesa in San Rafael for dinner and Salsa lessons. We had some really yummy pizza at the hotel for dinner. Kelsie raved about it on the bus today and said, "I would totally get that pizza at home and crave it."  At Salsa dancing last night Connor stole the show and as Carly stated," He shook his tail feather!" As soon as the music started Connor didn't stop dancing. In fact the whole group danced the night away and we all had sore stomachs from laughing so hard. Our CPI tour guide, Hailie, also joined in and with her dance background was a great partner for our Salsa instructor. Gabby and Amelia also had us giggling with their dance moves and creative shimmying. Necklaces were handed off to Connor and Rebecca. Emma from the Monkeys recognized Connor for how great he was with the kids at La Carpio and Alfredo from the Tree Frogs honored Rebecca for her inquiry and interest in the local people.
Today we headed to the countryside to a house that was damaged by a fire. We cleared debris and got the area ready for a new house to be built by other WCC/360 groups coming through. We are so proud that we were the first to start the project. Alfredo summed it up well stating, "What I liked about today was that normally teens don't get the opportunity to really work and make a difference. We often get easy jobs, but today we really got to help out." Also, Rebecca made a new buddy, Kevin the chicken- neither of them will ever forget one another. And Asya dominated the game Ninja we played on our break from working. After our service project we enjoyed a picnic overlooking lush green mountains. As we walked up to the spot Kelsie shared that we were having our Sound of Music moment. Carly, Amelia and Dave kicked the soccer ball around and we took advantage of the photo opp for a group shot. On our bus ride back the group competed in pairs to see how well they knew their postcard pals. On the first day at the airport everyone was given a postcard with a Costa Rican animal and had to find their postcard pal that had the same animal. They had the bus ride from the airport to the hotel (about 1/2 hour), and the last few days, to learn as much as they could about their partner. It looked like Renato and Rebecca were going to win, but they had to go up against Kelsie and Connor in a tie-breaker. Kelsie and Connor claimed their frog and monkey trophies, but it should also be mentioned that Scott had the most creative answers even though they were not always accurate.  We are off to a local restaurant and are gearing up for team Karaoke. Although both were winners in the work projects, tonight there will only be one group that can claim they won jungle Karaoke! The group is really looking forward to completing our final day with the wonderful people of La Carpio and are getting ready to hit the waves for our surf lessons in Flamingo. If the next few days are as good as the first four we know this trip can't get any better!
Hoping all is well at home.
The Westcoast Blogger