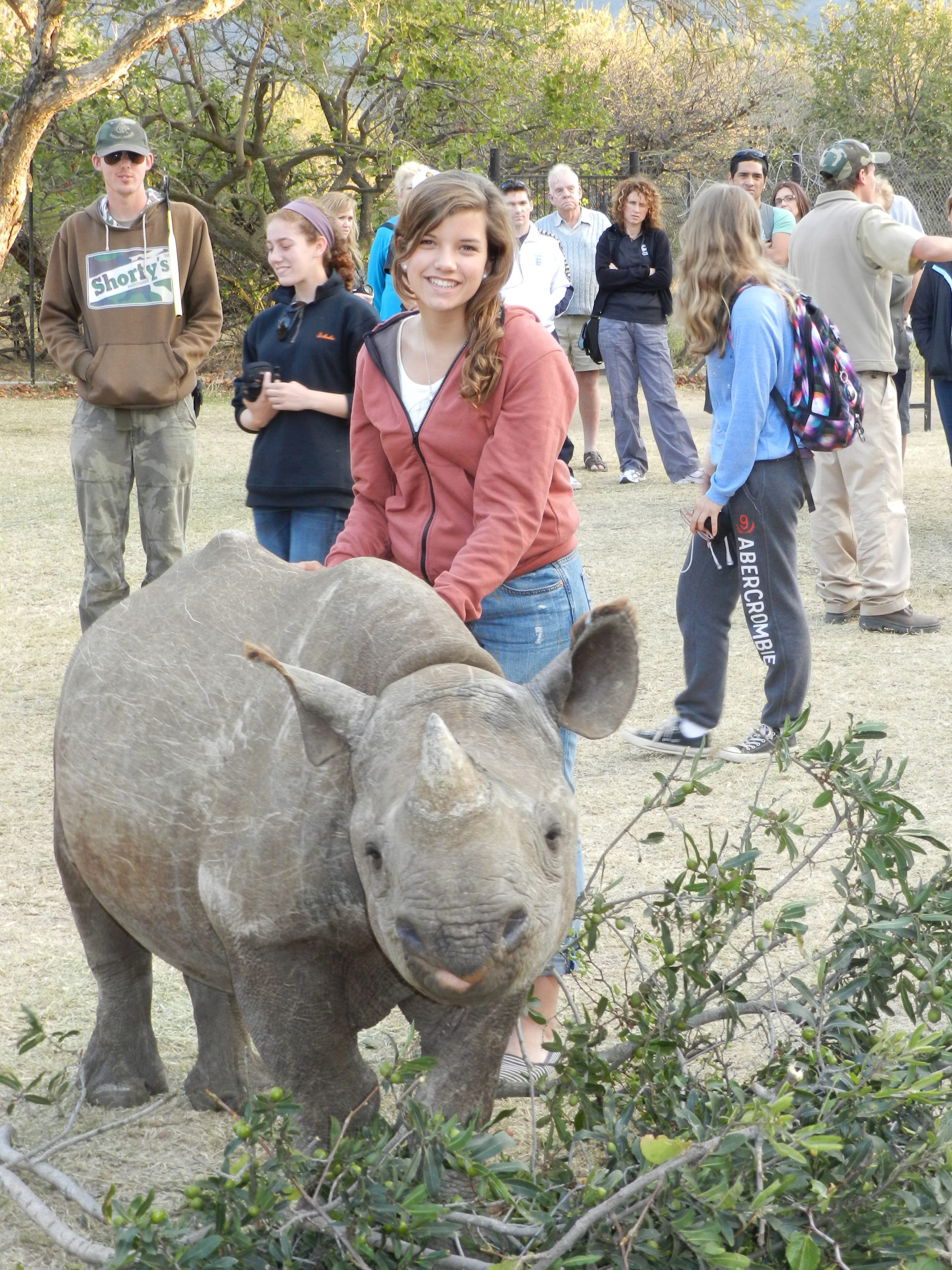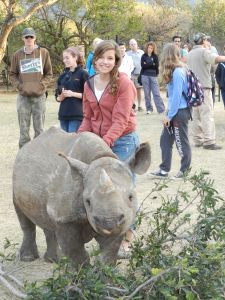 Hello family and friends!
Time is going by so quickly, hard to believe that we are already in Botswana!
To keep you truly up to date with all of our adventures, we must start back at last Tuesday morning, a morning where we all woke up excited, as it was our first day of service.  Riding into Acornhoek on a bright and sunny morning we met the chair of
the education board and the principal of the primary school to discuss our service projects.  The morning went by quickly as we gathered supplies and planned the work for the week.  In the afternoon, we had the chance to meet the wonderful school children.  We can't even begin to tell you how friendly and happy they were to see us.  Their bright smiles lit up our group.  Sam and Gabe joined some boys playing soccer in the field while Dani, Jenny and Sabrina taught and even learned new games with the girls.
Wednesday was our first full day of community service and Remi, Meagan and Ally were excited to get a start on repainting the welcome sign.  It needed a fresh coat of paint as well as an artistic touch up – a creative challenge these girls looked forward
to tackling.  Meanwhile, Nathan and Jessica were working hard on painting the principal's office and green-thumbs Kate and Jamie were planting spinach, beets and onions.  That afternoon we stopped in to visit our newest African friend: Jessica the hippo!  We fed her snacks and gave her some South African rooibos tea as we got our pictures taken with her.  Jessica especially liked Alex who bravely fed her snacks of potatoes.
At the end of last week, we  wrapped up our service projects in South Africa and truly, words can't express how difficult it was to say goodbye to the children and administration of the primary school.  Though we will miss them, we are proud of our accomplishments and are pleased knowing that our hard work has provided a new vegetable garden, a freshly painted school office
and a colourfully updated welcome sign.
Our last night in Kruger was a treat as we enjoyed a wonderful sunset safari outside our lodge grounds.  All evening we spotted giraffes (Melissa's favorite), cape buffalo, impala and even a rhinoceros!  We had our first opportunity to see a truly uninhibited African sunset from a hilltop and it capped off a great week.
Saturday began with us preparing a soup lunch at the medical clinic in Acornhoek; a service for children with HIV and/or orphans.  It was an emotionally moving experience but a great one nonetheless.  Gabe played soccer with a young boy and then became particularly touched when the boy shared his story with him.  This young boy's dad is sick with AIDS but his aspirations are to get out of poverty and become an electrical engineer.  His was just one story though all the people we've met and all the stories we've heard are just amazing.  After serving lunch, Kate and Meagan passed out toys and stickers to the children.  As we left they ran after us wishing us well and saying goodbye.
It has been great staying at our lodge: we've had amazing dinners, cozy bonfires and a chorus of hyenas and cheetahs every night.  Sunday morning meant we had to leave the Kruger area behind us but not without the scenic stops at the Three Rondavels
and Blyde River Canyon. From Johannesburg we continued onward to Livingstone, Zambia and spent our first afternoon on a spectacular sunset cruise.  Jamie and Dani loved relaxing on the boat deck and the two girls grabbed some great pictures of an elephant taking a dip in the Zambezi River.
Day two in Zambia brought us to the majestic Victoria Falls or "the smoke that thunders" and it was everything we hoped it would
be! Sam, Kate, Ally, and Meagan wore ponchos for the hike down while Jenny and Melissa braved the heavy rainfall around the falls.  After a quick lunch back at the safari lodge, we spent the afternoon getting to know elephants up close and personal.  We got to touch, feed and ride elephants and learned more about the ivory poaching threat in southern Africa.  The ride was absolutely incredible!  Larger than you can imagine, elephants are incredibly elegant animals with distinct personalities.  Nate and Jessica rode Danny (the oldest elephant of the family) and led us on the afternoon walk.  We had a phenomenal time in Zambia and are
happy to say that we have arrived safely in Botswana and are looking forward to our upcoming days of community service!
Sending much love!
 The Westcoast Blogger