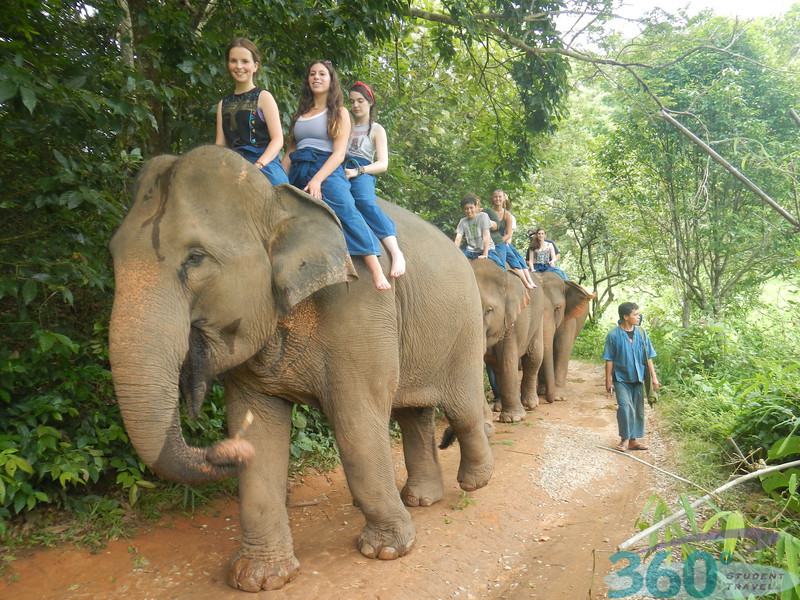 We have been fortunate to spend two days visiting the Golden Triangle Asian Elephant Foundation a not-for-profit organization. Micaela, Megan, Dillon, and Sammy B loved learning so much about these lovable elephants!
We spent our first day learning all the basics about elephant physiology, cognition and many experiments that illustrated just how intelligent these beautiful creatures are. Isaac, Sydney W, Josh, Annie, and Matt loved asking questions and thinking critically to understand the organization. We assisted in conducting several experiments with a seven year old elephant named Dungmo. Sarah was fascinated with these experiments. Emma, Sammy O, and Alicia were awesome research assistants. We could not believe the results proving that elephants are very smart!
After the experiments, we got to help the veterinarian do a check up on two different elephants. We measured the circumference of her feet, the height of her tail, and Leah even got take the elephants' temperature.
In the afternoon, we all put on our awesome "Mahout" (elephant trainer) pants and started to learn how to train an elephant. We learned the commands to go ("bai"), to turn ("ben") and even to put their heads down so we could slide down the trunk ("tak long")! After our personal elephant drivers course, it was time to take a tour on the elephants backs. Grace and Sydney N got to ride the smallest elephant, while Ruby and Daniella hopped up onto the same elephant that was featured on last season of the Bachelor! Leah and Melanie got to ride the only pregnant elephant in the camp. After a beautiful, scenic tour of the camp, we gave our elephants a bath. Michelle, Gabe, and Morgan particularly loved bath time.
Talking with the researchers and founder of the foundation gave way to great discussions about the treatment of elephants all over Thailand and how to help the exponentially declining number of wild elephants in Asia and Africa. Everyone contributed, and we had a new-found and insightful perspective on our days of community service. Sarah said she walked out of the elephant camp with a new-found respect for these enormous animals and the work that this organization is doing. These past few days were definitely a unique highlight of our trip!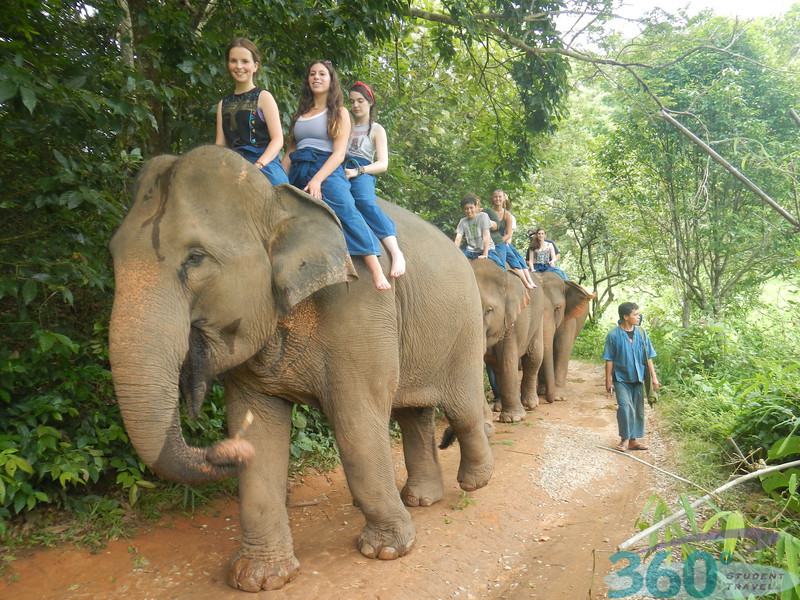 The Westcoast Blogger with help from Sarah T
Do you want to be part of this community service program? Check out our Thailand trips for students and get ready for the experience of a lifetime with Westcoast Connection.