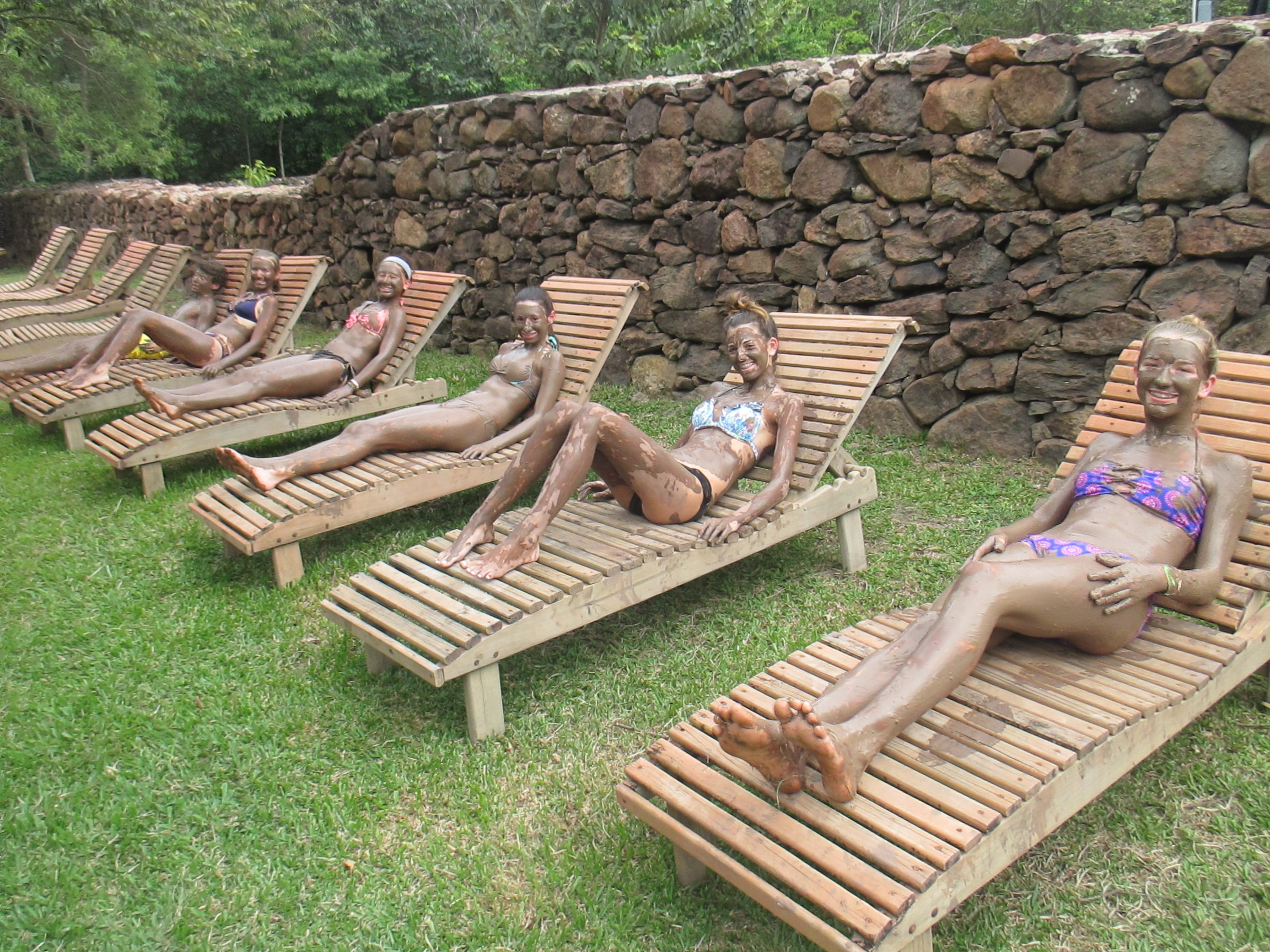 Hola family and friends from Rincon de la Vieja!
We have had a jam-packed two days at the Hotel Hacienda Guachipelin, a rustic eco-resort located on the slopes of the Rincon de la Vieja Volcano. After travelling from the Central Valley region of Costa Rica, stopping along the way to pick up some souvenirs, we fuelled up on some typical American-style food. We didn't have to travel far as our next activity, a thrilling zip-line course through the treetops of the forest, was right in the backyard of the hotel.
The view while zip-lining was absolutely breathtaking! The guides joked around with us and showed us their acrobatic skills. Many trip members, following Emma's lead, decided to have an extra rush by zip-lining upside down. We also jungle roped from platform to platform, and the more daring trip members got to repel down the cliff and climb back up. The group really supported and encouraged those who were nervous and everyone felt the adrenaline pumping by the end. Ali and Remi have everybody saying "YOU DO YOU!".  In the evening, we laughed for hours playing countless rounds of mafia.
On Saturday, we woke up refreshed and went for a nature walk through the national park that led us to a breathtaking waterfall. We had an amazing time jumping into a clear water spring, the temperature of which was perfect! Brett and Cole had a great time showing off their acrobatic jumping skills! We spent an hour frolicking in the water and taking some stunning photos. Some of the ladies enjoyed posing like mermaids on the rocks.
In the afternoon, we got to pamper ourselves at the Symbiosis Spa & Rio Negro Thermal Springs. We started in the sauna, then covered ourselves in the natural mudbaths, and topped it off in the hot pools. Everyone got covered in the mineral-rich mud and our skin felt silky smooth afterwards! Some people used the mud to experiment with new hairdos, we thought Brett in particular looked amazing with a mud-mohawk!
Next we were off to Tamarindo for surf lessons! Everyone was so excited to get geared up and hit the waves. Madison was a natural and she and Georgia were able to ride in holding hands. Alison proved to also be quite the surfer, keeping her balance on her first try. Afterward, all the girls went for a stroll through town to pick up souvenirs for their loved ones. They all bought matching "pura vida" shorts which they've been rocking ever since.
At night, we played hide and seek and Michaela proved to be the ultimate hider. The next day, we headed to Flamingo to continue our community service. Everyone was so excited to get back to it! This time, we helped paint and spruce up a house for a family of seven. We were blown away by Isabelle's artistic skill and attention to detail. She was determined to make sure everything was perfect.
We also wanted to update you on our gotcha tournament as promised. We had three finalists, Trip Leader Eric, Laura and Emma. It was a very close game and two people were knocked out within a minute crowning Emma as our first official Costa Rica Gotcha winner! The participants loved the game so much, we started a new round that same night. We have a few people already out and it's only been one day. A little play-by-play for you: Piper got Cole out early with the word "Chevrolet" while Ali removed Isabelle with "eyelid". The game is extremely tense at the moment and has some of us really watching what we are saying. Looking forward to see who will be crowned this round as our last winner Emma was eliminated 2nd this time around. Until next time, Pura Vida!!
The Westcoast Blogger