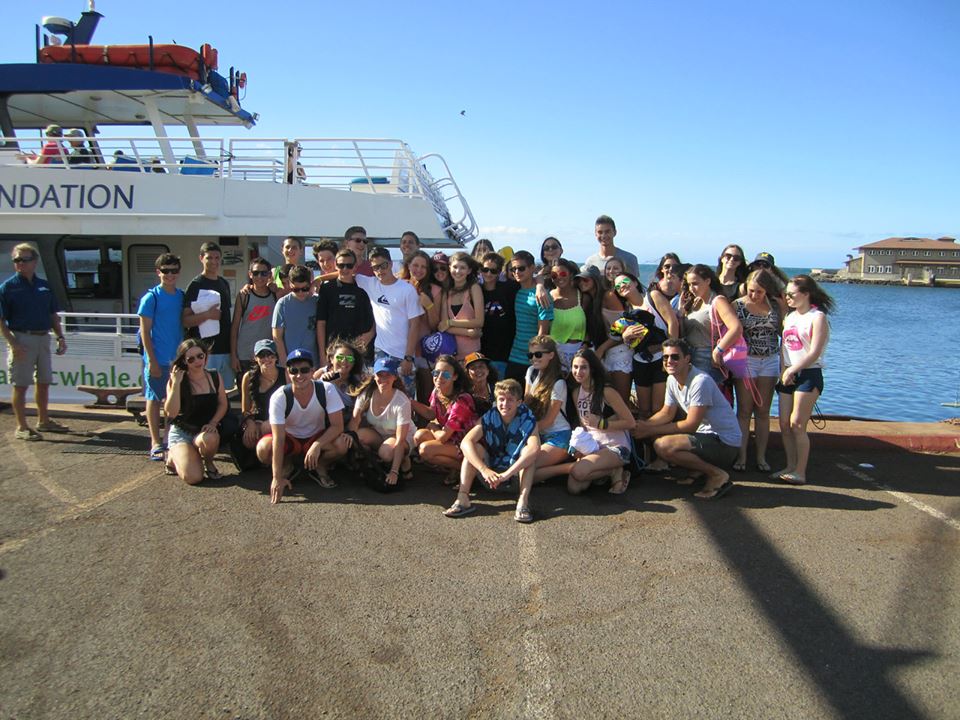 Aloha!
Yesterday was our last day in Kauai. Each and every one of our Hawaiian Spirit Trip Members joined us for a large, filling, buffet breakfast in the hotel banquet room. After packing our bags, we all met on a grass field that overlooked the crashing waves and crystal clear water of the Pacific Ocean. Here, we played team-building games and activities to bring our Westcoast Connection family even closer together. Samo loved guiding her team through the Human Knot and Noah Beal adored playing the Forks and Spoons game where we play music while everyone walks in a circle and you must find and jump into your partners arms as quickly as possible. The last game we played was one where we gathered in a circle and had to sit down on the knees of the person behind us, creating an entire circle where everyone is sitting down while supporting one another. Throughout the entirety of this activity, Dylan encouraged each Trip Member to engage in the circle seat game by motivating everyone and instructing them on the best ways to accomplish the goal we set out to achieve.
After our team-building activities, we departed for Maui. After landing in Maui, we grabbed our bags and boarded the bus, which brought us to our luxurious resort. We played a game on the bus ride where the staff would shout out a state in the USA and the Trip Members would have to respond with their capitals. Carly, Brant, and Katie did exceptionally well, being able to answer all 50 state capitals. We checked into the Hyatt Regency Maui and the hotel made us feel welcome by giving each and every one of us a seashell necklace.
That evening, we went into Lahaina for dinner where Josh, Dylan, and Bryce, enjoyed an authentic Maui Mexican meal. The trip members had the opportunity to walk along the Lahaina Boardwalk, which had numerous ice cream, shaved ice, souvenir, and clothing shops. Carly made sure to pick up some traditional Hula garb. Noah L. and Jacob both bought t-shirts as souvenirs.
The following day, we woke up at the crack down to hit the crystal clear waters of Maui and go snorkeling. Mia enjoyed by diving down and trying to touch the fish while Jake and Noah B took pictures and videos of the different kinds of fish underwater with their GoPro. Daniel and Tyler swam out with the Snorkle Cruise staff to get a closer look at some larger sealife swimming nearby. We spent many hours diving and hanging out on the boat as we drove along the coast of Maui, admiring the beautiful water and nearby islands.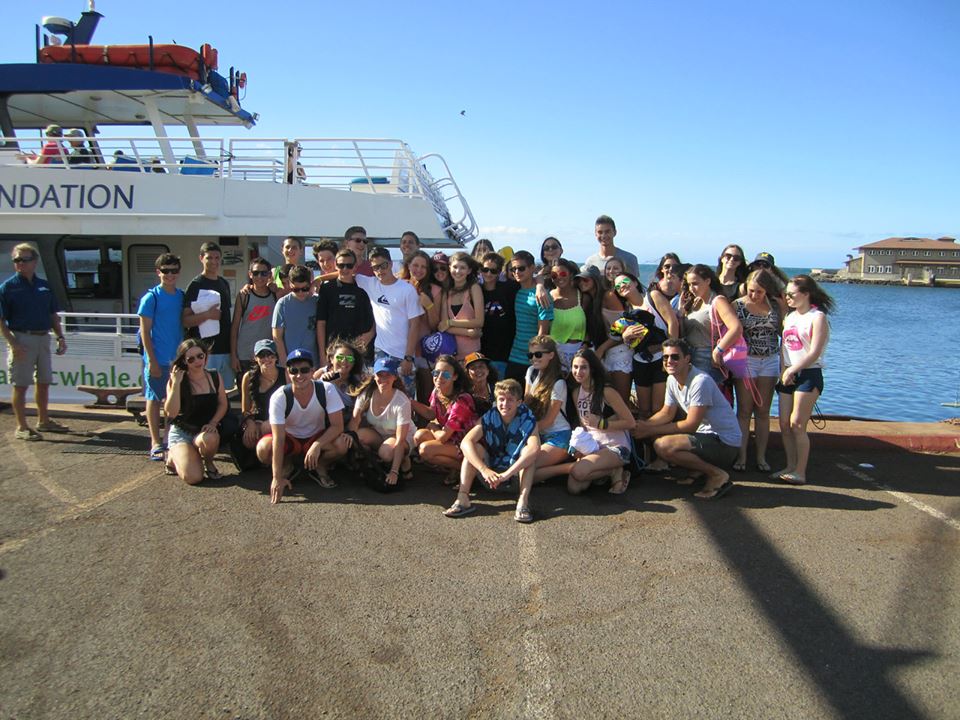 After the cruise, we rushed back to the resort, showered, and enjoyed an incredible traditional Hawaiian experience; an ancient luau. Here we joined a massive Hawaiian party, enjoyed the finest cultural foods, and danced the authentic Hula dance. The tradition of the luau is meant to bring people closer together and to share eachother's 'ohana' (family in Hawaiian). At one point during the dinner, Mia, Michelle, Maya, Carly, and Samo took part in the Hoola dance on stage in front of hundreds of people.
The final full day was an amazing end to an incredible adventure for all trip members and staff. After a much needed sleep in, everyone went on an epic banana boat ride around the island of Maui. Alex, Samo, Noah Beal and Aliah thought the banana boat ride was one of their favorite parts of the whole trip. Following the banana boat ride, everyone had the opportunity to enjoy a few hours at the beautiful Hyatt Resort. We then met back together for the final banquet dinner. At the final banquet, all the staff made a memorable song about the incredible three-week trip. The entire group went down to the ocean. Each and every trip member wrote a special note to put in a bottle that we threw into the ocean to make sure our memories were always cherished!
Well that's it! 21 days have come and gone, and this moment couldn't be more bittersweet. All trip members have brought something incredible and special to an unforgettable trip.
Take Care,
The Westcoast Blogger
Do you want to be part of this experience? Visit Hawaiian islands and Canadian west coast in our 21-day Hawaii Spirit tour.