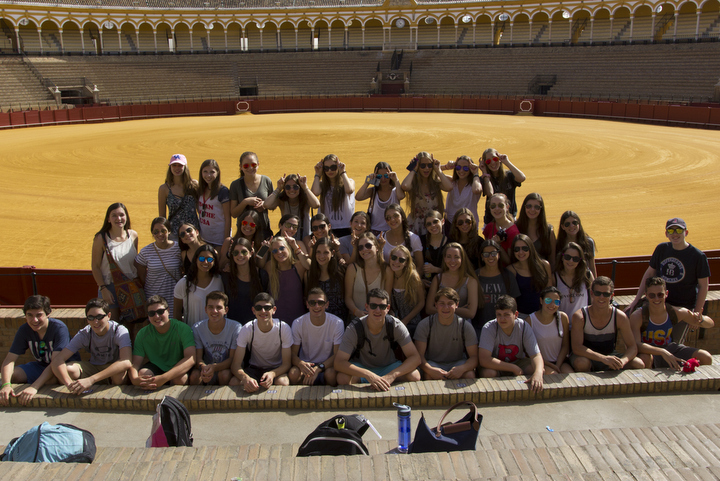 ¡Estamos aprendiendo mucho español!  Hemos terminado nuestra primera semana de clases y ya podemos ver una mejora.  Nos dividieron en cuatro secciones el primer día y comenzamos a aprender.  Nuestros profesores Emilio, Sergio, Diana, y Sergio hacen buen trabajo de animarnos a hablar en español.  No podemos esperar a ver como serán nuestras clases en Marbella la semana próxima
¡Estamos aprendiendo mucho español!  We have finished our first week of classes and can already see an improvement.  We were divided into four sections on our first day and jumped right into learning.  Our teachers Emilio, Sergio, Diana, and Sergio do a great job of encouraging us to speak in Spanish.  We can't wait to see what our interactive classes are like next week in Marbella!
Después de trabajar mucho en nuestas clases por la mañana, disfrutamos de las actividades de la tarde!  Pasamos el martes por la tarde en SnowZone, donde los miembros mostraron sus habilidades en la pista de esquí.  Mientras que algunos miembros bajaron la montaña en esquis y snowboards, otros disfrutaron la rampa aventurera de tubing.  Después de las clases el miércoles, salimos a Toledo donde exploramos la ciudad conocida como "la ciudad de tres culturas" por tener una mezcla de culturas de los cristianos, judeos, y musulmanes antes de la conquista española en 1492.  ¡Nos fascinó como la arquitectura reflejaba la historia!  Visitamos la catedral y admiramos las obras del artista famoso El Greco antes de terminar la noche cenando alrededor de la Plaza Zocodóver.
After working hard in our morning classes, we have enjoyed our afternoon activities!  Tuesday afternoon was spent at SnowZone, where trip members got to show off their skills and tricks on the ski slope.  While some trip members whizzed down the mountain on skis and snowboards, others enjoyed an adventurous ride down the tubing ramp.  After classes on Wednesday, we took off to Toledo where we explored the city often referred to as "The city of three cultures" due to the cultural blend of the Christians, Jews, and Muslims prior to the Spanish Inquisition in 1492.  We were impressed by how the architecture reflected the history!  We visited the cathedral and admired works of the famous artist El Greco before concluding our evening with dining around Plaza Zocodóver.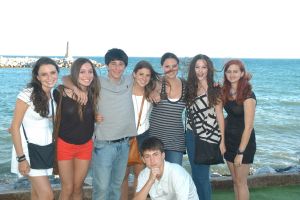 El jueves fue nuestro último día entero en Madrid, pero todavía había mucho que ver!  Vimos las obras por los famosos Pablo Picasso y Salvador Dali en el museo de arte Reina Sofia- el tamaño de Guernica nos hizo sentir pequeños!  Nuestra noche terminó con una cena maravillosa en La Favorita.  La cena deliciosa incluyendo gazpacho y paella fue mejorado por los cantantes de ópera- aun nuestro líder Joaquín hizo beatbox mientras que cantamos!
Thursday was our last full day in Madrid, but we still had so much left to see!  We viewed works by the famous Pablo Picasso and Salvador Dali in the Reina Sofia art museum- the size of Guernica made us feel so small!  Our evening concluded with a wonderful dinner at La Favorita.  Our delicious meal including gazpacho (cold tomato soup) and paella (Spanish rice)was made even better by the live Opera singers- our trip leader Joaquín even joined in by beat boxing as we sang along!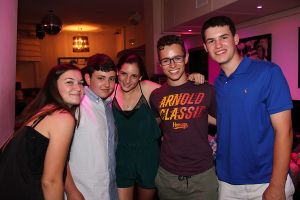 Después de despedir a Madrid, empezamos nuestro viaje a Sevilla, la capital de Andalucia y la casa de flamenco y lascorridas de toros.  Nuestra parada breve en Córdoba nos permitió explorar otra ciudad bonita que ofrece España. Comimos en plazas alrededor de la mezquita famosa antes de salir otra vez a Sevilla.  ¡Sevilla es una maravilla!  En Sevilla, visitamos la plaza de toros donde sacamos fotos de nuestros peluches de toros que regalamos diariamente al rey y reina del viaje; los miembros están reconocidos por su esfuerzo de hablar español y sus gestos simpáticos a otros.  Los miembros subieron La Giralda en la catedral para admirar las vistas antes de descansar en los jardines del Alcázar.  Nuestro tiempo en Sevilla acabó con una tarde y noche cultural llena de flamenco.  Todos intentamos bailar y nos convertimos en bailarines durante clases de flamenco- ¡fue genial competir y ver quien fue el mejor bailarín!  La obra de noche en "la casa de la memoria" nos reveló quien fue el mejor bailarín mientras que vimos algunos de los mejores bailarines de Flamenco que ofrece Sevilla.  Salimos de Sevilla con nuevos movimientos de bailar y un agredecimiento por la cultura española y ahora continuamos para nuestro próximo destino, Marbella.  ¡No podemos esperar a llegar a la playa!
After saying goodbye to Madrid, we began our road trip to Sevilla, the capital of Andalucia and the home to Flamenco dancing and bull fighting. Our brief stop in Cordoba allowed for us to explore yet another beautiful city Spain has to offer.  We ate dinner in plazas surrounding the famous mosque before embarking on the final stretch to Sevilla.  ¡Sevilla es una maravilla!  In Sevilla, we toured the bullfighting arena where we snapped photos of our two stuffed animal bulls that are granted each day to our trip's King and Queen; trip members are recognized daily for their efforts to speak Spanish and for kind gestures to others.  Trip members climbed the Giralda in the Cathedral to admire the view of the city before relaxing in the gardens at the royal palace.  Our time in Sevilla ended with a cultural afternoon and evening filled with Flamenco.  All of us put our best foot forward (literally!) and embraced our inner dancers during Flamenco classes- it was a great time where we competed to see who was the best!  Our evening show at "La casa de la memoria" revealed who the true best dancers were as we watched some of the best Flamenco Seville has to offer.  We leave Seville with new dance moves and an appreciation for Spanish culture as we head towards our next destination, Marbella!  We can't wait to arrive at the beach!
Hasta luego,
The Westcoast Blogger
Got yourself interested? Experience a 21-day or 28-day trip to Madrid, Barcelona and Costa del Sol and improve your language skills with our spanish programs for high school students.