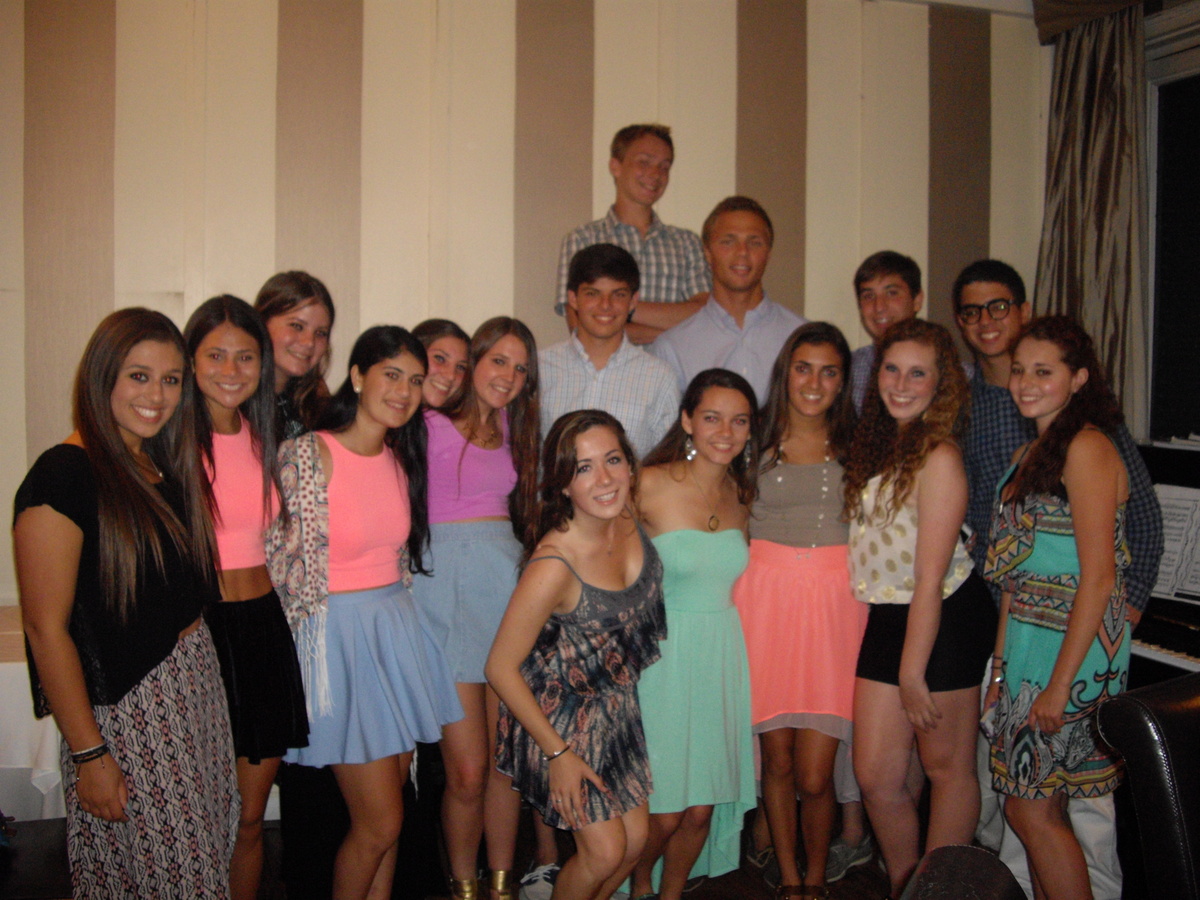 El martes, tuvimos clases por la mañana en Madrid y un viaje a Toledo por la tarde. Las clases pasaron bien como siempre, pues la mañana pasó rápidamente. Haley, Sarah P., Allison, Dylan, Amanda, y Ilana practicaron su español con un juego de cartas rapido. Despues salimos para Toledo, la ciudad a la cual se refieren como la ciudad de tres culturas porque antes del año 1492 los cristianos, judios, y musulmanes vivían juntos entre las mismas paredes. La arquitectura única de la ciudad refleja el intercambio de las varias culturas. Cuando llegamos, tomamos fotos panoramicas de la ciudad, visitamos la sinagoga y la catedral, y probamos nuevas tapas exóticas. Algunos otros eventos destacados de Toledo fueron: Haley y Valerie ganaron el concurso de la 'foto del día' con su autorretrado con un hombre local; y Brittney, Eva, Sarah S., Ilana, Ben, Jordan, y Zoe probaron anchoas al principio de una cena de tapas.
Tuesday we had morning classes in Madrid and a day trip to Toledo on our schedule. Classes were entertaining as usual so the morning passed quickly. Haley, Sarah P., Allison, Dylan, Amanda, and Ilana, practiced their Spanish skills through a rapid moving card game. Then we took off to Toledo, often referred to as the city of three cultures, because it is one of few places in Spain where Christians, Jews, and Muslims all lived in harmony prior to the 1492 Spanish inquisition. The unique architecture of the city clearly reflects the interchange among the different cultures. Upon arrival, we took group photos atop the gorgeous city, visited the historic synagogue and the church, and tasted exotic tapas. Here are some of our highlights from Toledo: Haley and Valerie won our autorretrado/selfie picture of the day contest by using their Spanish to get a Toledo local to pose with them; and Brittney, Eva, Sarah S., Ilana, Ben, Jordan, and Zoe sampled anchovies as part of a sophisticated tapas dinner.
El día siguiente fue nuestro ultimo día en Madrid, y nunca paramos de explorar. Miramos los trabajos majesticos de la Reina Sofia y disfrutamos de una cena  Italiana de opera. En el museo Reina Sofía, nos impresionó mucho La Guernica por Picaso, pero algunas otras obras más modernistas nos dejaron confundidos. Grace comentó que si algun dia  no puede elegir una carrera, siempre podra ser artista moderna…. ¡y su perro tambien! Por la noche, la comida de La Favorita era increíble, pero nuestro entretenemiento era aún mejor. Primero, Taylor y Noah tocaron el piano, y al fin oimos un dúo de opera espectacular.
Wednesday was our last full day in Madrid, and we didn't stop exploring! We viewed the majestic works of the Reina Sofia and enjoyed a wonderful dinner with live opera singers. At the Reina Sofia art museum everyone enjoyed Picasso's Guernica, but some of the more abstract, modernist works were tougher to interpret. Grace commented that if she were ever unsure of her career options, she could always turn to modernist art… and so could her dog! As for our evening, the food at La Favorita was superb, but our entertainment was even better. First Taylor and Noah treated us to a piano prelude, and then we heard a sensational opera duet!
Antes de que pudimos darnos cuenta, dejamos a Madrid y viajamos a Córdoba y a la capital de Andalucía, Sevilla. Solo paramos en Córboda por un ratito, pero admiramos la arquitectura árabe y disfrutamos de una cena italiana. Durante el viaje a Sevilla, Jenn nos tradució  en español información sobre la ciudad, y Eddie se volvio navigador, sentado en frente del bus a un lado de Paco nuestro chofer. Al fin llegamos en Sevilla, la ciudad conocida por sus edificios brillantes y históricos y las corridas de toros. Nos sorprendió que el chofer nos dejó directamente al lado del estadio de fútbol del equipo Sevilla FC. El estadio se volvio una pista de atletismo perfecta para Dylan, Brittney, Haley, Leah, Amanda, Eva, Samantha, Noah, Sam, y Ben.
Before we knew it, we had left Madrid behind for a road trip to Córdoba and the capital of Andalucia, Sevilla. Cordoba was only a short stop, but we did admire the Moorish architecture and enjoyed a lovely Italian dinner. On the way to Sevilla, Jenn translated into Spanish our information package to inform our group what we had to look forward to in Sevilla, and Eddie helped to navigate from the front of the bus, sitting beside Paco our driver. Before long we had entered the city best known for its bright, historic buildings and bullfighting. We were surprised to be dropped off at a hotel right next to the stadium of the soccer club Sevilla FC. The stadium grounds provided a great running track for Dylan, Brittney, Haley, Leah, Amanda, Eva, Samantha, Noah, Sam, and Ben.
En Sevilla, exploramos el estadio de las corridas, apprendimos a bailar flamenco, miramos un espectaculo de flamenco, y hicimos fiesta como la gente local hasta las primera horas de la mañana. En la Discoteca Vogart, le pedimos al DJ de tocar nuestro himno de la mañana, Limbo por Daddy Yankee (Zu-Zu—Zumba!!!), y cantamos y bailamos por toda la noche. Los ganadores de los concursos 'foto del día' en Sevilla fueron Sam y Noah por su  foto de las corridas, y el grupo de Backstreet Boys Flamenco (Taylor, Kia, Ben, Sam, y Noah). Tenemos que mencionar también a Ali y Allison, que bailaron excelente el flamenco.
In Sevilla, we toured the bullfighting stadium, learned how to dance flamenco, watched an almost private flamenco show, and partied like locals at Discoteca Vogart until the morning hours. At the discoteca, we made sure to request our morning anthem, Limbo by Daddy Yankee (Zu-Zu—Zumba!!!), and sang and danced our hearts out. Our two 'photo of the day' contests of Sevilla were for best bullfighting pose and best flamenco dance. Sam and Noah won the first competition, and the Backstreet Boys Flamenco Crew (Taylor, Kia, Ben, Sam, Noah) won the second. Honorable mention for best dance moves go out to Ali and Allison who were also fantastic flamenco dancers!
En medio de todas estas actividades, hicimos una cena en el barrio Santa Cruz en el cual solo hablamos en español. Jay comentó, "I never knew speaking Spanish could be so fun," después de dirigir un grupo de rap español con bailadores (Samantha, Sarah S., Stephanie, Eddie, y Zoe) y un beatboxer (Ben).
In between these incredible experiences we found time for a Spanish-only dinner in Barrio Santa Cruz. Jay commented, "I never knew speaking Spanish could be so fun!" after leading a Spanish rap complete with background dancers and beat boxing (Jay assisted by Samantha, Sarah S., Stephanie, Zoe, Eddie, and Ben).
También pasamos tiempo con la gente local en una busqueda de noche 'encuentré a alguien que.' Nuestros grupos bailaron, tomaron fotos, y incluso hicieron flexions con gente al azar. El equipo ganador fue Eddie y las chicas (Sabrina, Daphne, Valerie, Sarah P., y Allison). El dia siguiente algunos de nosotros aquirimos sombreros (Kia, Noah, Sam, Zoe, Eva, Amanda, Dylan, Jay, y Rachel) en la Plaza de España, y antes de salir de la ciudad disfrutamos de juegos y comida en el centro commercial al lado de nuestro hotel: Ben, Kia, Jay, Eva, Taylor, Ali, Amanda, y Zoe corrieron y calleron en los 'hamster balls' sobre el agua.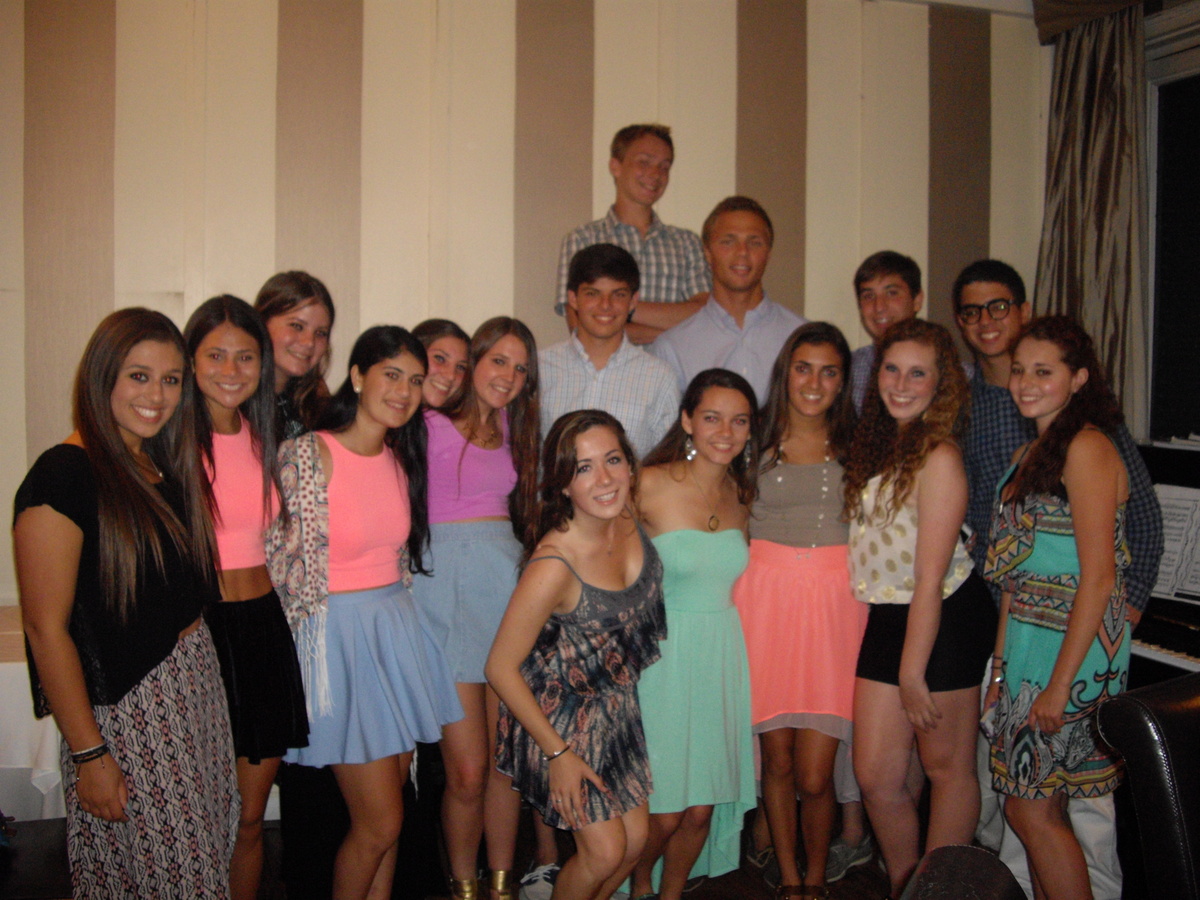 We also interacted with locals to complete a nighttime 'find someone who' scavenger hunt in which our teams danced, posed, and even did pushups with many unsuspecting strangers! The winning team was Eddie and the girls (Sabrina, Daphne, Valerie, Sarah P., and Allison.) The following day, some of us (Kia, Noah, Sam, Zoe, Eva, Amanda, Dylan, Jay, Rachel) acquired stylish fedoras at Plaza de España, and before leaving the city, we enjoyed lunch and games at the mall adjacent to our hotel: Ben, Kia, Jay, Eva, Taylor, Ali, Amanda, and Zoe enjoyed spinning (and repeatedly wiping out) in the hamster balls over water.
El domingo por la tarde, llegamos en la hermosa ciudad de playa, Marbella. Despues del primer dia nos quedo muy claro porque la gente rica y famosa del mundo viene a pasar sus vacaciones aqui. Comimos por la playa el primer dia donde Eva comío un ojo de pez, y Kia y Jordan probaron helado a sabor de queso azul. ¡Los niños rápidamente compraron una porción de helado de otro sabor! Marbella es un lugar muy relajante. Por la mañana cocinabamos en nuestros cocinas pequeñas, en la cual Valerie nos hizo huevos y Dylan y Kia nos hicieron croissants con Nutella. Cada día después de las clases, hibamos corriendo a la playa (para relajarnos o para andar en banana boat!), y por la noche la ciudad tenia algo para todos. Lunes por la noche, hicimos karaoke. Sam y Noah empezaron con American Boy y Dylan se unió al grupo para la cancion de Shaggy It Wasn't Me. Al fin escuchamos a Taylor, quien canto Uptown Girl por Billy Joel, y Sarah P., Allison, Leah, Valerie, Sabrina, Haley, Daphne, y Sydney cantaron Wannabe. Stephanie, Ilana, Eva, Amanda, Ali, Sarah S., y Samantha eligieron nuestro himno, el Limbo, y por fin Brittney, Jenn, y Grace cantaron y bailaron a la canción Call Me Maybe.
Late Sunday afternoon we arrived at the beautiful beach town of Marbella with an appetite for new adventures. We ate dinner and dessert along the beach, where Eva ate a fish eye at dinner and Jordan and Kia sampled blue cheese gelato. Needless to say, the boys quickly bought a cup of something else! Marbella is a really relaxing town. In the morning we cooked our own breakfasts in our hotel kitchenettes. Monday, Valerie cooked eggs for the girls and Kia and Dylan prepared Nutella croissants. Every day after school we also sprinted to the sunny beach for the afternoon (either to relax or to enjoy a wild banana boat ride!), and at night this beach town revealed it had something for everyone. Monday night we all went to karaoke where Sam and Noah started us off by singing American Boy. Then Dylan joined them with Shaggy's It Wasn't Me. We finally got to hear Taylor sing Billy Joel's Uptown Girl, and Sarah P., Allison, Leah, Valerie, Sabrina, Haley, Daphne, and Sydney sang Wannabe by the Spice Girls. Stephanie, Ilana, Eva, Amanda, Ali, Sarah S., and Samantha led us in a karaoke edition of our favorite song, Limbo, and for the finale, Brittney, Grace, and Jenn sang Call Me Maybe.
Ayer por la noche, nos vestimos muy bonito y fuimos a cenar y a pasear por la playa de Puerto Banus, "el terreno de juegos para la gente rica y famosa", unos de los lugares mas lujosos y appreciados en Europa para gente como Naomi Campbell y el rey de Arabia Saudita. Fuimos a ver los barcos privados del puero y descubrimos restaurantes donde Tiger Woods, Lionel Messi y George Clooney cenaron. Finalmente, hoy estamos muy emocionados de pasar nuestra ultima tarde en Marbella en el parque acuático Mijas y mañana hacemos prepararemos nuestro equipaje de nuevo para ir a pasar el fin de semana en Granada!
Last night, we all got dressed up and went to dine and walk around the upscale promenade of Puerto Banus, "the playground of the rich and famous", one of the most luxurious and sought-after vacation spots in Europe, where Naomi Campbell and the king of Saudi Arabia to name a few have summer homes.  We also admired the private yachts in the port and enjoyed delicious meals in the same restaurants Tiger Woods, Lionel Messi and George Clooney ate. Today we can't wait to spend our last afternoon in Marbella at the waterslides and tomorrow we pack up again and head to Granada for the weekend!
 The Westcoast Blogger
Got yourself interested? Experience a 21-day or 28-day trip to Madrid, Barcelona and Costa del Sol and improve your language skills with our spanish programs for high school students.