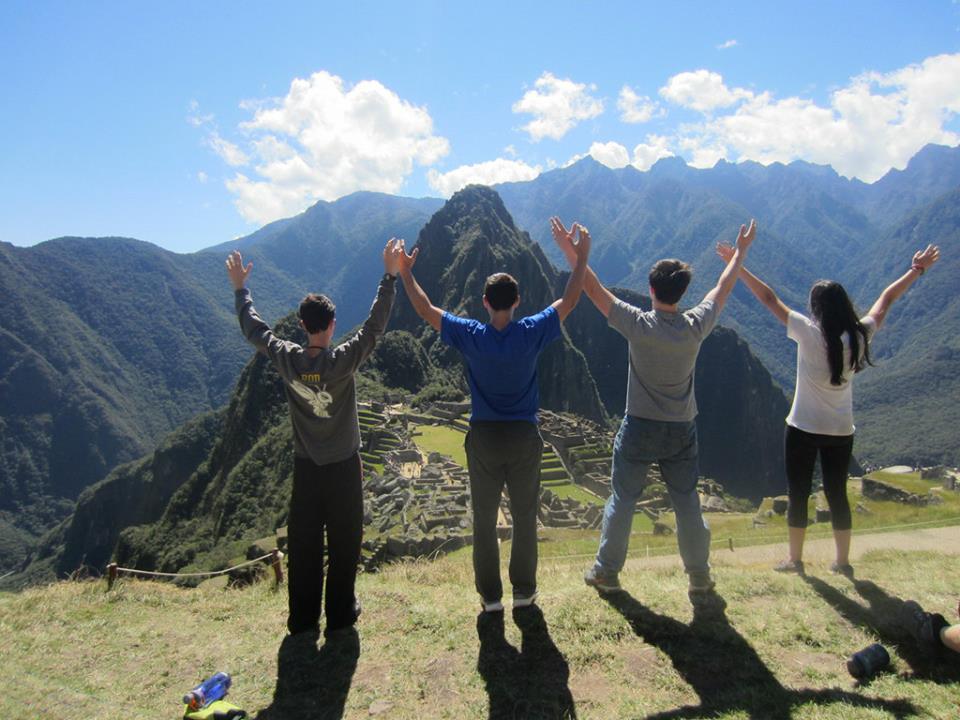 Allillantu (Hello in Quechua, the ancient Incan language)! On Friday morning we visited a farm where we were able to pet, feed, and take selfies with many different types of llamas, alpacas, and vicuñas, while also learning about their wool and its many uses. Next, we arrived at the small community of Wakipata (sacred place in Quechua), which consists of 90 families. We worked at the local school that has about 65 students, as well as teachers who travel daily from Cusco to teach the local kids. At the school, Rachel and Alexandra played with the kindergarteners and Joshua R. made a friend who wouldn't let him out of her sight! Moriah, Claire, and Leo used rollers to paint the inside of a classroom, while Marc, Robert, Rickey, and Joshua E. worked to keep the drainage system clear. David, Ilan, Jack, and Wade added a fresh coat of paint to the outside of the school building, and it looked great! After their hard work, the group enjoyed a game of basketball with Kike, our Peruvian guide. The lunch afterwards was delicious, as we had fresh trout prepared for us by an amazing couple who helped us with the service and opened their home to us for the afternoon.
¡Allillantu (Hola en Quechua, el idioma anciano de las Incas)! El viernes en la mañana, visitamos a una finca donde pudimos acariciar, alimentar, y sacar auto-retratos con muchos tipos de llamas, alpacas, y vicuñas, mientras aprendiendo sobre su lana y sus varias usas. Después llegamos a la comunidad pequeña de Wakipata (lugar sagrado en Quechua), que consiste de 90 familias. Trabajamos en la escuela local que tiene acerca de 65 alumnos, y también maestros que viajan diario de Cusco para enseñar a los niños locales. En la escuela, Rachel y Alexandra jugaron con los niños de pre-primario y Joshua R. hizo una amiga que siempre quería estar junta a él. Moriah, Claire, y Leo usaron brochas para pintar al dentro de una de las aulas, mientras Marc, Robert, Rickey, y Joshua E. lograron a mantener el sistema de drenaje limpio. David, Ilan, Jack, y Wade pusieron una capa de pintura afuera de la escuela y ¡se vio genial! Después de su trabajo duro, el grupo disfrutó un partido de baloncesto con Kike, nuestro guía peruano. El almuerzo después fue sabroso. Tuvimos trucha fresca preparada para nosotros por una pareja maravillosa que nos ayudó con el servicio y abrieron su hogar a nosotros por la tarde.
The next morning we boarded a Perurail train to the town of Aguas Calientes, the gateway to Machu Picchu. It's an interesting town, as you can only arrive by train or foot. Most of the trip members started their time there with an impromptu game of soccer on the public field in the center of town, where they were quickly joined by some local children! Sydney and Molly enjoyed playing with them for a long time after the game was over, and Manny and Christophe were glad to get a chance to get out some energy on the field after our journey.
La próxima mañana abordamos a Perurail, el tren al pueblo de Aguas Calientes, la portada a Machu Picchu. Es un pueblo bastante interesante, porque solo puedes llegar por tren o a pie. La mayoría de los miembros comenzaron su tiempo allí con un partido impromptu de fútbol en el campo público en el centro de la ciudad, donde muchos niños locales se unieron en el partido. Sydney y Molly gozaron con ellos por mucho tiempo después del partido, y Manny y Christophe se alegraron a la oportunidad de gastar su energía en el campo después de nuestro viaje.
On Sunday morning we all geared up for an amazing day at Machu Picchu! The views were incredible and pictures can't begin to capture the full experience. As we climbed to the top, everyone listened to the rich history of the Incan culture as told by our guides Hamilton and Fredy, and took stunning and exciting photos atop this national icon. After the tour, Claire and Leo filmed a section of the Westcoast lipdub to Imagine Dragons' "Top of the World," while Alexandra, Marc, Joshua R., and Robert summited Machu Picchu a second time to videotape their own version. With that fantastic view in front of us, we really felt like we were on top of the world! Back in Aguas Calientes, the group spent the afternoon at the town's namesake hot springs, soaking in the natural warm waters to relax after our morning of trekking, then celebrated a wonderful day with a fantastic meal at a Franco-Peruvian restaurant called Indio Feliz. The next day, we left Aguas behind, and are now settled into the Incan capital of Cusco for a few days, excited to start community service at the San Judas orphanage. Hasta pronto!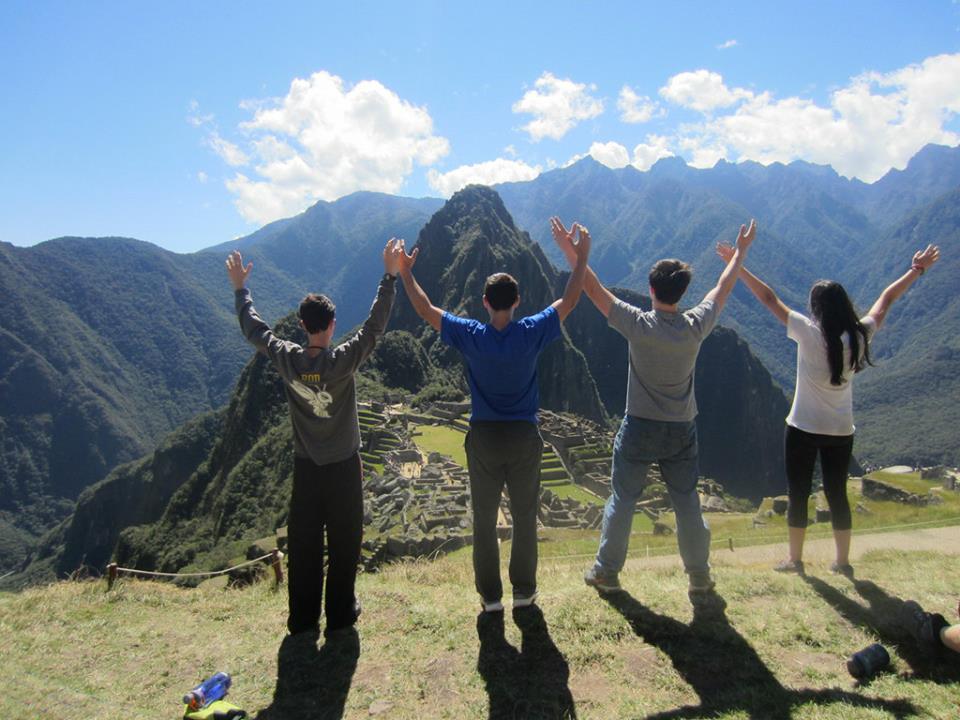 ¡El domingo en la mañana, nos preparamos para un día asombroso en Machu Picchu! Las vistas eran increíbles y fotos ni pueden empezar a capturar la experiencia verdadera. Mientras subiendo a la cima, todos escucharon a la historia rica de la cultura Inca, dicho por nuestros guías, Hamilton y Fredy, y tiraron fotos emocionantes y bellas arriba del icono nacional. Después de la guía, Claire y Leo filmaron una sección del video de Westcoast a "Top of the World" por Imagine Dragons, mientras Alexandra, Marc, Joshua R., y Robert subieron Machu Picchu una segunda vez para grabar su propia versión. ¡Con una vista fantástica adelante, de verdad nos sentimos como estábamos encima del mundo! En Aguas Calientes otra vez, el grupo pasó la tarde en los baños termales, las piscinas calientes y naturales para relajar después de nuestra aventura esa mañana. Entonces, celebramos un día maravilloso con un alimento fantástico en un restaurante franco-peruano que se llama Indio Feliz. El siguiente día, dejamos a Aguas atrás, y ahora estamos en la capital Inca de Cusco por algunos días, emocionados a empezar nuestro servicio en el orfanato de San Judas. ¡Hasta pronto!
The Westcoast Blogger
Do you want to improve your language skills and also be a volunteer? Prepare yourself for our one-of-a-kind 28-day Spanish immersion program for high school students in Peru and learn more about its culture and nature.