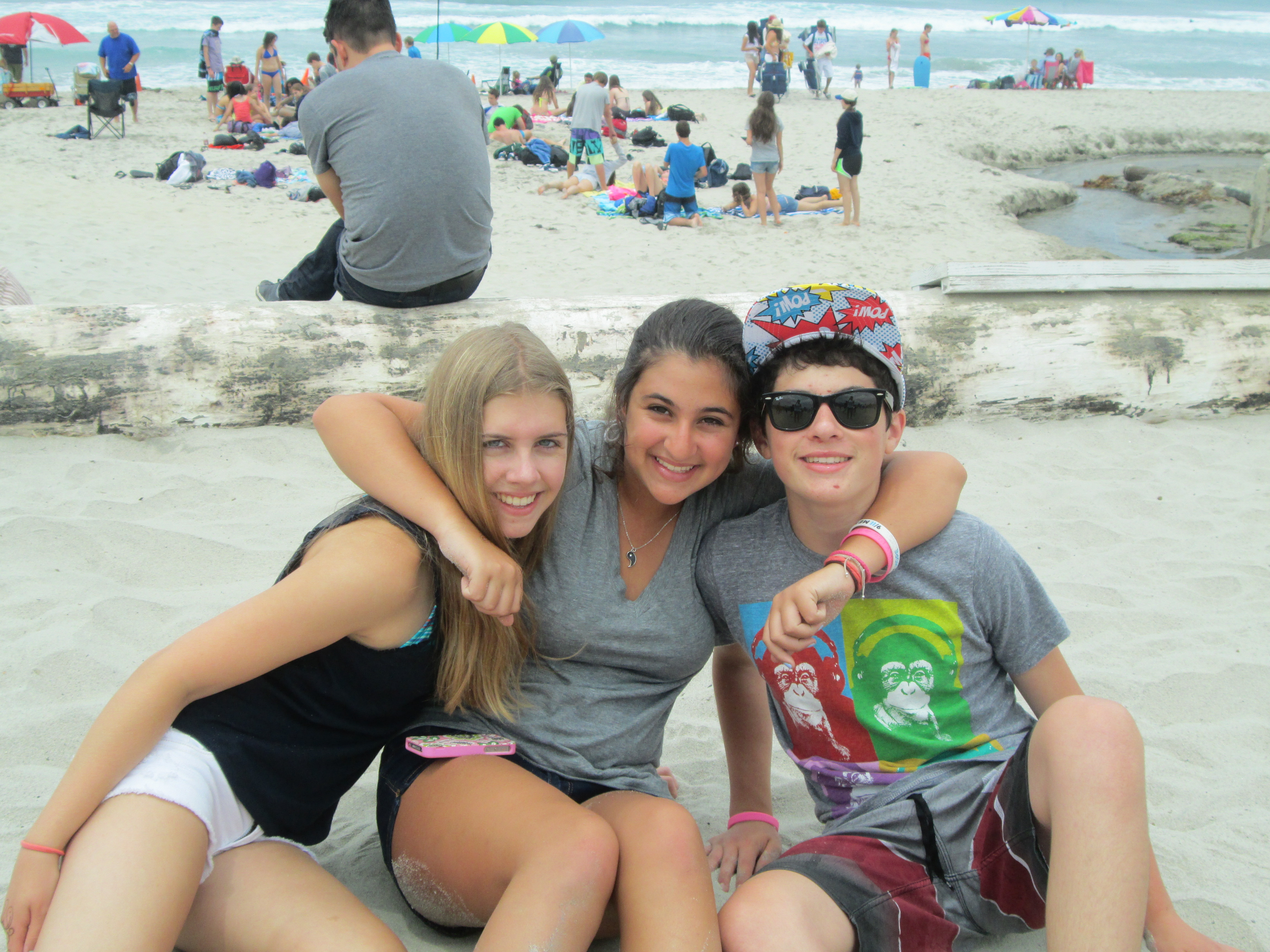 Dear Parents,
As we get ready to leave Vegas and head to the 'Canyons' we wanted to update you on our last few days.
Day 10 – Music, Fashion Police and Laughter

Our third day in LA involved a trip to the Grammy museum, seeing a comedy improv show and exploring the LA Farmer's Market and Rodeo drive.
The Grammy museum was really interactive and informative. Touch screens outlined the history of music, clothing from famous stars (such as Michael Jackson's Thriller video jacket), and musical instruments to play! Savannah and Will were really enjoying the museum so much that they were the last to be rushed out the door! We all learned a lot about music history and different musical genres. Julia and Emily sang a wonderful rendition of Beyonce's " irreplaceable" on headphones and mics. They were very startled to discover that they had quite a crowd listening to them by the end!
"I'll meet you at 'Third and Fairfax'" is a famous saying that describes the location of the Farmer's Market in LA. We had lunch there before heading to Rodeo Drive. We strolled down the street in style, window shopping along this famous, luxurious shopping district.
Our evening program was a visit to the famous Improv Comedy Club on Melrose. The comedians enjoyed poking fun of our group ("bieber haircuts") and telling hilarious jokes that had some of the trip members laughing so hard they had tears in their eyes.
Day 11 – It's a Small World After All!
The morning began with a visit to the Museum of Tolerance. We learned about anti-bullying, violence against women and a very interesting personal story by Matthew Boger about acceptance and non-judgment in today's society. It was an eye opening experience. William, Julia, and Jessica asked very pertinent questions in our discussion with Matthew.
After the museum, we headed to Disneyland! The trip members enjoyed rides like "Space Mountain", "the Haunted Mansion", " Indiana Jones" and of course, "It's A Small World!" We were all very proud of Zach and Rachel who got over their fears of roller coasters and rode Space Mountain! Savannah and Sarah also looked very stylish in their Minnie Mouse ears. Everyone watched and enjoyed a spectacular fireworks show, with Tinker-bell and Dumbo flying high across the sky! It was a magical day.
Day 12 – Hang Ten, Dude!
After a quick bus ride from Los Angeles to San Diego, we had a day at the beach! The beach was terrific and once again, Stephanie P was the first girl to dunk her head in the water with Jack, Sam, and Sean following close behind.
Cameron and Nathan were fascinated by the small sand crabs we found under the wet shore. They were so quick and tiny! There were also games of football and volleyball led by Brendan.
However, the most rad part of the day was… Surfing!!! Dylan R, Richard, and Tommy were all able to hang ten and catch some waves. Parker, Jessica and Bella also rode some bodacious surf and the whole trip had an amazing time.
Day 13 – Monkeys, Detergent and Lasers!
We started the day off at the world famous San Diego Zoo. We took a tram ride around the zoo to get a good overview of it. We saw lions, baby leopards, elephants, polar bears, flamingos and more! Not to mention the amazing giant turtles.
Next stop was laundry where everyone is now a pro and I am sure looking forward to doing their own back at home J!
After dinner, we hit up laser tag. Cameron was very excited for this… He said it was the thing he was looking forward to it the most and did very well! Hats off to Stephanie, Sarah and Matthew who did amazing at Ultrazone laser tag!
Days 14 & 15 – Viva Las Vegas!
Welcome to Vegas, baby! We arrived at the Monte Carlo and the first thing we did was jump in the pool! There was a lazy river where you could float along down the water on tubes, as well as a wave pool, regular pool and a hot tub. AJ and Brandon had fun soaking Trip Leaders Claire and Lauren and truth be told, it was pretty funny (to all of us except them). 😉
That night we hit up the Bellagio Fountains and watched the water show. The trip members had a great view of "Paris". We then walked the strip to get a feel for what Las Vegas was all about.
While we were walking the strip, we had our first "famous" sighting! Zach, Tommy, Jason and Lauren met a European basketball star! He was double the size of all of them.
The next day in Vegas, we went to the Forum Shops in Caesars Palace and then came back to the Monte Carlo pool and enjoyed an afternoon in the hot tub and lazy river. Jessica had dance fever and danced her way through the wave pool.
After swimming, we arrived at the Stratosphere and voila! Perfect weather for our trip as everyone had their choice of three rides: Insanity, Big Shot or X-scream. Dylan Ra showed no fear on the Insanity ride, Ethan rode the front of X-Scream and Henry conquered his fear of the Big Shot! Screams and smiles galore!
Eric Se and Zach spotted Fab Melo (the basketball star from Syracuse who got drafted to the Celtics) while they were dining at New York, New York.
The New York, New York roller coaster was a big hit! It was the first time that Christie has ever been on a roller coaster! She LOVED it.
Our last stop in Vegas was exploring the M&M and Coca-Cola shops. A lot of the trip members enjoyed a Coca-Cola sample pack with Coca-Cola products from around the world.
We are off to Zion, Bryce and the Grand Canyon and will catch up again in a few days.
Until next time,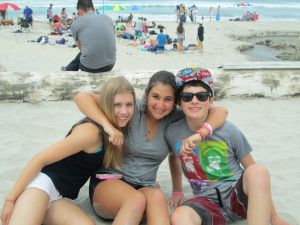 The Westcoast Blogger