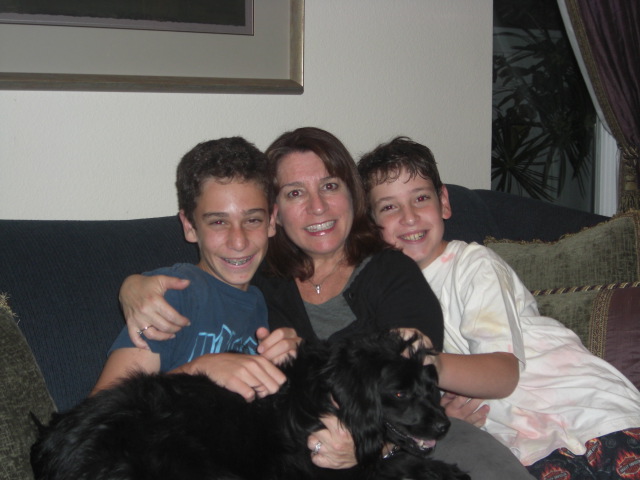 It's time to meet our California Office. Say hello to Lori and Michelle!
First up,  Lori Heering.
Tell us a little bit about yourself.
I grew up in Montreal and moved to California 19 year ago.  I live in beautiful Irvine which is truly the OC (though I am not one of your typical OC Housewives – I'm not sure if they really do exist)!
I've got two sons (Gabe and Max) and a dog (Shadow) as of 5 months ago. I spent 10 years at summer camp before I got bit by the teen tour bug and still have not been able to recover!
How did you get involved with Westcoast Connection / 360° Student Travel?
I met Stan at camp and accidentally ran into him after Westcoast Connection's first summer tour.  He asked me to be a Tour Director and life has never been the same.
It's been a thrill for me to have been with Westcoast Connection from the very early days and to see the evolution and transformation over the years.
What is your favorite Westcoast Connection trip and why (you have to choose one!)?
Definitely the U.S. Explorer!  I love the idea of literally crossing the entire country from east to west. I also love the places that they visit that so many of us will never get to as they are not along the beaten path. Last but not least, they end up in California which is the highlight of their trip – they go out with a bang!
And your favorite Westcoast Connection activity?
I absolutely love skiing and envy everyone who gets to go summer skiing in Whistler, Mt. Hood and Zermatt. That's where I want to be! (Blogger Comment: A Californian wanting snow … hmmm …)
What do you do on the weekend?
I try to get out and have some fun on the weekends – skiing in the winter, beach time in the summer, rollerblading, going to the gym, BBQs with family and friends, etc. etc. etc.
What was the last concert you saw?
Bruce Springsteen.  My husband is from New Jersey and was a fan of Bruuuuuce from the 'early days.' We have seen him MANY times!  It seems like if Bruce is within 100 miles of my hometown, we manage to make it to the same arena or stadium. (Blogger Commentary: Secret Garden is my favorite Bruce Springstein song. Here is the YouTube video:
[youtube=http://www.youtube.com/watch?v=BTl0QEULDA8&feature=channel]
What are five staples items I would find in your refrigerator?
Peanut butter, jam, eggs, assorted cheese, water – not too thrilling but it works.
And next up, Ms. Michelle Lieberman.
Tell us a little bit about yourself.
I was born in South Africa and grew up and went to college in Cape Town – at the southern tip of Africa.  My husband and I moved to Los Angeles in 1992.  I worked in the fashion industry before having children.  We now live in Irvine, in sunny SoCal.  We have 3 children, ages 15, 13, and 9.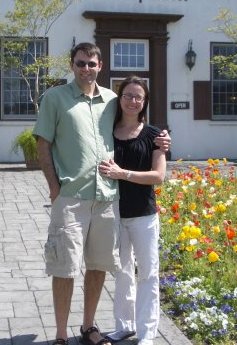 How did you get involved with Westcoast Connection / 360° Student Travel?
My carpool friend Lori was really busy at the end of another Westcoast Connection summer, with many groups out on the road.  I was looking to do something different and saw an opportunity so I volunteered my services.   I started out helping for a few hours a week and now, as they say, the rest is history!
Where is one place in the world you would like to visit and why?
I would love to take a road trip through Italy and stop in the towns and villages along the way to sample the local cuisines and soak up the Italian culture!
Do you have any pets?
No.  We had some goldfish, but they died!
If you could trade places with any other person for a week, famous or not famous, living or dead, real or fictional. with whom would it be?
It would have to be Samantha Brown from the Travel Channel.  She gets to visit and explore all these exotic places, see the sights, meet the locals, and stay in great hotels.  What could be better?
If someone wrote a biography about you, what do you think the title should be?
"Super Mom! The life and times of a 21st Century mother."
What is your favorite lunch meal?
With out a doubt, soup in a bread bowl.  And I do eat the bread bowl!  Who cares about the carbs!  (Blogger Commentary: I agree. At home, Panera makes the best! On a western Westcoast Connection program, the Clam Chowder Bowl at Boudin Bakery near Fisherman's Wharf is absolutely the best!)
Do you have a favorite book or author?
I am an avid reader and read a variety of books.  I would have to say that I really loved a book called "The Namesake" by Jhumpa Lahiri.  It is about the immigrant experience in the US.  I could definitely identify!
Until next time …
Cheers!
The Westcoast Blogger