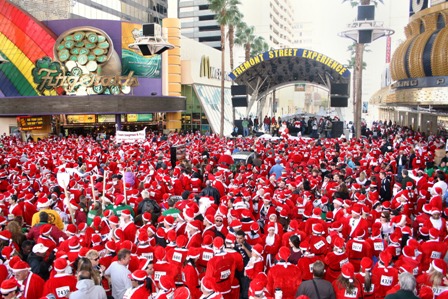 This week it's all about the holidays.
And today we're going to start in Las Vegas, a stop visited by many of our western Teen Tours. Last week, 8,868 Santas ran down the Las Vegas strip trying to break the world record for the World's Largest Santa Gathering in the 5th Annual Las Vegas Great Santa Run. There is a fierce battle raging between Liverpool, Tasmania, Italy, and Hungary to hold the world record. With Liverpool's dash only a few days away, it will be interesting to which location will reign supreme.
You can catch a great newsclip from the event here:
[youtube=http://www.youtube.com/watch?v=71sggL1eZiM]

A couple of photos are below as well.  It even looks like Stan was there to preside over the festivities!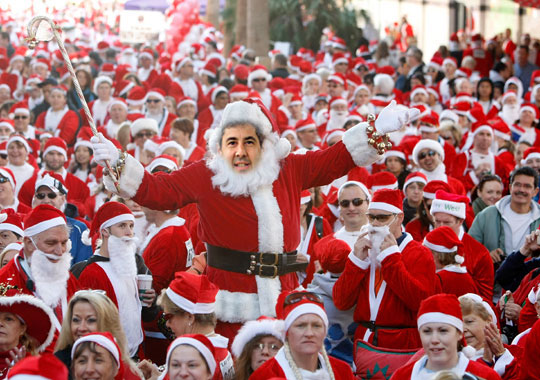 Before I end this posting, another interesting fact. Did you know around the world Santa has different names?
Belgium – Pere Noel
Brazil – Papai Noel
Chile – Viejo Pascuero ("Old Man Christmas")
China – Dun Che Lao Ren ("Christmas Old Man")
Netherlands – Kerstman
Finland – Joulupukki
France – Pere Noel
Germany – Weihnachtsmann ("Christmas Man")
Hawaii – Kanakaloka
Hungary – Mikulas (St. Nicholas)
Italy – Babbo Natale
Japan – Hoteiosho (A God or priest Who Bears Gifts)
Norway – Julenissen ("Christmas Gnome")
Poland – Swiety Mikolaj (St. Nicholas)
Russia – Ded Moroz ("Grandfather Frost")
Sweden – Jultomten ("Christmas Brownie")
United Kingdom – Father Christmas
Until next time,
The Westcoast Blogger
P.S. – Stan in a Santa costume is a Photoshop picture!