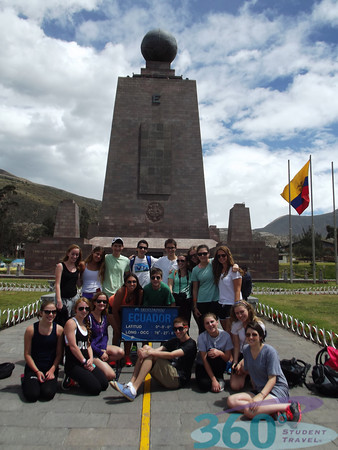 Hola family and friends!
Wow, we have had a jam packed few days here in Ecuador. Our first full day was spent at Mitad del Mundo, the centre of the world!  We learned about the Northern and Southern Hemispheres by playing games that only work at the Equator.  Maria, Sammie, Matt K., Dasha and Nick became "egg masters" and were able to balance an egg on the head of a nail.  We also walked the line of the Equator. Skylar was one of the few that the magnetic pulls did not throw off! After playing on the Equator, we ate at El Crater which was in a crater formed by a volcanic explosion.  The views of Quito were breathtaking and we all marveled at eating in a restaurant surrounded by clouds!  Jordan found a llama walking the grounds and we all took turns trying to take pictures with it! After lunch, we traveled back to Quito and toured the city.  We walked to a square that is the centre of Ecuadorian politics and saw the Ecuadorian "White House".  We then toured a cathedral that was covered in 100 pounds of gold leaf!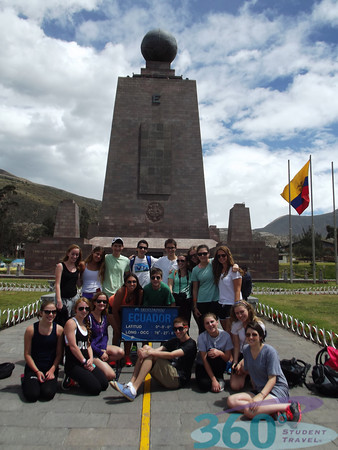 Our second day, we spent working at the Davis Orphanage.  We worked on a home that needed to be repainted and re-plastered.  Everyone showed their dedication to helping out this amazing community and worked endlessly on the home. Matt B. and Eva completed chipping almost an entire wall of paint by themselves! After the morning work, we were given time to play with the children in a big green space. Grigory, Nathan, Grace, Samantha and Nick all played soccer with the children and were able to teach them some new moves on the field. Lucy, Olivia and Macy ran all over the field with laughing kids on their shoulders and took turns spinning each child around.  Lily and Allie pushed little ones on the swings and watched them as our young friends showed off their acrobatic skills on the monkey bars.
Our third day, we returned to the orphanage to continue our work on the homes and play with the children.  After a picnic lunch, we busted out some coloring books and puzzles and had a blast!  The children were eager to show us their reading skills and read stories to us in Spanish.  Matt K. and Allie helped out with lots of translating for us! We were able to form bonds with so many of these beautiful children and look forward to our return visit on Sunday!
Adios,
The Westcoast Blogger