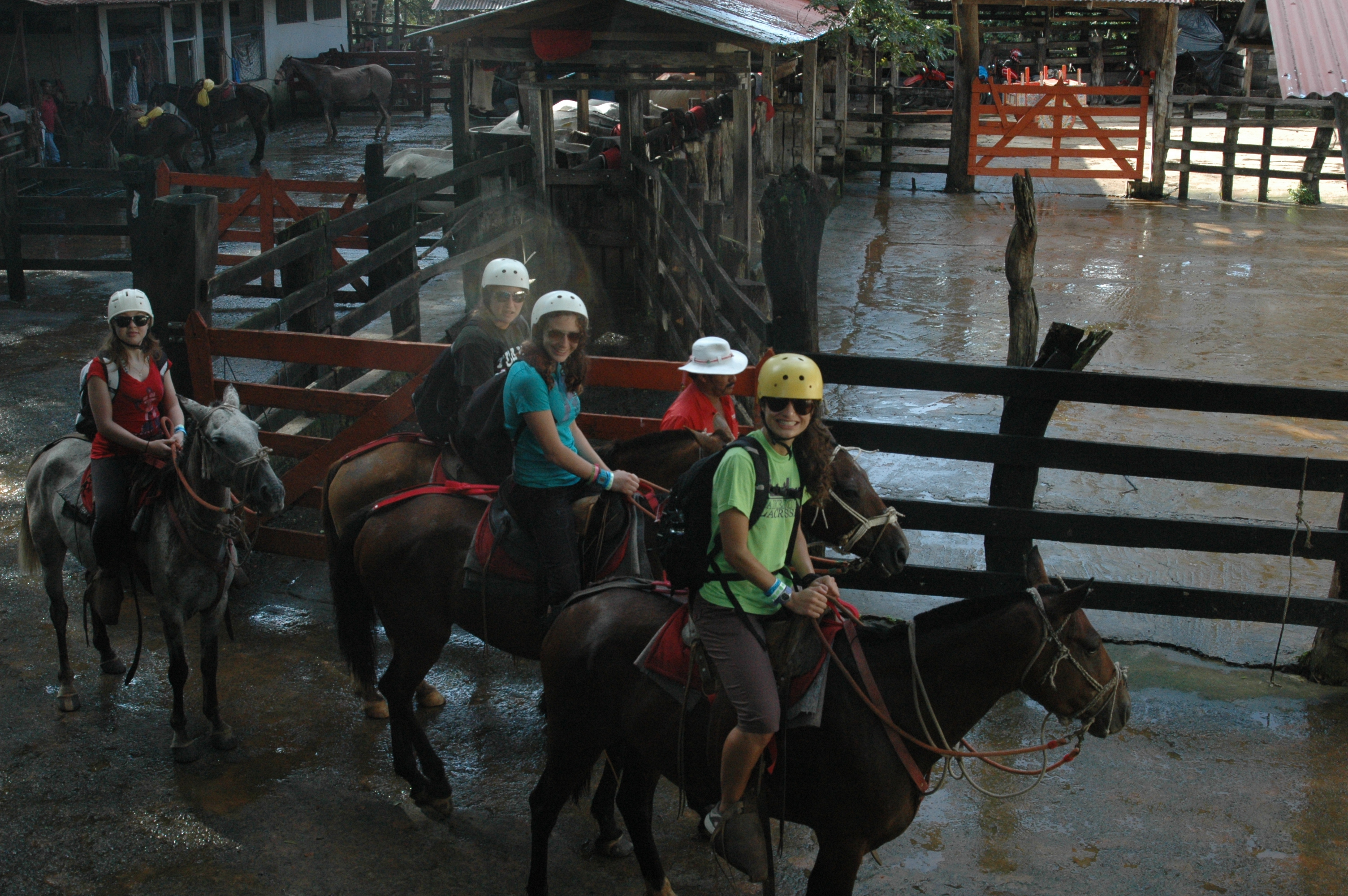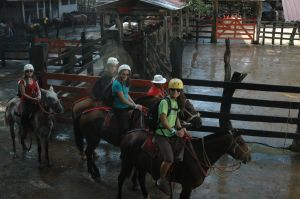 Dear Friends, Family and Furry companions of Lake of the Woods' trip to Costa Rica,
What an exciting jump start to our cozy 10-day trip! Day one brought us some great bonding time as we all played two truths and a lie. Funny how much you can get to know the most interesting things about a person that way! We found out that Rachel W's dad is actually Welch and they have spent time there and that Rachael B has a snake!
Day two was spent truly getting to know how Costa Ricans like to have fun! It started with horseback riding to our tubing destination! Paige and Hannah really showed us how it's done as they stayed calm and collected while riding their horses. When we got to our tubing destination, we said good bye to our horses and looked down the river with excitement beaming on our faces!
Erika rushed to get cracking and to get into the water. We floated down calmly and soaked up the rush of every one of the twenty four rapids! The day didn't end there! In the late afternoon, we went mud bathing and explored the natural hot springs. Our local guide, Julian, showed us the tricks of the trade with mud bathing and we had a great time playing Ninja with our skin covered in hardened clay. Sarina, Hallie, Hayley and Erika were all really brave and jumped in and out of the cold spring between sessions in the hot ones! They are troopers and the local Costa Ricans were very proud they did it the right way.
On Day three, the girls really knew how to keep our bus rocking as we drove to the beach to go surfing! Ally, Hannah and Hayley definitely made it look easy as they got up and glided all the way to shore. Everyone kept trying and no one gave up until our time was done, our instructors were very impressed! With surfing under our belts now, we were ready to head off to lunch and then to our next destination.
With a few authentic obstacles, like the cows blocking the street, and some good laughs, we got to the hotel and changed for our soccer game! The hotel was beautiful with a stunning view. Erika and Sarina were in shock at the beauty of Monteverde; we all soon joined in the awe.  Soccer was a blast and even our amazing bus driver, Ronnie, joined in! Paige showed us her moves while Rachael B made sure no ball went through her goal post!
Here we are at the end of day three and we are about to say goodnight in a hotel on the top of the Monteverde Mountain. We are looking forward to many more days filled with gratifying community work and some rewarding fun!
Huesta Luego
The Westcoast Blogger