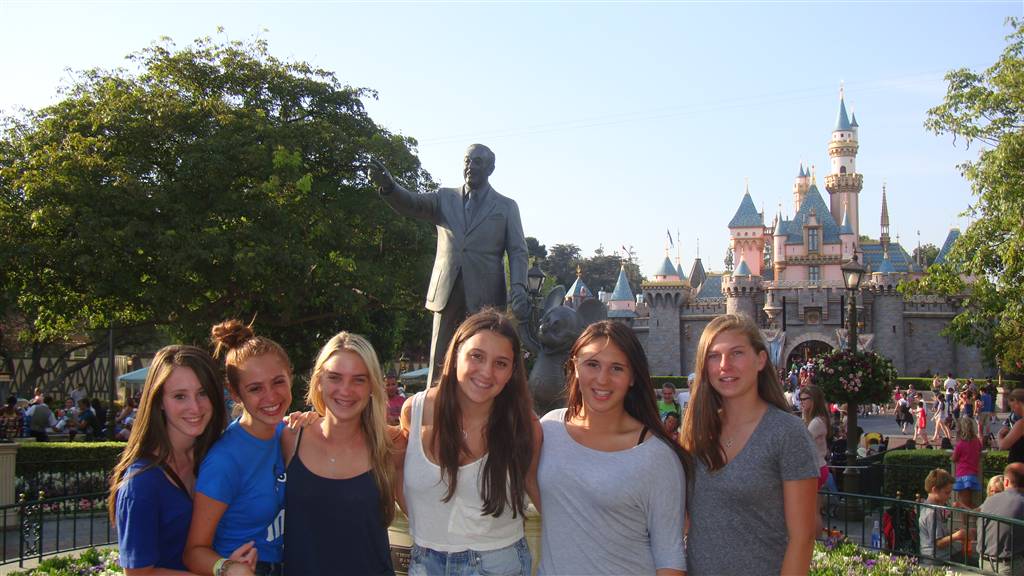 The U.S. Explorer checks in from California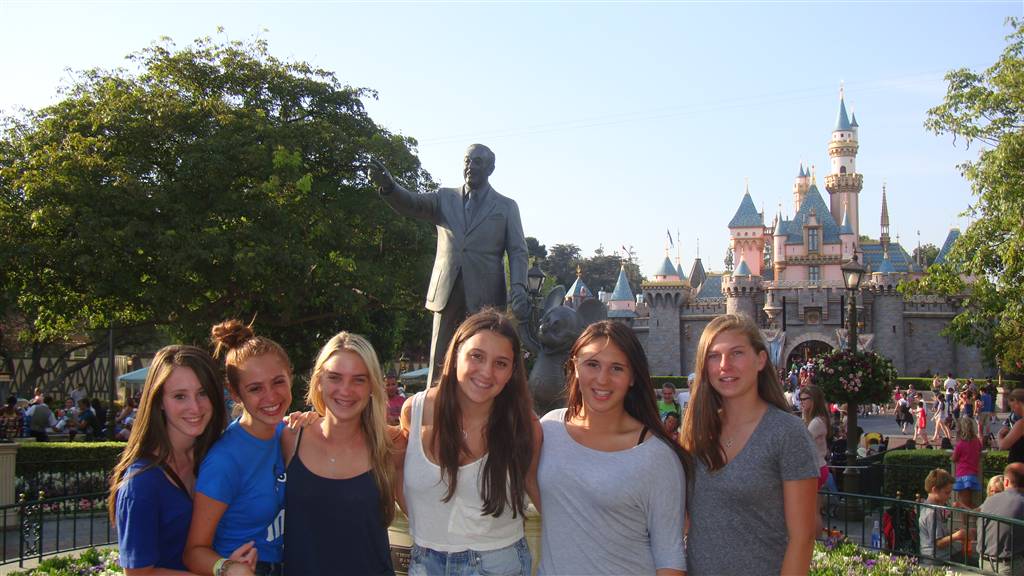 XR19 Parents,
We are living life styles like the rich and famous in Hollywood and Los Angeles… and loving every single minute of it!
Once we reached UCLA, we went right to the bookstore and to explore the campus.  Go Bruins! Some day some of us hope to whip out our acceptance letters in a few years!
Madame Tussaud's Wax Museum was excellent! Nikki and Izzy were quick to get a picture with J. Biebs. Emily and Alexa pretended to be Spiderman's back up. It was quite the star-studded extravaganza.
Then we hit Mann's Chinese Theatre, where we saw the hand prints, footprints, cigars, magic wands, nose prints and more of famous Hollywood stars. It was cool to match prints with Frank Sinatra, Will Smith, Jennifer Aniston, Michael Jackson, Arnold Schwarzenegger, Michael Jackson and the Harry Potter cast. As we were strolling down the famed Walk of Fame, we saw a Michael Jackson impersonator, which was really cool! Spiderman also said hello (he claimed to be THE Spiderman). We spent some time at Hollywood & Highland, where we could see the Hollywood sign from a distance! Here, new gotcha assignments were given out!
In the morning, we enjoyed the UCLA facilities. On our walk there, Zach G., Noah, Brandon, Evan S. and Tyler watched the Portugal soccer team show off their skills during a team practice. They spotted Sergio Ramos and the goalie, Casillas. Zach G. was the lucky one to see number 7 (Cristiano Ronaldo) through the fence.
Next up, on the way to Venice Beach, we stopped to take a picture in front of Rydell High, also known as Venice Beach high. The whole way there we sang along to the famous Grease songs as well as Brittany Spear's Baby One More Time which was also filmed here.
At Venice Beach, Grant and Sammy flexed their guns alongside the body builders. We all enjoyed strolling the boardwalk and hanging with the area locals. We got to know them really well during our people hunt – we found people with 6-packs, people who could count to 10 in French, a Jared lookalike and so much more.
At Rodeo Drive, we kept out eyes out for the stars! There were a few of us who were so lucky! Emily, Alexa and Nikki spotted Cameron Diaz – or someone who looked awfully like her.
We all had a great time at the Improv show! Zach G. is the next stand up comedian. His first night was at Improv, which is not bad for his first gig! He hopped up on stage and did a full routine for our group before the show. The show we saw was hysterical, one comedian guest starred on the hit show, "How I Met Your Mother." The trip members especially took a liking to him! Aaron bonded with another comedian who l should get free ice cream for all his "moral support."
As we hopped on the bus at the end of the night, we discussed how much we love LA! Lindsey said that she loves LA because it makes her feel at home. Jamie said that she was so excited to go to Disneyland to hang with the princesses tomorrow!
The Museum of Tolerance was  an opportunity to learn about the effects of bullying, as well as the history of intolerance all over the world. Tyler said that he found the information interesting. He thought that Matt, the General Manager's, story about prejudice and hatred was inspiring, as he was able to turn his life around. We were really lucky that he took the time to speak with our group as he has been on Oprah and interviewed by almost every major news station.
Disneyland was magical! The day started with Disney jokes, Disney trivia, Disney Food Network clips, Disney Travel Channel clips and more. The favorite rides were Splash Mountain, Space Mountain and the only in California Indiana Jones and Matterhorn! To finish off our wonderful day, we watched the fireworks and Tinkerbell and Dumbo fly over the castle! Evan A's rose was the Indiana Jones ride. Jonah F.'s  was seeing Tinker Bell and getting Jason to go on the Indiana Jones ride! We can now say that Disneyland truly is the happiest place on earth!
The next morning, we went to the Los Angeles Regional Food Bank. Our job was to sort through the donated food and determine whether they met the organization's criteria. We know we made a difference in the community and helped quite a few others. As Lee worked hard to get everything done at a fast pace, he said, "I like service. This is actually fun!" Gary, Sam E., Rickey, Justin and Grant were very helpful when it came to lifting and sorting the food boxes.
Universal was an experience that we couldn't possibly forget – even though we worried about the safety of the human race after hearing a message from Optimus Prime on the bus ride over! We first went on the Studio Tour, where we saw sets from famous movies! We saw the set of the hit series, Desperate Housewives, which was really cool because we literally drove through Wisteria Lane!  We also experienced King Kong 3D where we watched King Kong battle a T-Rex. We felt like we were in a movie. It was insane! Other rides brought us into the world of The Mummy, a flooding street, the Fast and the Furious and an earthquake in a subway station. Kyle's day was so good that he didn't have a thorn. Alexa's rose was being able to go on the Mummy Roller coaster.
Gotcha came to an end after we walked around CityWalk. It was a close game between Josh and Zach R. but Josh tricked Zach into saying the word, "wallet."
On CityWalk, we pretended Matt was a celebrity. Our group started swarming him asking him to take photos, for his autograph and just causing a scene. We shut down the street – with random folks yelling and screaming wondering who it was. Let's just say Matt in 10 minutes won the hearts of many teenage girls who thought they recognized him from the Disney channel.
The next day we had lunch at the Farmer's Market. There  were so many great choices! Who knew that this spot, on this day was the perfect choice for many of our girls? You see… Nikki and Alexa spotted Toby from the hit drama, Pretty Little Liars. Julia said she was so happy that she felt star struck! Haley and Mabil still can't believe that their dream came true.
At the GRAMMY Museum, Grant, Sam E. and Chase practiced their drumming skills. Nikki, Abby and Julia were singing for their next debut album. We didn't realize what amazing singers they are! Samantha was DJing for Justin Timberlake and the Black Eyed Peas. She's a natural we tell you! Zach R. and Jonah E. played the drums like true rockers. Jonah F. and Jason watched Michael Jackson give his acceptance speech. Delilah and Izzy jammed to music from the past. Lee danced to some old school hip hop and sang amazing karaoke.
Jared went "missing" at the Santa Monica peer. Trip members first found a ransom note at the meeting spot which explained that someone kidnapped Jared. This led them to the next spot, where they found Raquel with duct tape on her mouth. She was holding a sign that said, "Help XR19!" There was a letter attached, splitting up the trip members into two groups. Trip members finally found Amanda holding two signs stating, "Keep going." There were two letters this time, addressed to the captains of our Olympics! Noah and Haley on team NY and Lee and Nikki team California! The group ran to the peer, where they finally found poor Jared hand cuffed to a bike rack with a sign taped to him announcing our competition. Both teams will have to face many challenges along the way. An apache relay, a skit, a song, a dance and more!
It's been an incredible 5 days. We will write you again soon!
The Westcoast Blogger