E5 is shaping up to be a trip of a lifetime! More than one trip member mentioned that by the end of our first day, it felt as if we've known each other for much longer.  Our trip members have been eager to get to know one another and have committed themselves to being mindful and present in each and every moment of our trip.
While touring through the old city of Quito, we happened to be passing by the Carondelet Palace during the changing of the guard ceremony, where we managed to attract the attention of President Rafael Correa and garner a wave from him.
Our senses have been treated to many wonderful new adventures. We have tasted the finest raw cocao in the world, seen stunning panoramic views of the mountainous city of Quito, smelled several curious pots of hot and spicy sauces at our meals, listened to the joyous laughter of the children we played with, and felt the strange impacts of the magnetic and gravitational forces of our globe while at the equator. Not surprisingly, the group has met all of our new experiences with curiosity and positivity.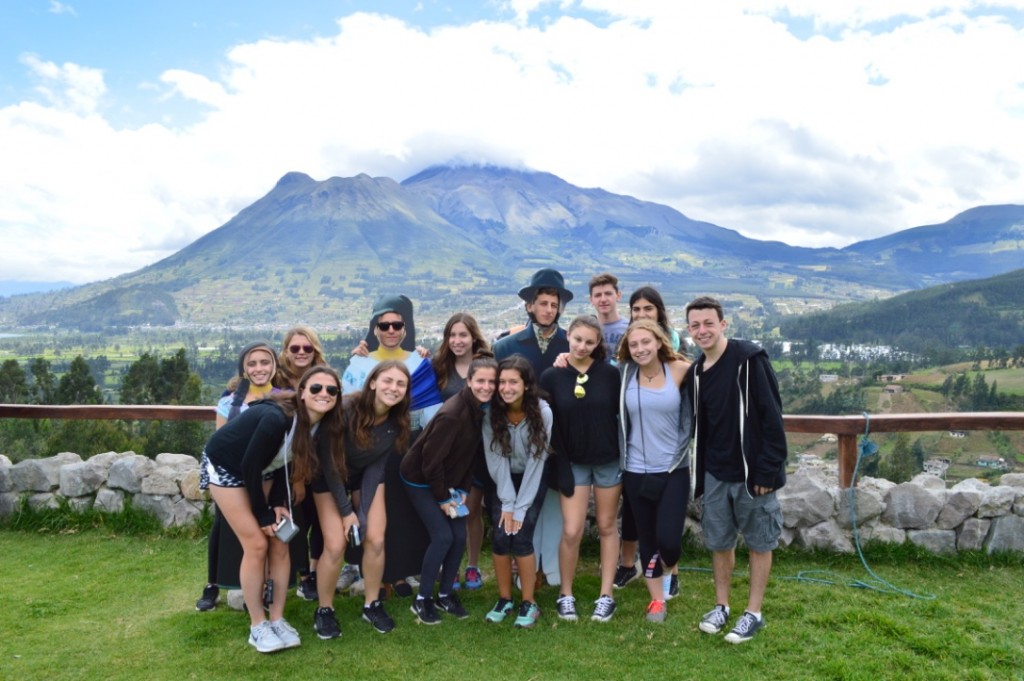 Trip members were ready and eager to begin our service. On our first day, we were greeted by the head of the Aliñambi orphanage, Lorenzo, who gave us a heart-felt speech about the importance of giving of ourselves to others. It became clear very quickly our trip members understand the value of losing themselves in the service of others, as they jumped right into baking fresh pan (that's bread in Spanish), prepping the school for painting, clearing land for planting in the greenhouse, and joining the children in a rousing game of fútbol. Many of them mentioned that helping at the orphanage and playing with the children was a highlight for them so far.
Since we left Quito, time on E5 seems to be flying by. We have moved from the heights of Lake Quilotoa to the basin of the Amazon rainforest, getting deeper with one another along the way.
One trip routine that has helped us bond is the daily 'fun facts' about each other on our morning bus rides. Trip members submit anonymous written blurbs about themselves and then we proceed to read each one and guess who it might belong to. These quirky tidbits of information ranged from "who has a dog with an instagram account" to "someone who loves cabbage". (We'll keep you guessing on the owners of these facts.) Many laughs were shared by the group.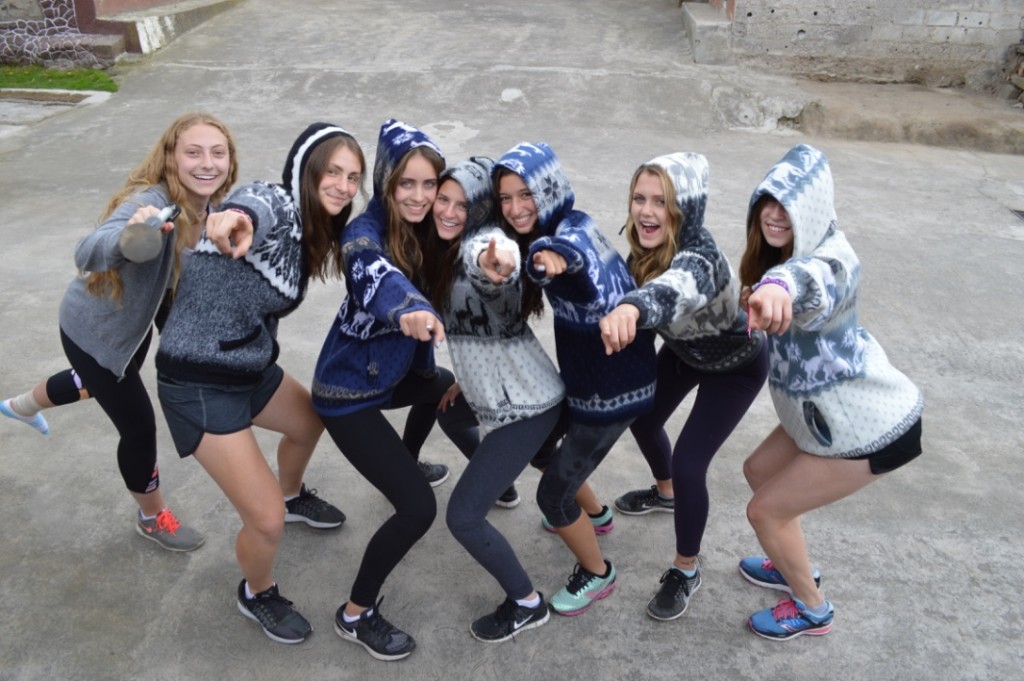 Our first stop after Quito was in Marina Almeida's cozy cabin-like home-away-from-home in Latacunga. Our spirits were refreshed with the help of "Mama" Marina's delicious home-cooked meals, evening bonfires, and a sky full of stars. It was here that we celebrated Anna's sweet sixteen by indulging in chocolate cake and banana boats over the fire.
Service work in Latacunga was located at Simon Rodriguez elementary school – host to over 600 students in one of the most impoverished communities in Ecuador. With the help, encouragement , and thanks of the principal and superintendent of the district, our trip members repainted several school buildings and two equavolley fields – the staff then taught us the rules and invited us to play their unofficial national sport.
Along with 'living in the moment', our group has adopted a theme of facing our fears. Trip members have stretched themselves in all kinds of ways: taking a cable car ride to over 13,000 ft. with a fear of heights; trying new foods like fruits we have never seen before, guinea pig, and octopus; pushing our bodies to new levels of endurance on our hike up from Quilotoa hike; and white water rafting for the very first time in Banos.
Trip members of E5 have begun to realize that only a few days remain for us together. We look forward to the adventures that the Galapagos Islands hold and we hope to make the most of each and every moment we have left together. Hasta luego!
The Westcoast Blogger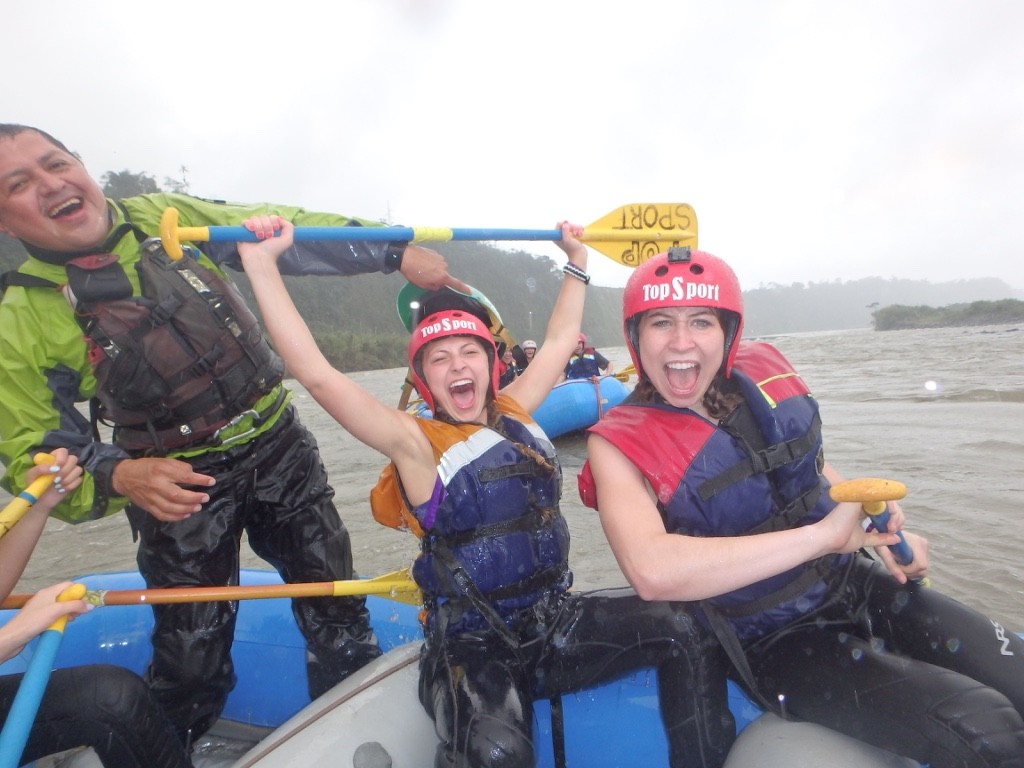 If this sounds like an adventure you'd like to be a part of, explore our 18-day and 25-day Ecuador and Galapagos tour options.
Save
Save