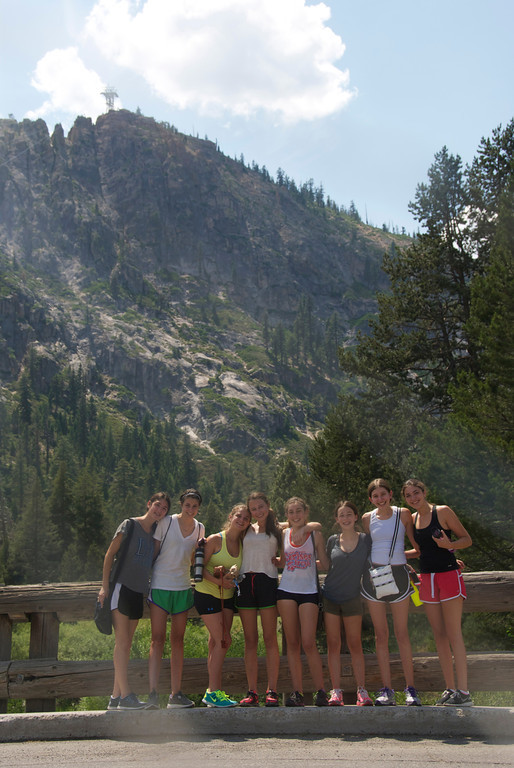 Greetings from beautiful Lake Tahoe,
The Ultimate California has moved east of San Francisco and had a great drive through the beautiful hills of California. Our first day took us on an adventure down the Truckee River. We went white water rafting and definitely had fun. Sam H., Romy and Paige enjoyed the scenery as they rowed their way down. Brandon, Drew, Todd and Jeremy shared a raft and had a fun time paddling and getting a bicep workout as they paddled. Remy and Zach were in the same boat and rode down the river and were the only 2 adventurers in their boat (of course with a guide). Following close by was Remy's sister Jaime in a raft with Nikki.  Jamie "faced her fear" as she successfully completed the course and doesn't usually like open water! Great job Jaime. Emily was so happy with her experience while white water rafting. She said "it was fun and also gave us a great opportunity for bonding".
No trip to Lake Tahoe is complete without an adventure behind a speedboat. Our resident wake boarding competitor, Colton showed the fortunate few on board the boat his awesome skills. Andrew, Mandy and Sam H.  saw what it's like to be part of "Team LTD ( living the dream)". Adam, Harry and Jared (one of our trip leaders), had a fun ride on their tubes in the beautiful blue water of Tahoe. Megan K., Sophie W. and Lizzy rode the waves together and shared a fun and exciting trip across the lake. Jenna S. and Tori loved the clear blue water. Jenna S. was so surprised by it and took it all in as she does not get to experience that kind of natural beauty and scenery all time! Tori was happy the water was so clear and she bounced a lot behind the speed boat and got some awesome air. Lindsay remarked that Gabby's face during tubing will leave a lasting imprint in her memory and will keep her laughing for many years to come! If only you could have seen it!
Sophie A. enjoyed the boat cruise that evening. The boat "Safari Rose" was a beautiful boat in Sophie's opinion and she had fun just chilling with her friends. Jenna C. also liked the boat cruise. She said "Lake Tahoe reminded me of camp". What a great way to sum up those breath-taking sights.
Romy had a great time being adventurous at the high ropes course in Squaw Valley. She made a solid attempt at the "leap of faith" but allowed Brandon to take the lead and show us all how fearless he was 60 feet in the air. Honorable mention goes to Jacqueline for her strong skills as she made it all the way to the top of the course. Jessica gave the intermediate course a try. Luckily she isn't afraid of heights and had a wonderful time wobbling across bridges and ropes 45 feet in the air.  Rebecca really enjoyed the quaint village at Squaw Valley. She along with Rachel and Paige took advantage of trying some new foods and giving their taste buds a new adventure.
"Gotta look good for LA" Stevie says, a serious outfit decision season took place before departing from Squaw Valley. Dori also wanted to make sure that she "looked good for Kendall and Kylie Jenner at URTH (earth) Cafe". Before dinner Eden hung out with some of her new friends and enjoyed some down time in the beautiful lodge. Also, Mandy and Megan T., took advantage of the beautiful pool surrounded by the mountain ranges of Tahoe and Squaw Valley. Mandy says "it was so much fun and refreshing after the fun yet challenging ropes course". After packing up her stuff, Gillian and some of her new gal pals and old camp friends chilled out and watched Easy A starring Emma Stone. Gillian, Jacqueline, Rachel and Lizzy hung out, laughed and took it easy after a fun day in Tahoe. Sammy had a good time in Lake Tahoe and is really looking forward to Universal Studios. Stay tuned for his report back after he hits up the Transformers ride in a few days.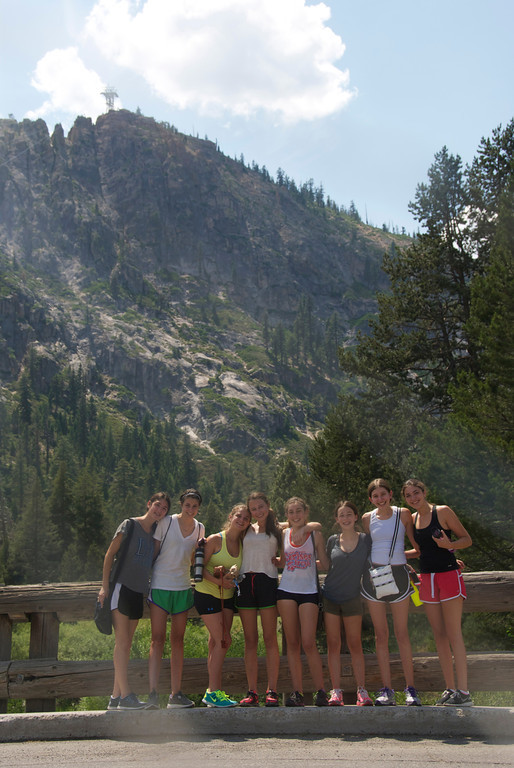 We are off on our way to UCLA and can't wait to let you know of our adventures in Hollywood and all there is to offer in the city of the stars.
Until next time,
Robyn and all of us on the Ultimate