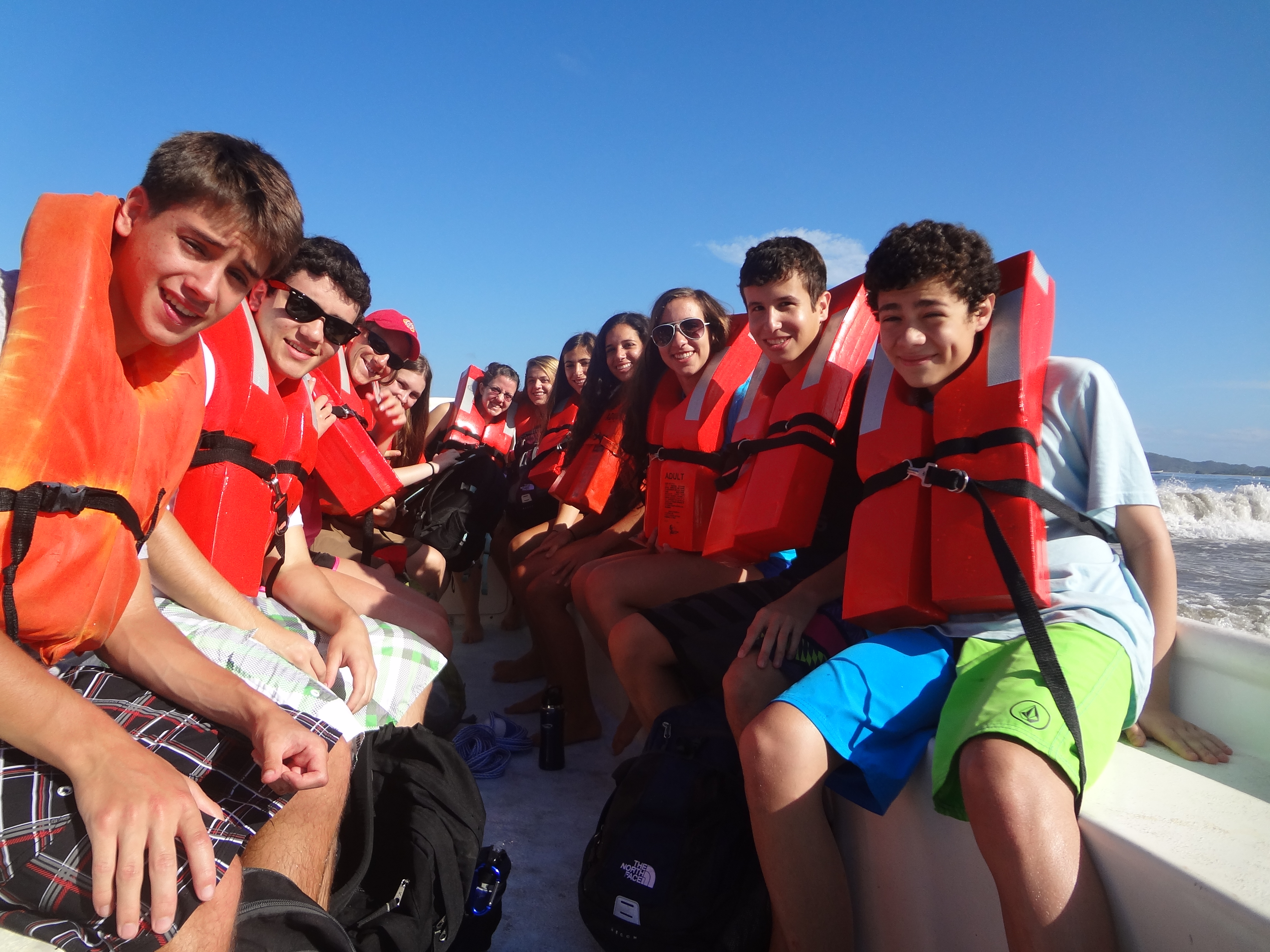 ¡Hola estimadas familias! Aquí estamos, EN VIVO desde La Playa Flamingo en la costa del Pacífico de Costa Rica, para compartir con ustedes las actualizaciones de nuestro viaje. Es totalmente muy divertido estar con ellos y hablar con cada miembro del viaje. Sus hijos y hijas nos han mostrado cómo aprovechar al máximo esta experiencia.
Hello dear families! Here we are, LIVE from Flamingo Beach on the Costa Rican Pacific coast to share with you the updates of our trip. It is simply so much fun to be with and talk to every trip member – your kids have shown us how to get the most out of this experience.
En nuestra última noche en Arenal fuimos a los baños termales de Baldi Hot Springs, un enorme parque acuático donde al mismo tiempo, los miembros del viaje podían relajarse en una bañera caliente y acogida, tener mucho placer en los toboganes de agua, y ver a un partido de fútbol asentados en la piscina, especialmente para nuestros tres americano-brasileños Dan, Andre, y Pedro. Todos nosotros lo pasamos muy bien después con un bufé variado, arriba en el restaurante. De vuelta al hotel, tuvimos un programa nocturno llamado "Celebrity", donde en dos equipos se pidió a los miembros del viaje de describir y actuar personajes conocidos dentro de un tiempo específico. Una de las muchas risas que tuvimos fue que ninguno de los chicos y chicas podrían reconocer el nombre completo del líder JP, debido a su ortografía francesa. Directora del viaje Kara estaba orgullosa de su chiste!
On our last night in Arenal we headed to the amazing Baldi Hot Springs, a huge water park complex where, at the same time, trip members could relax in a warm and cozy tub, have a blast in the slides, and watch a soccer game broadcasted live while seated in the pool, which was especially great for our three Americano-Brazilians Dan, Andre, and Pedro. We all enjoyed ourselves afterwards with a diverse buffet upstairs. Back at the hotel, we had a night program called "Celebrity" where in two teams trip members were asked to describe and act out well-known people within a specific period of time. One of the many laughs we had was that none of the trip members could recognize the complete name of trip leader JP because of its French spelling. Trip director Kara was proud of her trick!
Viajamos desde Arenal a Flamingo el lunes, y todos estábamos encantados cuando nuestro conductor Jose William nos mostró monos salvajes y tucanes durante el camino! En Flamingo nos dirigimos directamente a la clase en la segunda institución del CPI, donde los miembros del viaje se sintieron aliviados al ver cómo dinámicos y comprensivos sus nuevos maestros fueron, al igual que los que tuvieron en el CPI Heredia la semana pasada. Estamos especialmente orgullosos de Jalen, quien ha compartido un montón de sus conocimientos chinos con nosotros mientras rápidamente recogiendo un montón de español! Esa noche, nos aprovechamos de la temperatura caliente para celebrar nuestra llegada a la playa con una fogata, melcochas, y algunas canciones tocadas en la guitarra y cantadas por el grupo. La mayor parte de nuestras chicas compartieron sus habilidades para el canto, pero nos gustó especialmente Julia P. con su hermosa versión de "Bubbly" de Colbie Caillat. Viendo las olas golpeando la orilla bajo la luz de la luna, mirando las pocas estrellas en el cielo nocturno, y relajándonos en una acogedora fogata contribuyeron a un momento muy especial para todo el grupo.
We traveled from Arenal to Flamingo on Monday, and were all thrilled when our driver Jose William spotted wild monkeys and toucans during the trip! In the beach town of Flamingo we headed straight to class at CPI´s second institution, where trip members were relieved to see how dynamic and sympathetic their new teachers are, just as theirs were at CPI Heredia last week. We´re especially proud of Jalen, who has shared plenty of his Chinese knowledge with us while quickly picking up lots of Spanish! That night, we took advantage of the warm temperature at night to celebrate our arrival to the beach with a bonfire, marshmallows, and some songs played on the guitar and sung by the group. Most of our girls shared their singing skills, but we especially enjoyed Julia P.´s beautiful cover of "Bubbly" by Colbie Caillat. Watching the waves hitting the shore under the moonlight, staring at the few stars in the night sky, and relaxing around a cozy campfire contributed to a very special moment for the whole group.
El martes nos fuimos en un crucero de buceo en el Océano Pacífico, que era increíble. Lauren y Kate nadaron por más tiempo, tratando de elegir los peces que ibamos a comer por la cena! De vuelta en el catamarán, Julia N., Amelia, y incluso Andre pasaron muy bien con nuestro guía de crucero, compartiendo unos bailes y dando al grupo una gran cantidad de risas. Mientras tanto, Dan dio el líder de viaje JP una sorpresa cuando interrumpió su tiempo de descanso con un poco de agua en la cara, lo que resultó en un buen ambiente de humor. Kate y Lauren ya nos informó que era su mañana favorita hasta el momento. Después de las clases y antes de una buena cena italiana, Amelia y Julia N. acompañadas por el personal del viaje fueron a observar la magnífica puesta del sol sobre el agua, que fue un otro momento mágico entre muchos.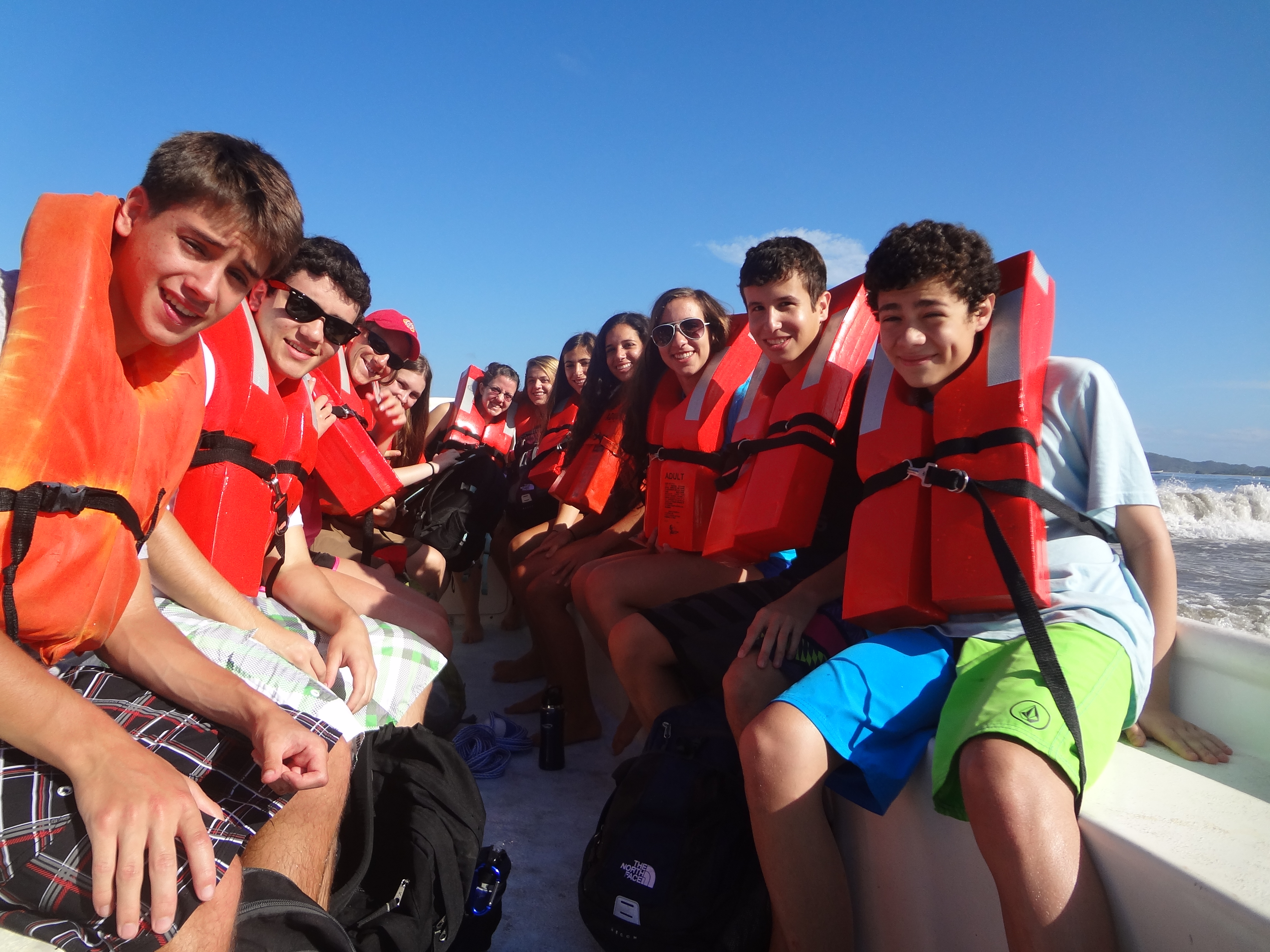 On Tuesday, we went on a sail and snorkel cruise on the Pacific Ocean, which was amazing. Lauren and Kate snorkeled the longest, trying to figure out which fish they could get us for dinner! Back on the catamaran, Julia N., Amelia, and even Andre had a great time with our cruise guide, sharing a few dances and giving the group a considerable amount of laughs. Meanwhile, Dan gave trip leader JP a surprise when he interrupted his rest time with a little shower of water in the face, thus resulting in a good natured bit of cooling off. Kate and Lauren reported that it was their favorite morning yet! After classes and before a nice Italian dinner, Amelia and Julia N. accompanied the staff to observe the magnificent sunset over the water- another magical moment among many.
El miércoles fue el primer día de servicio cerca de Tamarindo, y todo el mundo estaba listo para ir a trabajar. Nos dirigimos a Cen La Garita de Santa Cruz, una guardería rural dónde Jalen, Demi, Pedro, y Erica trabajaron fuerte, preparando las paredes para ser pintadas el día de mañana. Una vez que se rascaron las paredes,todos comenzamos a pintar los lados de las ventanas. El trabajo pasó rápidamente a medida que cantábamos junto a la música y practicamos nuestro español con voluntarios costariccenses Diego, Martin, y José Manuel; a Erica y Demi les gustó especialmente la interacción con ellos! Todos estamos muy contentos porque mañana acabaremos de pintar el centro; estará listo para los niños de la localidad que volverán el viernes. El jueves es un día de fiesta aquí, celebrando la anexión de la provincia de Guanacaste con Costa Rica. Por eso salimos a la playa justo antes de la cena para hacer una fogata con otros estudiantes y profesores del CPI, donde disfrutamos de una magnífica puesta de sol sobre el agua. Los miembros del viaje cantaron nuestra canción de la mañana (Un día a la vez) en español para todo el mundo, y Dan compartió una 'bomba', un pequeño poema con rimas- ¡estamos muy orgullosos de nuestros estudiantes! Bueno, ¡nos vemos muy pronto!
Wednesday was our first day of service in Flamingo, and everyone was ready to get to work. We headed to Cen La Garita de Santa Cruz, a rural daycare center where Jalen, Demi, Pedro, and Erica worked on prepping the walls to be painted. Once the walls were scraped we all began to paint the window trim, and the work passed quickly as we sang along to music and practiced our Spanish with Costa Rican hosts Diego, Martin, and Jose Manuel- Erica and Demi especially liked interacting with them! We´re all excited to finish painting the center tomorrow so it will be ready for the local kids to come back on Friday. Thursday is a holiday here celebrating the annexation of the province of Guanacaste, therefore we went out to the beach just before dinner for a bonfire with other students and teachers from CPI, where we enjoyed a gorgeous sunset over the water. Trip members performed our morning song in Spanish for everyone, and Dan shared a 'bomba', a little poem with rhymes- we're so proud of our students! ¡Nos vemos muy pronto!
The Westcoast Blogger
Have we piqued your interest? Learn more about our Costa Rica language immersion programs and join us on a 21-day teen tour!