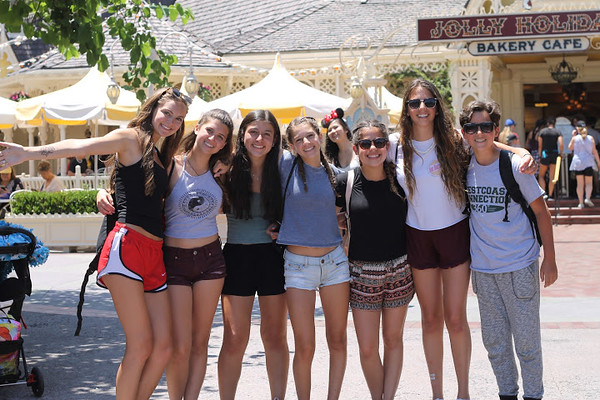 Greetings from the Grand Canyon!
Many of us are still speechless from the natural beauty of the Grand Canyon.  Our hike along the South Rim Trail was filled with breath-taking vistas, and offered many amazing opportunities for some fantastic photos.
We last left you while en route for surfing in San Diego, and it was everything we hoped for!  The skill of our instructors at Eli Howard Surf School was apparent at how quickly many of us were able to get up and ride our wave into the beach (and by us I mean your talented children, as our fearless Trip Leaders seemed to need a little more help catching our waves).  The day at the beach was a great success and it was a bus full of smiles that left Moonlight Beach.
We wrapped up our time on the coast with a visit to the San Diego Zoo and an evening of Laser Tag, before heading back to the hotel to pack our bags for Las Vegas.  We took in the sights of the Las Vegas Strip, from the canals of the Venetian, to the famous fountains at the Bellagio, from the top of the Stratosphere, to the bottom of the pools at the Monte Carlo.  Before we knew it, our time in the city was over and we were heading east.
Our journey took us through some of the most beautiful National Parks that I have ever seen anywhere in North America.  We started with lunch and a short hike in Zion National Park, before moving on to Bryce Canyon the next day for another hike with even more spectacular views.  Leaving our campsite in Bryce Canyon, we were off for the Grand Canyon.  Those of you who have been fortunate enough to have visited these places know how privileged we are to have seen these amazing sights that defy description.
Tomorrow we set our sights on Sedona and Scottsdale for our last destinations of the trip of a lifetime.
Until Next Time,
The Westcoast Blogger
Interested in learning more about travel tours of California & the Canyons with Westcoast Connection? Discover our 21-day teen tour. It will be the travel experience of a lifetime!